The Verde Wall: La Murga de Austin is reshaping what soccer fandom in the MLS can be
Austin, Texas – Austin FC might be a new team, but the fire started by fan group La Murga de Austin is already burning strong in the capital city – and they want you to bring the gasoline.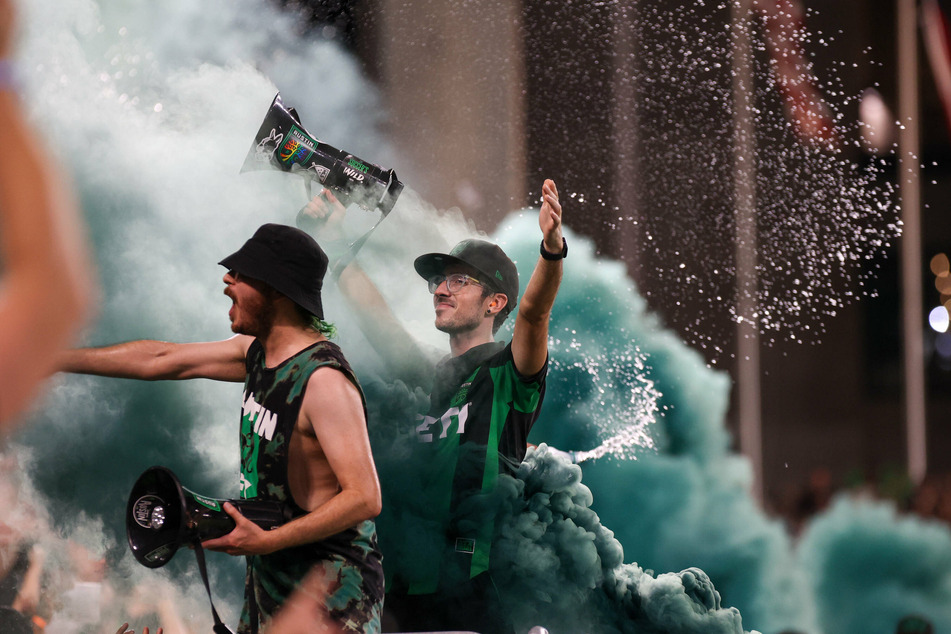 Whether you've been to an Austin FC game, watched one on TV, or simply follow local news, you might have heard of La Murga de Austin.
This ever-expanding band of avid supporters and day ones consists of various musicians who loudly bang the drum for Austin FC and soccer as a whole.
With instruments and megaphones, La Murga leads the supporters' section, which they call the "Verde Wall," during games. Their tunes spread throughout Q2 Stadium to lift the players, encourage shy fans to get involved, and ultimately bring the city together.
But there's more to La Murga de Austin than chants, cheers, and musical entertainment.
Stephanie Dempsey, one of La Murga de Austin's captains – or capos – spoke with TAG24 about the group's role both within and outside Austin FC.
"We don't want to just change the culture in our stadium or our city; we want to change the culture in MLS," Dempsey insted. According to her, the decision to blend music and soccer was a calculated one that intended to bring Austinites familiarity of live music to something new and still developing.
"Because [soccer] is so new to Austin, we wanted to bring in something people knew and combine it with something they probably don't really know about," Dempsey said.

Before she was leading the supporters' sections at Austin FC games, Dempsey was fighting to find the best way to show her support.
Creating the Verde heartbeat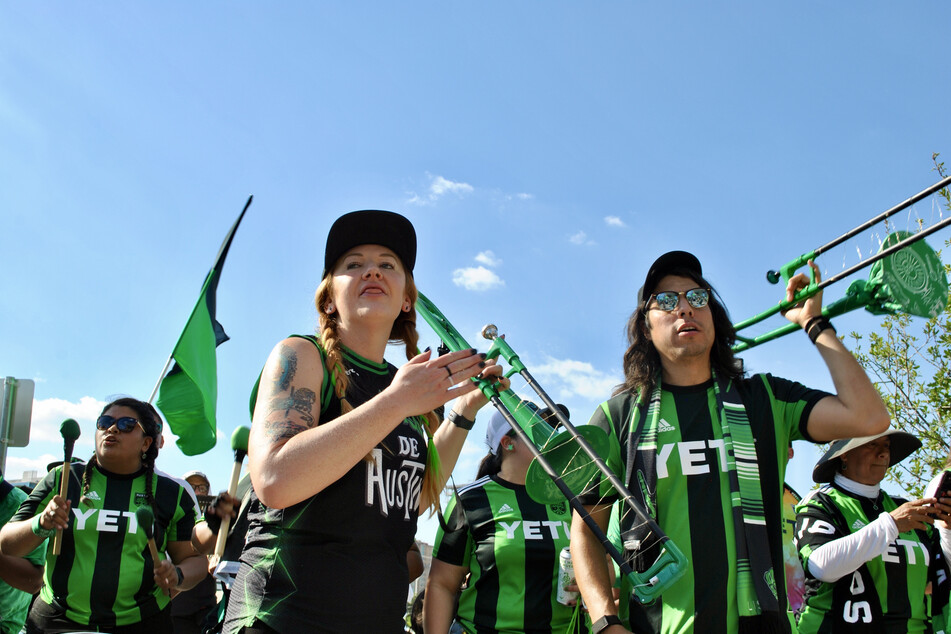 Rome wasn't built in a day, and neither was La Murga de Austin. When chatter began several years ago about the possibility of bringing soccer to the city, fans of the sport such as Dempsey began to brainstorm what their ideal supporters' section would look like.
They knew they wanted a band, and were also drawn to the soccer culture of South America, which led one of La Murga's founding members, Rigoberto Rodriguez, to Mexico to show others exactly what he had in mind for the supporters' section.
After two weeks taking in the culture and seeing how rowdy fans got for their respective teams in Monterey and Mexico City, Mexico, it was clear. They wanted to bring the colorful energy of the "Murga" carnival culture to Austin FC, and they wanted every chant or cheer to be inclusive and positive – no matter what.
"If it's not positive in any sort of way, we don't want it because we don't need it. The team needs positivity before the game, during the game, after the game. So if we lose, that's why we sing True Love, and we sing it louder when we lose because they need that positivity," Dempsey said.
In other words, La Murga de Austin set out to become the "heartbeat of Austin", starting inside Q2 Stadium – which Dempsey simply calls McKalla, after the local metro station – paying homage to the blood, sweat, and tears it took to make the dream of Austin FC a reality.

What began as a group of 11 people trying to mix the magic of soccer with the capital city's interest in live music has now taken over the supporters' section at home games – in every shade of Verde.
Building up the energy in Q2 Stadium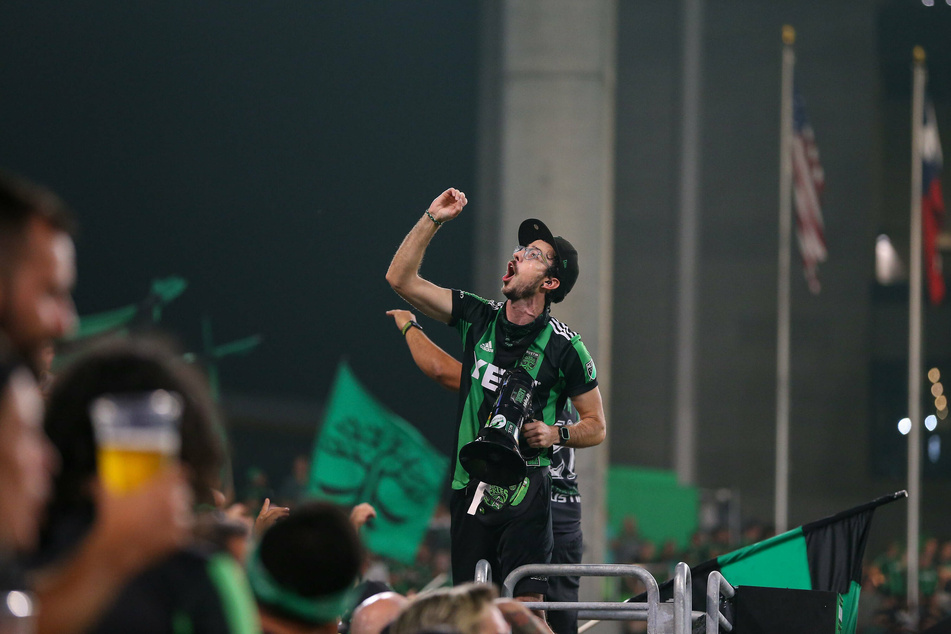 There's no question that the energy inside Q2 Stadium stems from La Murga de Austin's presence in the supporters' section, but that kind of electricity isn't crafted in a lab overnight, and it sure as hell doesn't come without practice.
In fact, one of the best ways to get a taste of this amazing phenomenon is to attend one of their practice sessions, which Dempsey says are open to anyone.
"We can tell you, 'you're gonna feel like family', and they're like 'OK, sure', but you have to come and experience it yourself to fully understand that family tie," she told TAG24.
Even Matthew McConaughey, who is a part-owner of Austin FC, understands the importance of La Murga de Austin for the team. Prior to setting foot inside Q2 Stadium for one of their practices, McConaughey held a video conference to remind everyone of the purpose behind their cheers, chants, and nonstop support.
For McConaughey, it wasn't just about showing up for Austin FC on game day – it was about representing the city, its people, and soccer in the most positive and passionate way.
"This is our team, and that's what we're trying to make them understand in the supporters' section. We are that bridge that shows the person who has lived here their entire life, and the person who just moved here from Monterey, Mexico, this is our team," Dempsey said.
Things clicked for Dempsey and her fellow capos at one of La Murga's practices prior to the home-opener on June 19. They wanted to see how it would look if everyone pulled out their phones and turned the flashlight on during one of their several chants.
"We had a very sobering moment where we just kind of looked around, like, 'Dude...this is something special.'"
That kind of energy coming from the Verde Wall inevitably oozes out and spreads across the entire stadium, and other teams in MLS are starting to take notice.
Reshaping fandom in MLS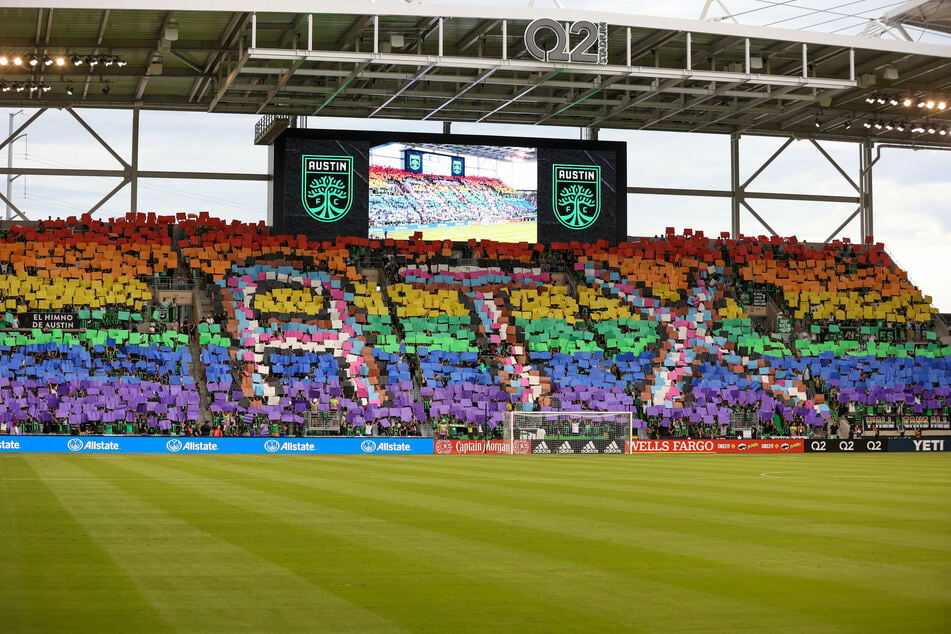 La Murga are fully aware of their special status. And the objective isn't just creating an experience unlike any other in Austin: there's an opportunity to reshape what a supporters' section can be in MLS.
For the athletes who have only ever played in MLS, the atmosphere at Q2 Stadium is unlike any they've played in before, in the best way possible.
Sold-out crowds for each of the team's home games is something extremely rare in the MLS. And when you have 20,000+ fans all pulling in the same direction, some kind of magic takes places.
Dempsey said one of Austin FC's players, Kekuta Manneh, had "no idea" a supporters' section could even be like that in MLS until he joined Austin FC.
For La Murga de Austin, this was a solid indicator that they're doing something right. The fact that fans of other MLS teams like Columbus Crew are claiming Austin FC fans are "plastic" and paid off – something Dempsey vehemently denies – counts as a win in her eyes.
"You know what? They're noticing us. You hear MLS commentators saying Q2 is the best atmosphere and stadium in MLS, and it's only our first year."
Creating, expanding, and maintaining this kind of environment isn't easy, but to the capos and members of La Murga de Austin, it's beyond worth it.
"When we see or hear people being negative, we just have to remind them, 'Hey, calm down, it's all love. Throw the liquid, not the cup – I got you!' Because these are our kids on the pitch, and all of us are mom's and dad's, and we are all taking care of each other," Dempsey said.

If you're going to aim for the majors and build an atmosphere you want to see recreated throughout MLS, it's hard to see a better way to do so than La Murga de Austin's method – rooting all things in positivity, respect, and love.
If you haven't drunk the Austin FC Kool-Aid yet, fret not. There are twelve home games left this season for you to enjoy the spectacle, Murga-style!
Cover photo: IMAGO / ZUMA Wire