USMNT thrashes Mexico in game marred by red cards and homophobic chants
Las Vegas, Nevada - Christian Pulisic scored twice as the USMNT beat Mexico 3-0 on Thursday to set up a CONCACAF Champions League final showdown with Canada after a stormy battle that saw both sides finish with nine men.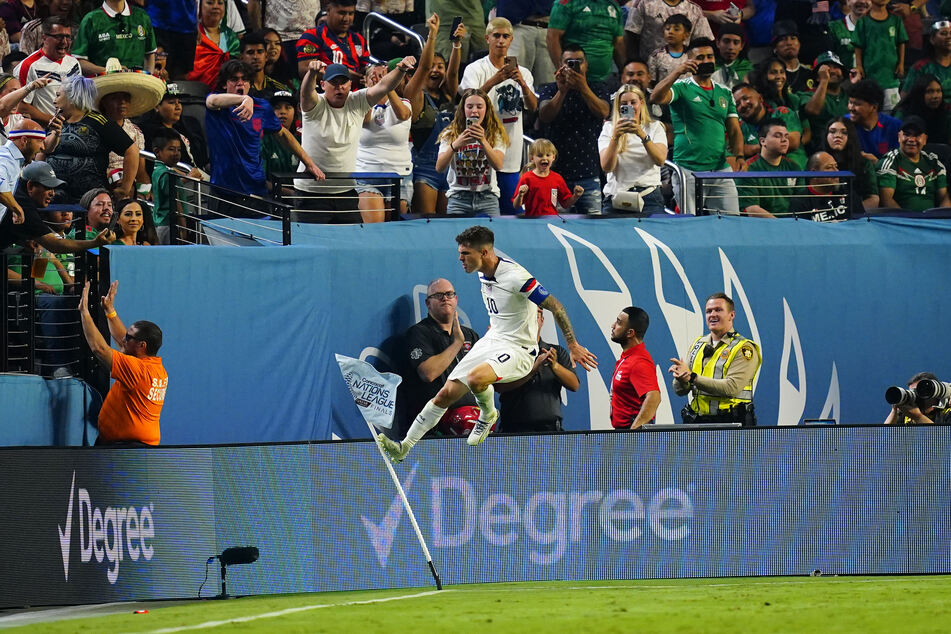 Chelsea winger Pulisic opened the scoring in the 37th minute and then drove in a second a minute after the interval, slotting home a low cross from Tim Weah, who had been sent clear down the right by a fine long pass from Weston McKennie.

The game at Las Vegas's Allegiant Stadium turned ugly in the 69th minute when Cesar Montes was shown a red card for an ugly wild kick at US debutant Folarin Balogun and McKennie was also dismissed for his role in the fracas which followed.
Substitute Riccardo Pepi made sure of the win with the American's third goal in the 78th minute after an offside flag was over-ruled after a VAR review.
Two more red cards followed in the 85th minute when Mexico's Gerardo Arteaga and the USMNT's Sergino Dest were sent off after another mass brawl.
US-Mexico rivalry crosses the line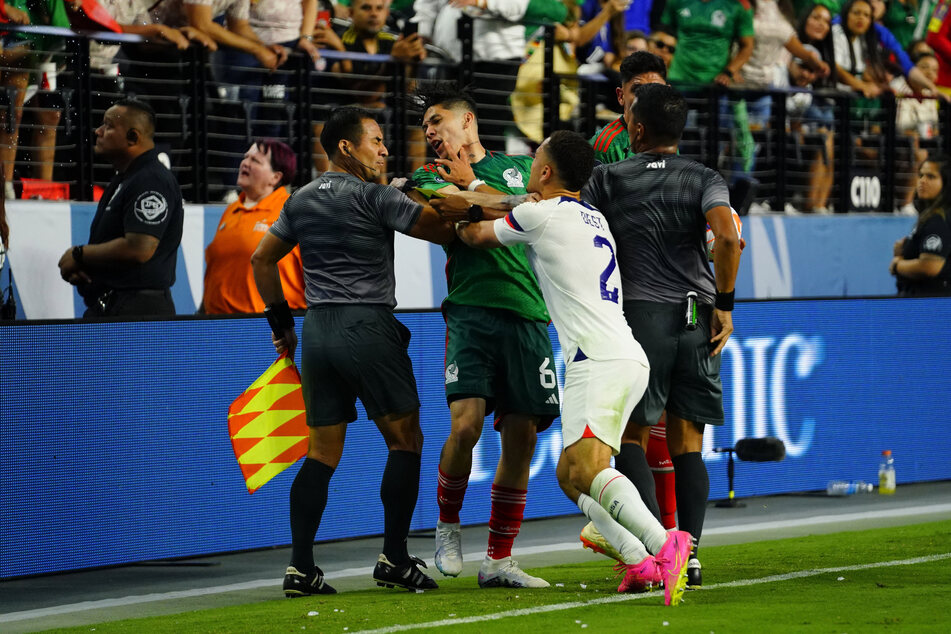 The match was stopped in the final minutes due to a homophobic chant from Mexico supporters, triggering the stadium warnings of a potential suspension of the game.
There were also objects and drinks thrown from the stands on to the field and the referee blew for time with around half of the announced 12 minutes of stoppage time still to play.
Pulisic expressed satisfaction with the result but frustration that the game was allowed to spiral out of control.
"It's a great scoreline for us, it's a big win and we're into the finals," Pulisic said. "But the game didn't need to turn into all this madness that it did.
"They really need to control the game much more. It's sad. And now we're missing two good players just because everyone's losing their heads.
"I'm a little bit upset but at the end of the day we're in the finals."
Turner slams homophobic chants
Goalkeeper Matt Turner, who had to deal with the loud shouts of the homophobic slur when kicking the ball in the latter stages of the game, said the behavior was unacceptable.

"It goes against everything that we stand for on our side. We've been very open and vocal about the strength of our team being our diversity, strength of our nation being its diversity. So to use something so divisive during a game, a spirited game, and maybe the play sort of set off the flares in the stands, but it has no place in the game," he said.
Earlier, Canada booked their place in the final with Jonathan David and Alphonso Davies on target in a confident 2-0 win over Panama to advance to Sunday's final.
Cover photo: USA TODAY Sports via Reuters Connect