Cheese rolling race winner gets knocked unconcious in wild cheesy chase
Gloucester, United Kingdom - A Canadian woman won her cheese rolling race despite being knocked unconscious while competing in the annual race down Cooper's Hill in the United Kingdom.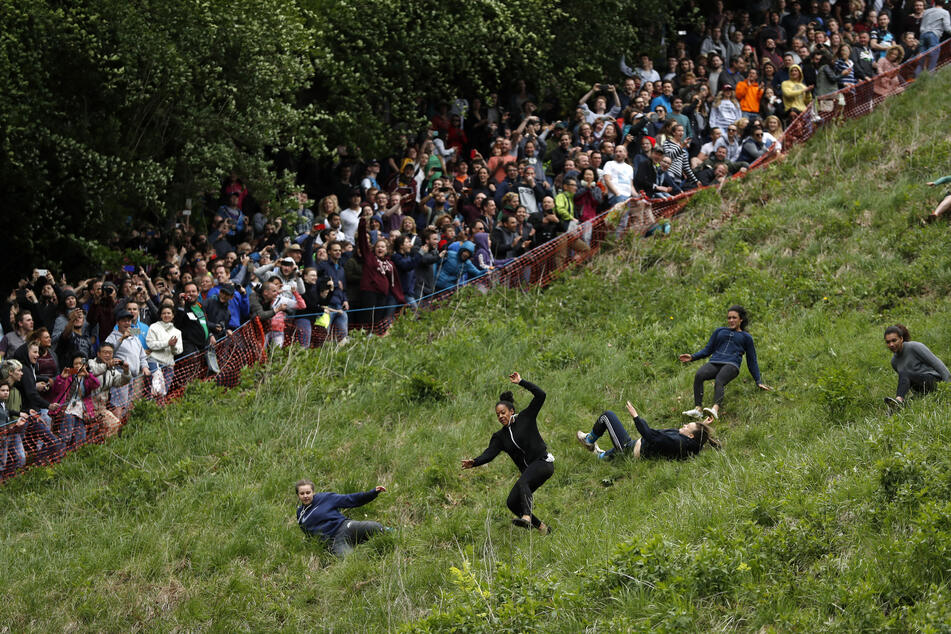 Would you throw yourself down an almost vertical hill for a 7-pound wheel of Double Gloucester cheese?
Hundreds of people gathered to watch the annual Cooper's Hill Cheese Rolling race on Monday, which is about 100 miles west of London.
The sport is a rough one, as multiple videos posted on social media under the hashtag #cheeserolling show willing participants risk their lives and limbs for cheese. In this wild race, competitors chase a wheel of cheese down a 200-yard hill, running – but mostly tumbling – after the dairy treat.
The racer who finishes first behind the cheese gets to keep it.
This year, many competitors had to be helped from the field, including the 19-year-old Canadian women's winner, Delaney Irving.
Yet Delaney somehow still won the race after being briefly knocked out.
"I just remember hitting my head, and now I have the cheese," Delaney told the BBC.
She was thrilled with her win and said it "feels great," but didn't comment on how her head is feeling.
No training is necessary for cheese rolling
There are several rounds of races for cheese held at the Cooper's Hill event each year. Even children can run up the hill to try to beat out their peers for the cheese wheel.
This wild race has been held here since at least 1826, according to the AP, although the sport of cheese rolling is thought to be much older.
Twenty-eight-year-old Matt Crolla, who won one of several men's races, told reporters he didn't really prepare for the race: "I don't think you can train for it, can you? It's just being an idiot."
With this year's race come and gone, you've got a year to think about if this sport is for you.
Cover photo: ADRIAN DENNIS / AFP