Today's horoscope: Free daily horoscope for Tuesday, May 10, 2022
Dreams can come true in the blink of an eye if you know how to take the opportunities coming your way. Let the daily horoscope open doors for you on Tuesday and guide down the path to happiness and success!
Your free horoscope on Tuesday, May 10, 2022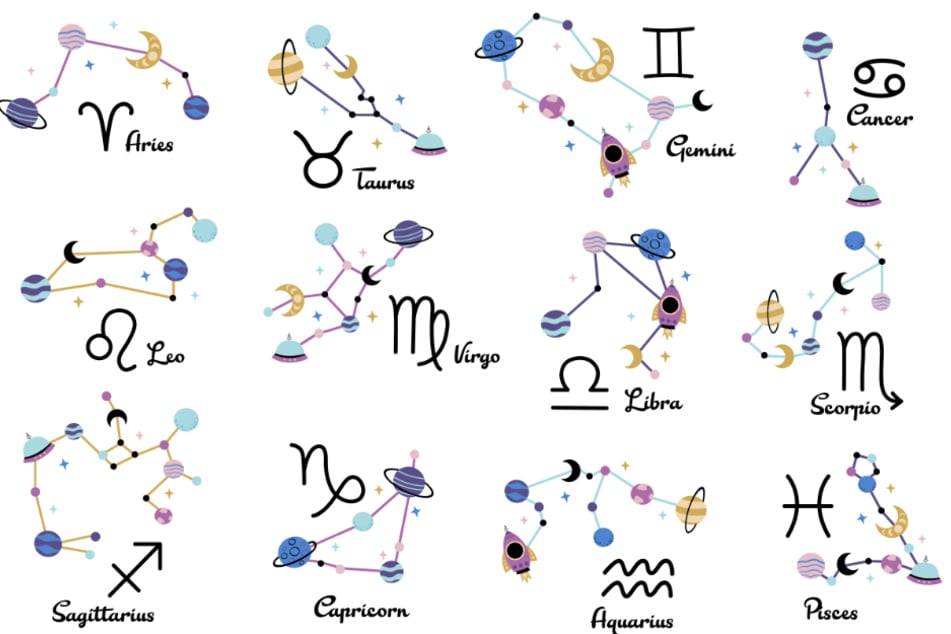 Is your star sign one of the lucky ones this Tuesday? Or should you be taking your time and choosing your next moves with care?
Take a good look at the daily astro-news and find out what areas are full of positive energy today. Your free daily horoscope for May 10 has the info you need to decide whether it's romance, money making, or spiritual advancement you should be focusing on.
Aries, Taurus, Gemini, Cancer, Leo, Virgo, Libra, Pisces, Aquarius, Capricorn, Sagittarius, and Scorpio: all star signs have to deal with Mercury's retrograde today.
But don't worry, as this planet steps back, another steps up. Jupiter moves into Aries and action becomes the name of the game.
So get yourself ready to take flight and move your own fate with the power of astrology on your side!
Aries horoscope: March 21 - April 19
You're up, but you have what it takes to power through. Careful, you don't waste too much juice on those second rang goals. Be clear about what it is you're striving for.

Taurus horoscope: April 20 - May 20
Through continuing education, you can set the course for new opportunities. You have an active mind and so soaking up new info is easy for you. Go dancing and bust out a move. It'll do the body, mind, and soul good.

Gemini horoscope: May 21 - June 20
You feel strong and want to get going. Any external resistance fades and tasks get wrapped up quick. You can trust your team to pick up the slack if you need them to.

Cancer horoscope: June 21 - July 22
Eat what you want, but remember that moderation is key. You're faster on your own. Lucky you, the celestial powers that be are sending you the best possible luck.

Leo horoscope: July 23 - August 22
How you approach relationships is based on the interplay between rules and temptation. This can make things tense. Be patient, take your time, you can assert yourself.

Virgo horoscope: August 23 - September 22
You're so enthusiastic about a new project that you've got the naysayers on your side. Check in on your coworkers support. Big questions about the why and how of life always come up, and the answers aren't always clear. Try trusting yourself more, Virgo.

Libra horoscope: September 23 - October 22
Blindly following anyone is never good, ask yourself who's truly there to support you. Someone takes a decision off your plate, and they do it with style and charm.

Scorpio horoscope: October 23 - November 21
You aren't happy with the status quo, are you? Luckily, you are great at settling disputes with tact. It's important that you don't always try to please.

Sagittarius horoscope: November 22 - December 21
There are some surprises ahead. Try not to get impatient and overshoot. You have to concentrate on work and take on new obligations, Sagittarius.
Capricorn horoscope: December 22 - January 19
You nag and whine when you're unsure where to channel your energy. But there's no reason for that. You have the power to change everything. Get going, and you'll go beyond your wildest dreams.

Aquarius horoscope: January 20 - February 18
You're your own loudest critic and best teacher. That makes that upcoming decision easy. Ask yourself what you want, as well as what works to bring in the dough.
Pisces horoscope: February 19 - March 20
That big romantic disappointment has still got you down. Try to let it go, Pisces. It's a good time to make new connections and rekindle old relationships.

Cover photo: 123RF/nataka