Labor Day: Unions turn up the heat on bosses with NYC march for recognition
New York, New York - It was a hot labor summer day on Monday as hundreds of workers, organizers, and union leaders marched through the streets of New York City, paying a visit to billionaires Jeff Bezos and Howard Schultz on their way to Times Square.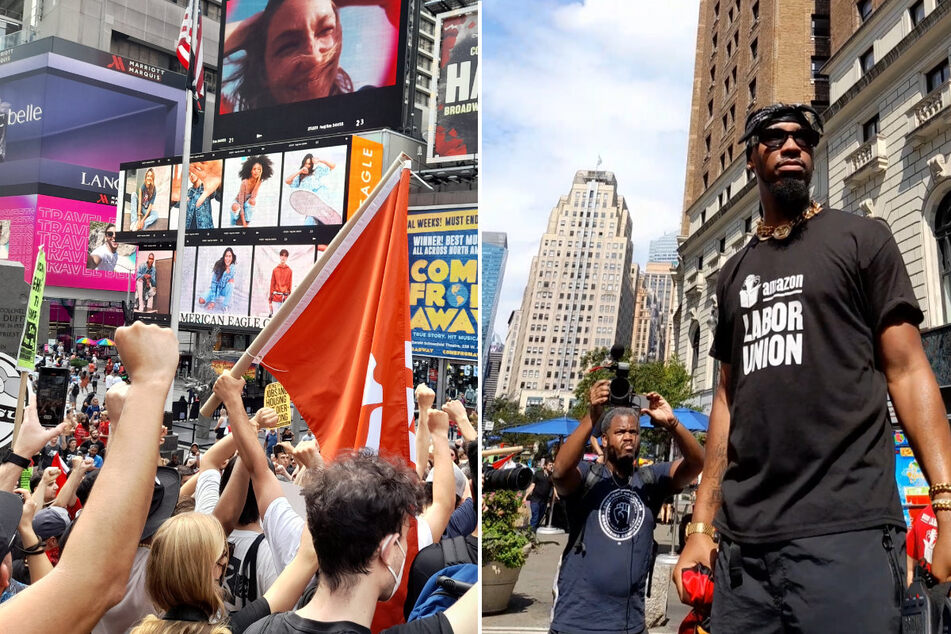 With public approval of unions at its highest point in over half a century, this Labor Day offered the opportunity for a revitalized movement to display its renewed self-confidence.
And that's exactly what happened during an event that crackled with emotion and solidarity between workers.
Amazon workers stood shoulder to shoulder with Starbucks employees outside Howard Schultz's penthouse in Manhattan, denouncing the Starbucks interim CEO for union-busting. They, in turn, found similar support when it came time to stop by Jeff Bezos' luxurious property near the Flatiron building and serenade him with some salty chants.
By that time, the march had swollen to hundreds of participants, all following Amazon Labor Union president Chris Smalls down the avenues, as the traffic ground to a halt around them. Shouts of "We run this town" felt all the more fitting. So did songs about the "mighty, mighty union," while onlookers stopped to take photos and even shout encouragement.
But this day wasn't just about the battles already won, however significant. It was also about those still to come.
The labor movement's fight for recognition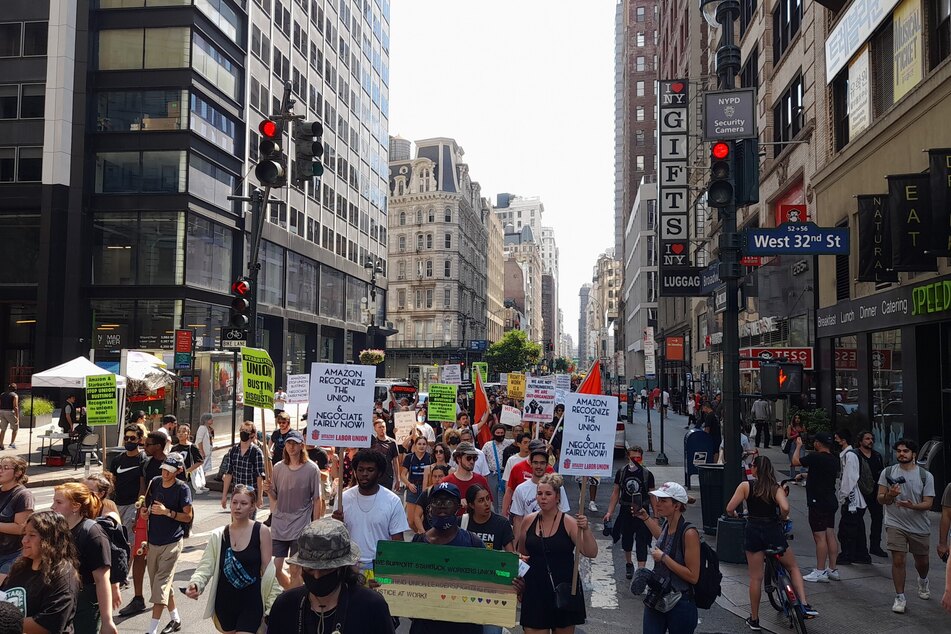 Whether at Starbucks or Amazon, Trader Joe's or Apple, workers shared the same experiences: of being intimidated and sometimes even fired for organizing. Of management refusing to negotiate or doing so in bad faith. Or even of lives lost in unsafe workplaces, as in the case of Amazon worker Poushawn Brown, whose sister related her harrowing story in front of Bezos' multi-million dollar home.
In Smalls' words, this is a constant "fight for recognition" – but one that many seem up for.
"The workers are the ones with the power. When we're just individuals, we don't have that strength, but when we come together, we have all the power in the world to change things. At the end of the day, these businesses can't run without the people that do the labor," Jamie Edwards, an organizer from Trader Joe's first ever unionized store, told TAG24.
Standing on the red steps and looking down on Times Square – the "center of capitalism," as Smalls put it – messages of solidarity were repeated time and time again, with gusto.
"You don't have to be afraid anymore," said Heather Goodall, campaign manager for the Amazon ALB1 unionization drive in Albany. "You have support, we have each other... Don't give them your power."
The gains have been incremental and the road ahead seems long. But on Labor Day 2022, the mood of the US labor movement is best summed up by the words of workers from the Amazon warehouse in Bessemer, Alabama: "It's time to come out and fly like a butterfly. It's time to come out of the cocoon."
Cover photo: TAG24