Teamsters march on Amazon HQ in Seattle: "We're ready for the fight"
Seattle, Washington - More than 1,000 Teamsters and supporters rallied outside Amazon's Seattle headquarters on Tuesday to demand an end to corporate union busting.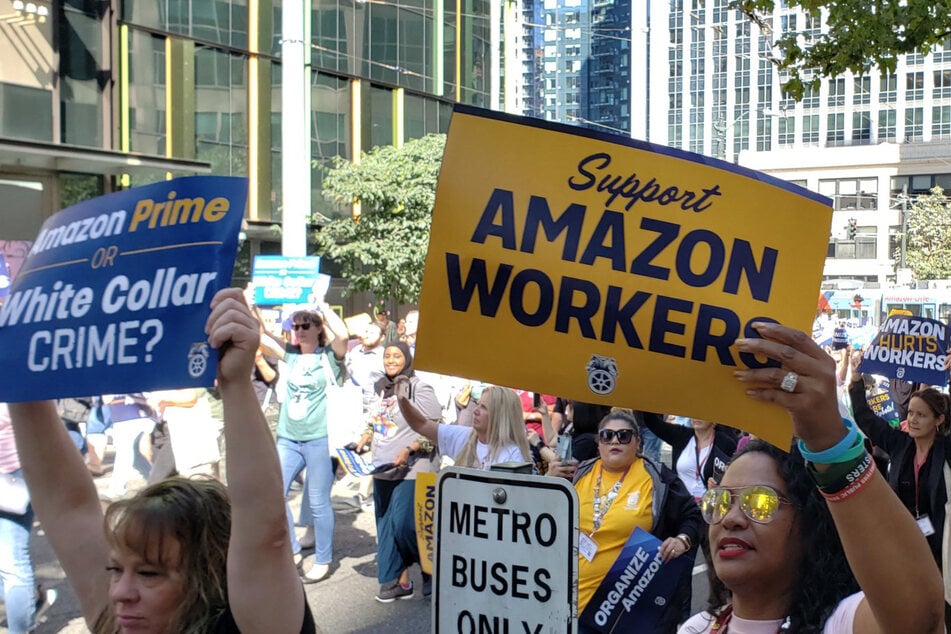 The Teamsters and their allies made a commanding impression as they filled the streets in front of Amazon's corporate headquarters.
Brandishing blue and yellow signs with messages like "Amazon Hurts Workers" and "Organize Amazon," the participants joined voices to chant "Union busting is disgusting" and "Fee-fi-fo-fum Bezos is a f***ing bum."
The rally took place to protest miserable working conditions, ongoing attempts by the company to stop unionization efforts, and a recent string of deaths at facilities in New Jersey, the Teamsters explained in a press release.
"Amazon should be afraid – the Teamsters are here standing shoulder-to-shoulder with so many communities demanding change," President Sean O'Brien said at the rally. "The Teamsters aren't going away. Wherever Amazon abuses workers, we'll be there. Amazon will not bust unions and get away with it. Amazon will not churn and burn American workers and get away with it. This corrupt corporate giant must answer to the Teamsters now, and we're ready for the fight."
The day of action came just weeks after the Teamsters announced the creation of their Amazon Division, which is dedicated to expanding workplace protections for logistics workers. It also follows repeated attempts from the company to crack down on Amazon Labor Union organizing efforts, including an unsuccessful attempt to overturn the union victory at the JFK8 warehouse on Staten Island.
No matter what Amazon throws their way, the Teamsters are committed to "defending workers from the unchecked exploitation of one of the world's most dangerous employers," the union said on Twitter.
Cover photo: Screenshot/Twitter/Teamsters