Instagram tragedy: influencer found dead shortly after posting photo
Karachi, Pakistan - Was it murder or did 25-year-old doctor and influencer Maha Shah commit suicide? Her sudden death remains a mystery.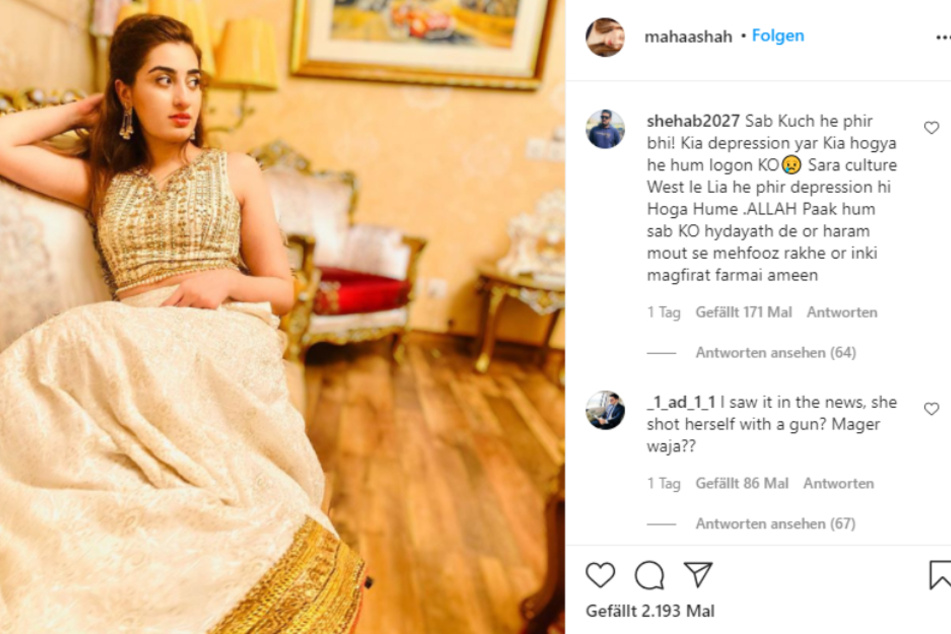 On day of her death, Dr. Syeda Maha Shah made her 179th post on Instagram.
In the photo, she is sitting on a couch and appears lost in thought. Shortly after, the young influencer was found dead.
Gulf News Asia reports the tragic incident occurring on Tuesday evening in Karachi, the hometown of the fashion and beauty model.
After a heated argument with her father, the Maha allegedly shot herself. But social media users dispute this vigorously.
Fans concede that Maha suffered from depression after her parents separated, but they say she would never resort to something so drastic.
The young doctor was found bleeding heavily from a wound on the back of her head and was taken to hospital, where she died shortly afterwards, according to her relatives.
The gun and an empty cartridge were taken from the crime scene, a bathroom on the first floor of her parents' house. The police are now trying to determine who the gun belongs to.
According to local media reports, Maha's parents do not want to have their daughter's death further investigated and are treating it as a suicide.
On Instagram, users flocked to express their condolences and grief. Many commenters doubt that Syeda Maha Shah shot herself. Others urge taking mental health more seriously.
TAG24 does not normally cover potential suicides. However, since the incident took place in the public sphere/involves a public figure, the editorial staff has decided to address it.
If you or someone you know need help, please contact the 24-hour National Suicide Prevention Hotline at 1-800-273-8255 for free and confidential support.
Cover photo: Instagram Screenshot @mahaashah