"Dong on a drone": Political event interrupted by flying sex toy and swinging punches
Albuquerque, New Mexico – "Is that a dong on a drone?"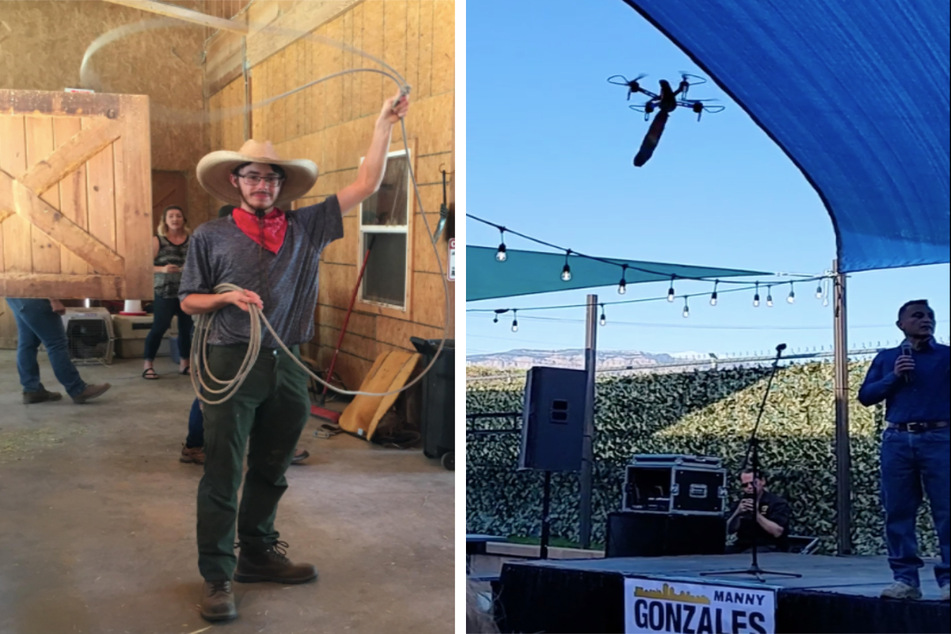 A flying object was quickly identified by a spectator exclaiming in disbelief when a New Mexico audience experienced one of the wildest political gatherings in recent memory.
On Tuesday night, a campaign event in the race for Albuquerque mayor was disrupted by a sex toy stunt and swinging punches from a 20-year-old.

Bernalillo County sheriff Manuel Gonzales III was giving a speech on an outdoor stage at the Revel Entertainment Center in Northeast Albuquerque when the candidate became distracted by a deafening buzzing sound and an approaching flying contraption. The mayhem was captured on Facebook Live.
"We have a gentleman over here that's, I guess, trying to be cute," Gonzales said, as he motioned to a group of men by nearby who appeared to be operating the dildo-slinging device.
Whispers of "dong on a drone" can be heard in the clips, amongst giggles emerging from audience members.
As the owner of the event center stepped up to grab the drone, activist Kaelan Ashby Dreyer leapt from the crowd and began a tug-of-war for his device.
Then, he took a swing at the Democrat, grazing the politician's arm.
"This guy's a tyrant!" Dryer screamed as he was tackled to the ground by event personnel. "His agency abused my constitutional rights!"
"Hey, don't hurt him!" spectators are heard shouting over the chaos, as the rebel was promptly escorted out of the event.
"This guy's a pedophile!" Dryer yelled over his shoulder as he was forced to make his grand exit.
Some audience members commented back that the perpetrator looked like one himself – and in the blink of an eye, the event continued on as if nothing had happened.
Dryer reportedly tried to escape from police while outside the venue, but was unsuccessful.
Flying "dongcopter" has made the rounds on social media
The flying dildo phenomenon has been making the rounds on social media. Apparently a similar device made an appearance at another political event outside a church earlier this week.
Perpetrator Dreyer describes himself on his Facebook account simply as a "banjo playing cowboy-hipster" and told the Albuquerque Journal that he identifies as a libertarian.
Sheriff Gonzales said he was not harmed and accused his political rivals of planting the distraction, which he said he believed "was a coordinated effort, very intentional" and claimed that "these people were trained."
His opposing Democratic candidate and the stuntman both denied any connection to each other.
Dreyer was arrested and booked into jail on charges of petty misdemeanor battery and misdemeanor resisting, evading, or obstructing an officer. He has since been released.

The now infamous "dongcopter" has remained confiscated for evidence.
Cover photo: Collage: Screenshot/Facebook/kaelan.dreyer & Screenshot/Facebook/andrellita.trujhero