Egyptian police academy features bizarre parade of flexing shirtless men
Cairo, Egypt - A police academy in Egypt put on a bizarre show with dozens of shirtless future officers flexing their muscles, standing on top of armored vans, and doing a series of circus-like stunts. The video of the parade has since gone viral.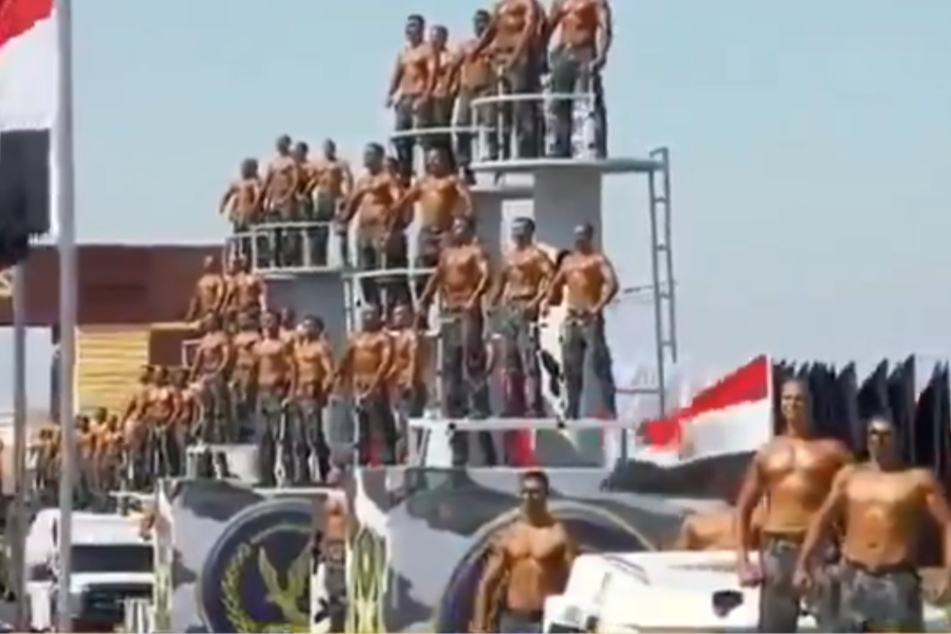 More than 1,500 cadets showed off their six packs as they stood in rows on a moving trailer, during police graduation ceremony in the Egyptian capital on Friday. 
To impress their strongman president, Abdel-Fattah al-Sissi, the shredded graduates jumped through burning rings and over sharp spikes, performed acrobatic stunts, and flaunted their ability to storm buildings and handle weapons. 
The parade is supposed to serve as a traditional demonstration of male strength.
However, more than one internet user sensed a strongly homoerotic undertone that suggested a Pride event more than a graduation ceremony. 
A Twitter user said they "corrected the audio," setting the video to the Village People hit Macho Man, a song widely considered to be a gay anthem. Many LGBTQ+ websites also reported on the parade. 
Users wink at homoerotic undertone of the event
Others noted that the police academy's unintentionally suggestive display was irony at its finest. Among them was Star Trek actor George Takei, who is himself gay. "For a terrifyingly homophobic and dangerously anti-LGBT government in Egypt, this screams pretty gay," he wrote in a retweet of the footage. 
The situation in Egypt for LGBTQ+ people is dire. Homosexuality isn't officially outlawed, but some officials and politicians have likened it to terrorism and used prostitution laws to prosecute it. Authorities have been known to use dating apps for entrapment.
Human Rights Watch and Egyptian organizations say LGBTQ+ activists have been arbitrarily arrested, intimidated, and physically abused in large numbers since President al-Sissi took power five years ago. 

Cover photo: Twitter Screenshot @GeorgeTakei