Funeral for Shinzō Abe, former Japanese prime minister, brings mourners in droves
Tokyo, Japan - Hundreds of people gathered in front of the Zojoji Temple in Tokyo on Tuesday to pay their last respects to Shinzo Abe, as the former prime minister was laid to rest days after his assassination.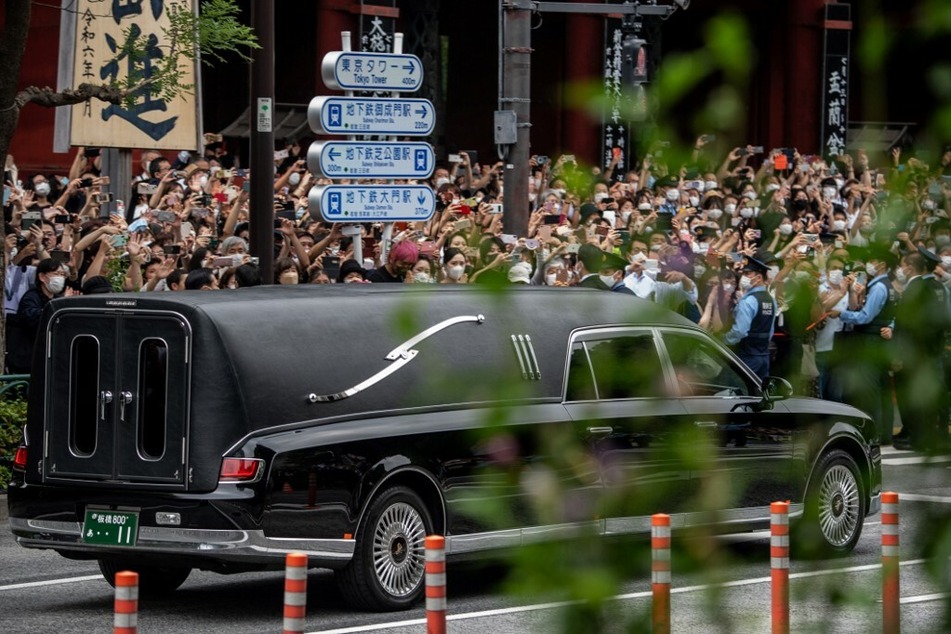 The funeral service was held inside the Buddhist shrine and attended by close relatives.
Japan's longest-serving prime minister was shot and killed while making a campaign speech in the city of Nara on Friday at the age of 67, shocking a country in which gun violence is exceedingly rare.
The suspected 41-year-old assassin was immediately arrested following the incident.
On Tuesday, the mourners waved and took photographs, some calling out: "Abe san!" as the cortège carrying Abe's widow Akie slowly drove past.
After the funeral, the hearse drove past parliament and the prime minister's official residence, important stations in Abe's long political career.
It was from here that for almost a decade Abe made his mark as no other Japanese premier with his national-conservative policies and efforts to revive the economy through his strategy dubbed "Abenomics."
His assassin has said since his arrest that he did not kill the prime minister on account of his political convictions, but rather out of hatred for the controversial Unification Church of Korean religious leader Sun Myung Moon, to which he linked Abe.
He told investigators that his mother had donated money to the church and in so doing ruined the family financially.
Cover photo: PHILIP FONG / AFP