Shireen Abu Akleh: Israeli forces charge mourners carrying murdered reporter's coffin
Jerusalem, Israel The heavily-policed funeral of murdered Al Jazeera reporter Shireen Abu Akleh turned violent on Friday as Israeli police forces charged into mourners carrying her coffin.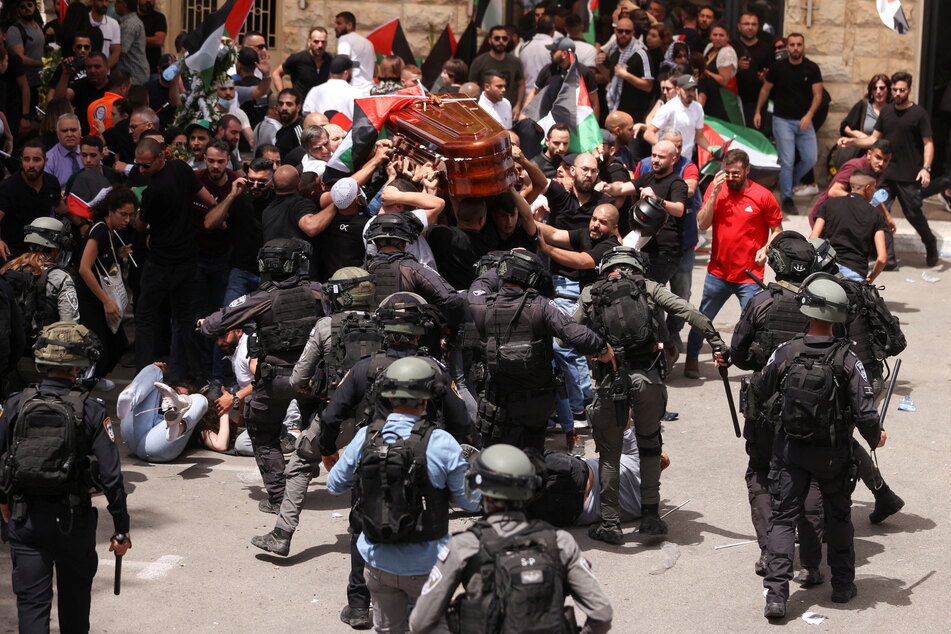 Abu Akleh, a veteran Palestinian journalist who also held US citizenship, was shot dead on Wednesday while covering an Israeli raid on the Jenin refugee camp. She was well-known in the Arab world for her reporting from the Middle East.
Palestinian authorities, as well as reporters who were on the scene when the 51-year-old was killed, say an Israeli sniper targeted Abu Akleh despite the fact she was wearing a vest and helmet clearly marked "Press".
Israel has so far rejected accusations of a "blatant murder," calling instead for a "joint investigation," which Palestinians have rejected.
Video shows Israeli forces charging into mourners
Videos from Shireen Abu Akleh's funeral on Friday in Jerusalem's Old City showed security forces charging into hundreds of people gathered to carry her coffin to a church.
A senior Al Jazeera correspondent also claimed: "The Israeli army is asking people if they are Christian or Muslim. If you're Muslim, you weren't allowed in [the church]."
Palestinian flags were also reportedly torn down, multiple arrests were made after stones were thrown at police officers, according to Israeli officials.
This latest flashpoint follows weeks of worsening violence, as Israeli forces rampaged through Jerusalem's Al-Aqsa mosque on Ramadan for a second year running, while a wave of attacks by Palestinians killed 17 people in Israel since the end of March.
Amnesty International and other human rights organizations – including the Jerusalem-based B'Tselem – have designated the Israeli state an apartheid regime for its treatment of Palestinians.
Cover photo: REUTERS