Cat friends get spooked by foot file in air-catching feline style
There's no denying that cats are quite curious creatures, but one pair of feline friends experienced mayhem after staring at their owner's odd tool.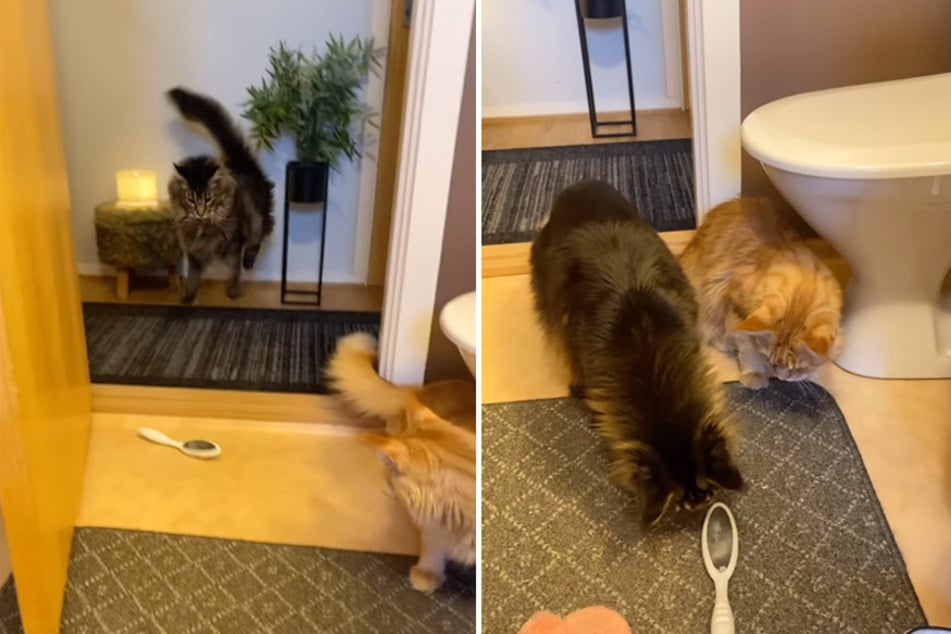 Objects that belong to humans must be extremely strange to stumble upon for animals – skittish cats in particular.
One cat owner happened to capture their Maine Coons' reaction to touching a foot file on the bathroom floor, and it's sending comical shockwaves across social media.
In a clip that's amassed 27.8 million views thus far, the two cats sit next to each other as they stare at a foot file sitting on the floor in front of them.

Then, one of the Main Coon's decides to risk it for the biscuit, sticking its paw out to see what this strange object may be.
But the second its paw touched the file, its feline friend proceeds to freak out in true cat style, hopping frantically into the air several times before attempting to bounce backwards while running into a plant on a stand as it darts down the hallway.
While it's clear that many social media users found the clip hilarious, one comment stands out amongst the rest: "OMG I'm 77 years old & I'm laughing so hard I might not see 78. My husband thinks I need an ambulance & I'm laughing & crying so hard I can't breathe to tell him why. Odd thing is I keep watching it. Thanks for sharing. I needed a good laugh."
And that's on cats living their frantic feline truths!
Cover photo: Collage: Screenshot/Instagram/hanneknygaard