Cat gets cutest cleaning ever with buckets of bathtime bubbles
Brooklyn, New York - A stinking cute TikTok video has conquered the hearts of millions after a smelly kitty got a cleaning for the ages.
Fans are certainly going topsy-turvy for this sudsy sweetness.
Heidi, a cat wrangler from Brooklyn, New York, often shares her adventures with kittens on her TikTok account heidiwranglescats.
But one video in particular has blown up and gone viral, with 7.9 million views and counting.
The clip opens with calming music that explains the cat Topsy's stinky predicament.
During his recent rescue, "he was trapped, took a swim in the food bowl, and got covered in sardines," Heidi explains in the vid.
She proceeds to wash Topsy in a large cooking pot in the sink, which serves as a makeshift bathtub.
The cat seems like he thoroughly enjoys the scrub, as he stays perfectly still. Heidi even strokes his cute button nose, rinses him, and wrings him out to dry like a ragdoll – and Topsy doesn't budge!
The bubbly bath time has brought buckets of joy to TikTok users around the world, who are loving the heartwarming and funny moment.
TikTok users love the cat video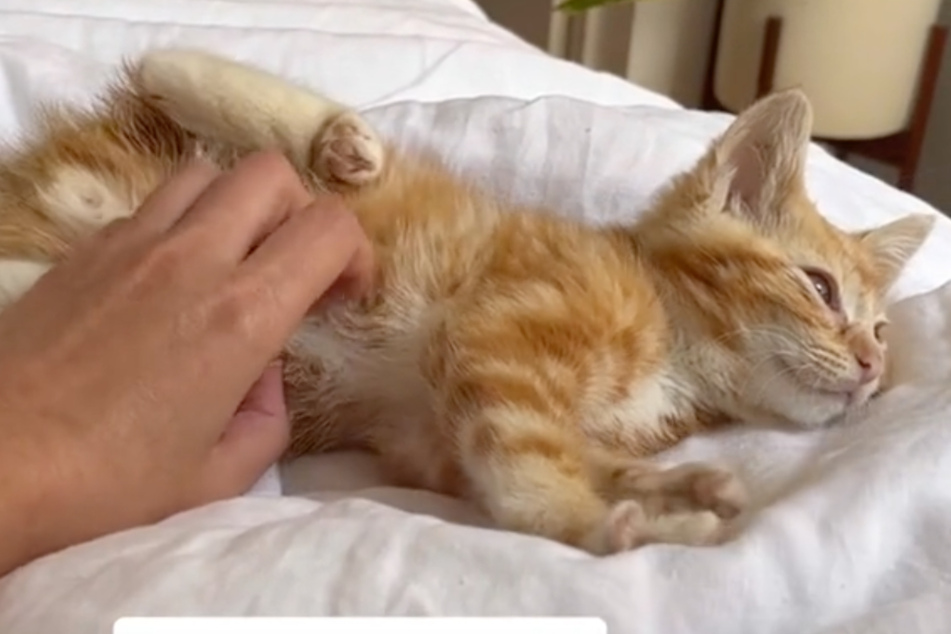 Users are infatuated with Topsy, and in awe of how much the cat loves the water!
"The cat looks so relaxed, probably the chillest cat I've seen," commented one TikToker.
"My cat would have scratched me up and plotted my death by now," another joked.
"I laughed so hard at the way you rinsed and squeezed him," wrote a third user.
"Is there anything more wonderful and adorable than kittens?" another asked.
As almost everyone on Heidi's page agrees, there's not much.
Cover photo: Collage: Screenshot/TikTok/heidiwranglescats