Cat has flipping good time ignoring owner's mirror-inspired requests: "Let go!"
San Jose, California - One thing about cats is that they're going to do whatever they want, whenever they want – even if it hinders their owners in the process.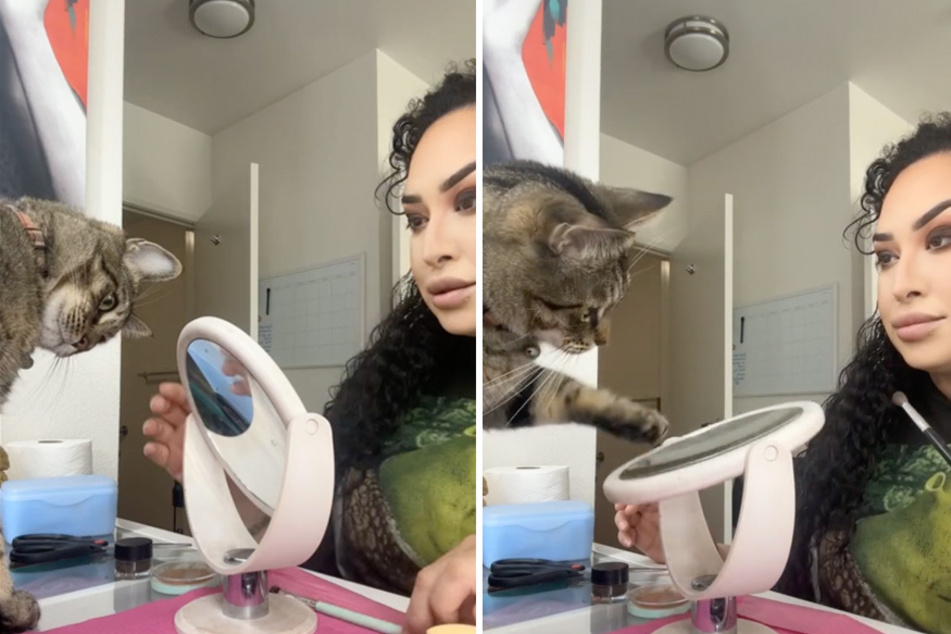 A TikToker is showing off just well her cat listens to her when she tells it to stop doing something she doesn't want it to do – like treating her tabletop mirror as a toy.

Cat owner and makeup artist Dana Fierce posted a video on TikTok that's gone wildly viral.
In the clip captioned "he only plays with the mirror when i use it" that's garnered 1.3 million views thus far, Fierce is seen trying to apply makeup while looking into her tabletop mirror that happens to spin when tapped.
However, her cat couldn't help but find enjoyment in flipping the very thing that Fierce needed to be still: the mirror.
Cat uses TikToker's mirror as a toy in viral video
As the cat owner tries to apply her makeup, her feline friend can't help but to play with the shiny, reflective object, and started treating it as a toy.
Though she tried to get her kitty to stop by telling the cat to "relax" and "let go," Fierce's furry friend keeps tapping away at the mirror.
Just another day in the life of a cat owner!
Cover photo: Collage: Screenshot/TikTok/@fierceboobies