Feline friends have purr-fectly adorable reunion
This viral Instagram clip proves that cats can miss their best friends too. When these two buddies reunite, it's clear that they are so pleased they could purr.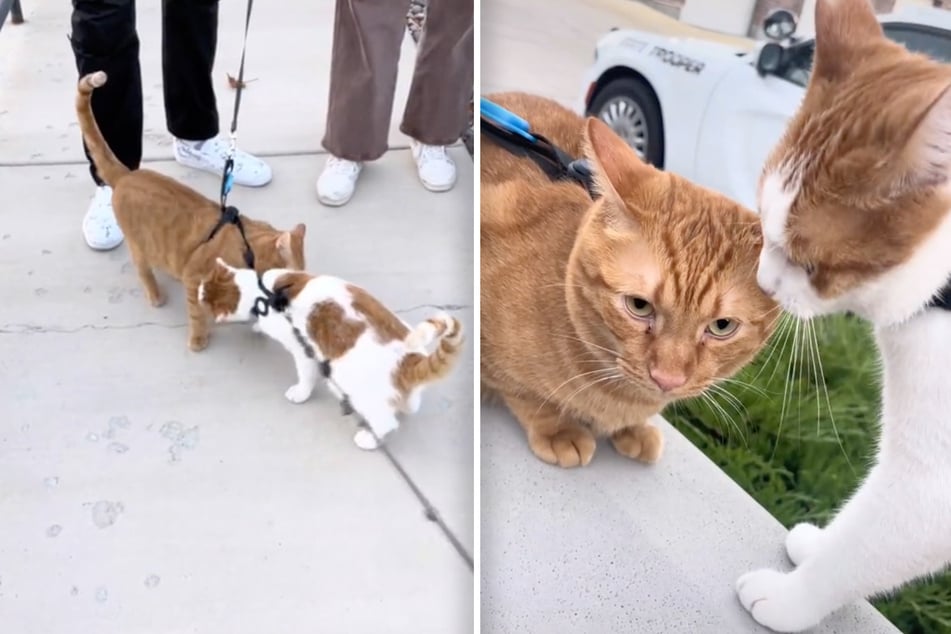 Cats Mando and Mookie are best buds. The feline friends used to go on walks together with their owners.
But Mookie, the all-orange cat, recently moved away, according to Mando's owner's post on Insta.

The cute cat clip shows the sweet reunion between two animals, and Mando, the orange and white cat, clearly missed Mookie.
In the video, Mando's owner Steven asks, "Mando, who's there?" The cat looks to where Steven points, jumps out of his owner's arms and runs towards another cat on a leash.
"That is Mando's best friend, the two have not seen each other for weeks," Steven explains.
The two kitty cats give each other a few sniffs and then start to wrestle, play, cuddle, and purr.
The cute reunion of these feline friends is on Instagram
TikTok users love the cat reunion clip
On TikTok alone, the video has amassed more than 8.1 million views and 1.4 million likes in six days. On Instagram, the cat vid racked up almost 5 million views and 500,000 likes.
Social media users are into this feline friendship. Some users think the cats are "two past souls reuniting" or that they are "def in love." Though, some noted that Mookie seems a little less invested than Mando: "doesn't seem like he was getting the same energy back."
But most users gushed about the feline friendship, writing, "I've never seen a cat so demonstrably excited" and, "need more of this, it's adorable."
Oher users think the cat owners can't keep these cuties apart and "have to move in together now."
Cover photo: Collage: Screenshot/TikTok/cat.mando