How two cats react to a baby chihuahua melts millions of hearts
Millions of TikTokers can't get over how these two cats react to a sleeping puppy. It's as if they want to make sure the little dog is alright.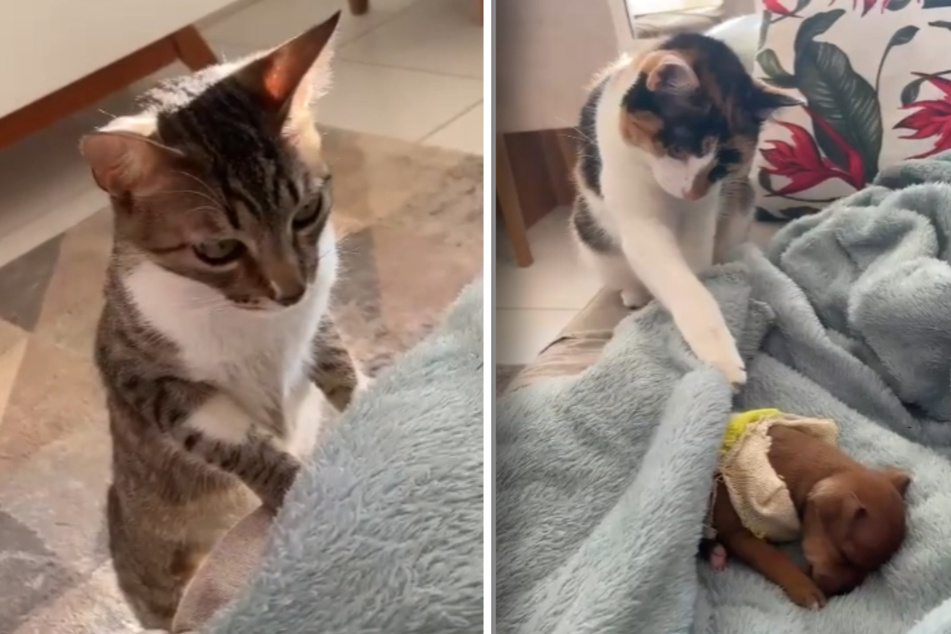 The TikTok clip shows the cats' reaction to a sleeping baby chihuahua. The felines look huge compared to the little dog, and they are both very interested in the small pup.
When one of the two cats notices the doggo all curled up, it comes over and attempts to pull the blanket off of the dog, gently with her paw.
Then, the curious cat proceeds to paw the sleeping pooch. It doesn't stir despite the cat's pats. The camera then pans to another cat, standing on its back legs and looking utterly confused and concerned about the sleeping animal.
Over two million users have seen the sweet vid. Thousands gush over the cuteness writing things like, "How cute," "soo sweet," and "beautiful" in the comments.
Why are the cats poking the chihuahua?
Tons of TikTok users think the two cats' reaction to the little dog is precious. Most commenters are convinced that the cats want to care for the little pooch and are poking it to check for vital signs.
Still, some people seem to think there's a conversation going on between the two. "Cats look at each other like, 'what do we do'," one wrote, while another added: "They are inspecting wondering what the heck is this."
Despite whatever's really going through these cats' minds, their reactions are beyond adorable.
Cover photo: Collage: Screenshot/TikTok/lana.rode1