Newborn Bengal kitten takes TikTok by storm
Los Angeles, California - A cuter-than-pie cat clip is melting hearts on TikTok with its adorable Bengal kitten and proud mama.
A viral video from TikTok user Crystalcool shows the first magical moments of a newborn Bengal kitten's life.
It features Crystal's Bengal cat named Miso and her kitten. Per the clip's caption, Miso only had one baby, which is unusual for a cat pregnancy.
"Have you ever seen a litter of one?" the clip's text reads, set to light piano music that pulls on the heartstrings.
Miso's "only child" has certainly wiggled her way into TikTok users' hearts – and it's easy to see why. The spotted little critter is sugary sweet, and the mama cat is obviously very attentive and loving.
The cute clip has over 10.8 million views, and viewers can't help but gush.
TikTok users gush over the newborn Bengal cat in a viral video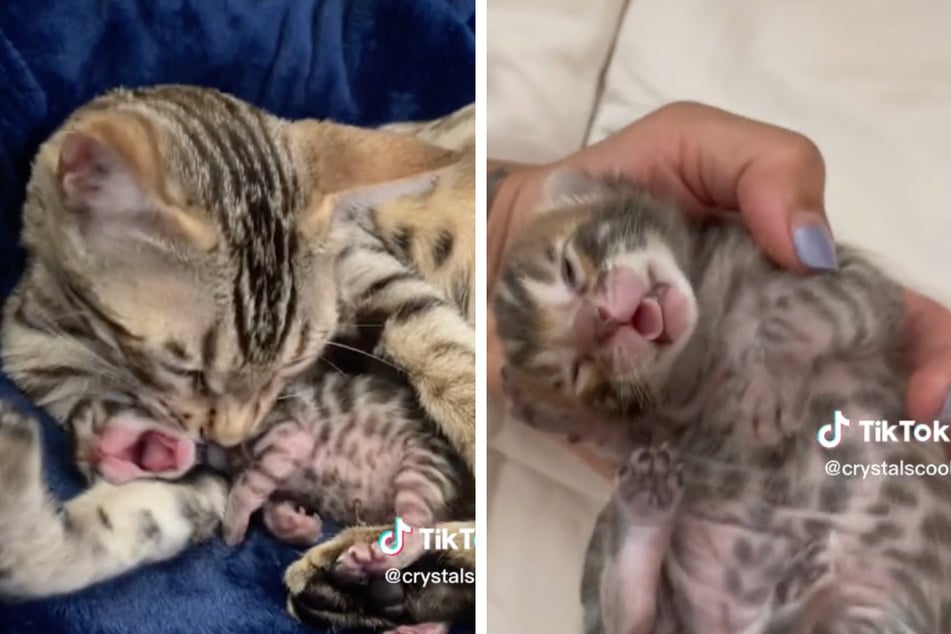 Crystal's clip boasts nearly 17,000 comments in which users are going gaga over the kitten's cuteness.
"Wow, that kitten is gorgeous," one wrote. "I'm sobbing over your beautiful lil cat family," commented another.
"Not to be dramatic but I'd die for that little kitten," another chimed in. "His markings are stunning."
Bengal cats, which have unique coats reminiscent of leopards, are relatively rare – which makes seeing the first moments of one of these cat's lives extra special.
Hopefully Crystal will post another clip of the sweet cat family soon, and let fans in on the new kitten's name.
"Pls tell me the kittens name is soup!" one user guessed, which would make a purr-fect pair with Mama Miso.

Cover photo: Collage: Screenshot/TikTok/@crystalscool