This kitten is very tire-d after spending two days stuck in a car wheel!
San Antonio, Texas - How did the poor little animal get himself stuck there in the first place?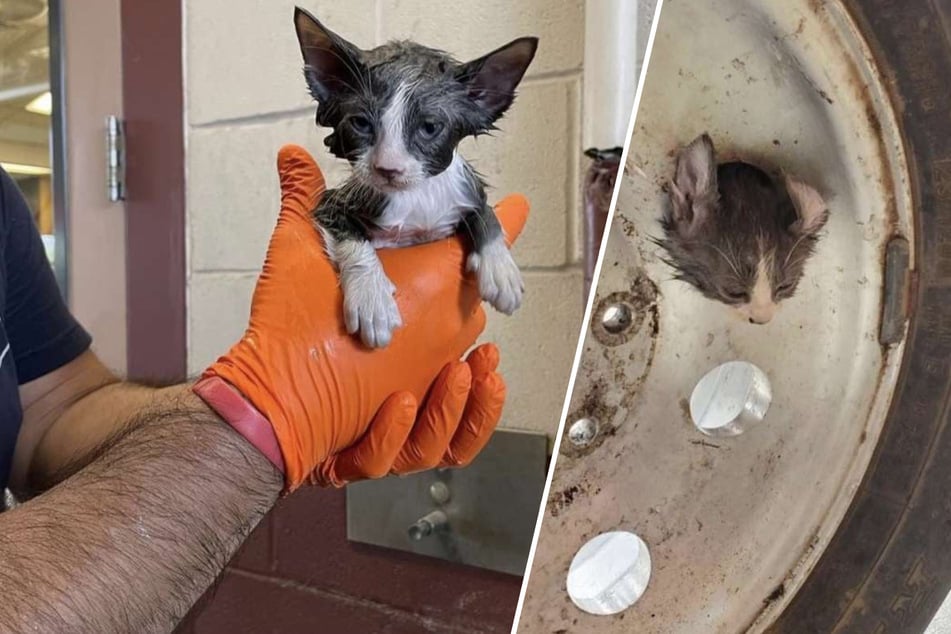 Cats have a certain knack for fitting themselves into strange spots, but it was sheer lucky that one Texas family discovered a tiny kitten stuck in the rim of their car wheel before it was too late.
After a full two days of trying and failing to free the terrified tiny fur ball from one of the rim holes, the family turned to local heroes for help.
As My San Antonio reported, the San Antonio Fire Department took over, and they had to get very creative to extract the cat from his predicament.
When soap failed to make the kitten slippery enough to slide out, the team realized they would need to saw through the rim.
In a delicate operation, the fire crew had one member supporting the kitten's weight, one holding a spoon as a shield over his neck and head to protect him from the blade and sparks while another firefighter was grinding through the metal.
That must have been incredibly scary for the kitty, but after two days, the unfortunate feline was finally freed!
The fire department shared pictures of the rescue operation on Facebook
Clumsy kitty has since found a new home!
In a recent post on Facebook, the San Antonio Fire Department shared the strange and unique rescue, along with some pictures that immediately captured quite a few users' hearts.

Many commenters praised the gentleness and compassion of the firefighters, with one pointing out, "WHOEVER THOUGHT OF THE SPOON DESERVES A RAISE!!!"
As if anything could make the rescue sweeter, it was also reported that the kitten found a new home right away, too!
The family who discovered the animal in its predicament took heart and took it home. Though the cat is not likely to go anywhere near the car from now on!
Cover photo: Bildmontage: Facebook/Screenshot/San Antonio Fire Department (2)