TikTok can't get enough of this cat's amazing reaction to his owner's baby bump!
Chicago, Illinois - A super sweet video is going viral on TikTok, showing a cat saying hello to the new addition to its human family.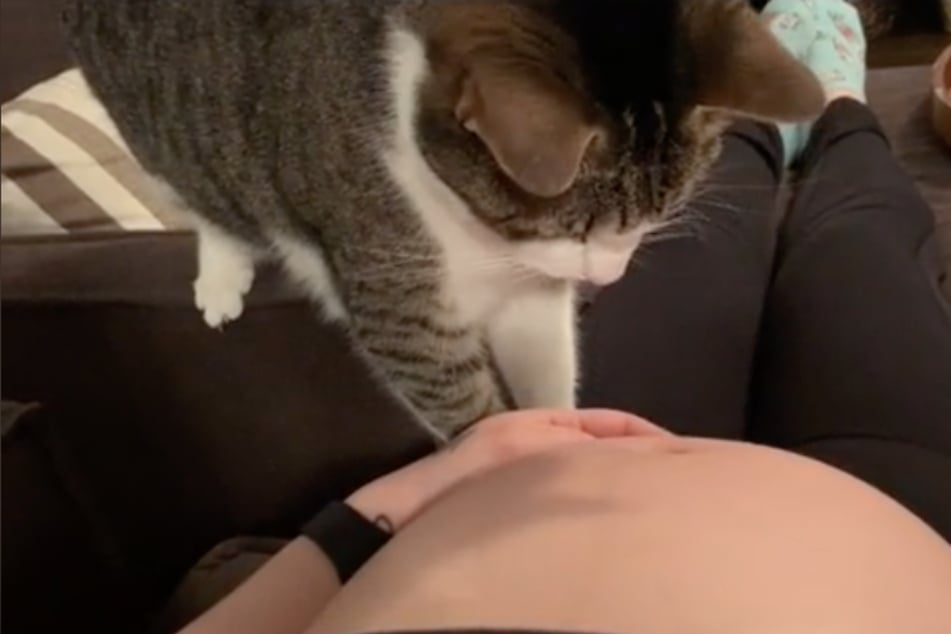 Not every pet copes well when a new family member suddenly appears in their territory, but TikTok user Mel's little cat Mingy seems to be very excited about the new baby in the house.
The floofy feline showed its enthusiasm in a recent TikTok clip, which shows the moment Mingy realizes for the very first time that momma is expecting a child.
In the video, heavily pregnant Mel (who is 26 weeks along) is seen lying on the sofa. Mingy appears next to Mel and stares mesmerized at her big, round belly.
Very cautiously and carefully, the kitty approaches the baby belly and seems to sniff it. Then she places her furry paw twice on Mel's belly button and looks up at her owner with full, round eyes.
The pregnant woman is moved by the beautiful moment and asks her pet, "Are you saying hi to baby? Oh my god, I'm literally crying. You're so cute."
On TikTok, the video already has more than 6.3 million views and 1.6 million likes in four days. People can't seem to get enough of the heartwarming cat clip!
Many TikTok users were afraid the cat might attack the baby belly
The video has already received more than 22,800 comments from enthusiastic viewers. Many expressed their admiration for Mel's relationship with the cat since the cute fur ball is so sweet with her baby bump.
But one user wrote: "I was scared that the cat was going to attack your belly." Apparently, many other viewers can relate to that fear, because the comment has already received 55,400 likes.
Thanks to the viral success of the clip, Mel now has over 51,000 followers on TikTok, and she's been thanking them in her new videos. Let's see how Mingy and Mel's son get along once he's really born.
Cover photo: tiktok.com/@latinogangmel