Woman plays the violin beautifully, but people are more interested in her fanny pack
France - A talented violinist uploaded a video of herself playing beautiful music, but everyone is focused on the furry audience member in her fanny pack.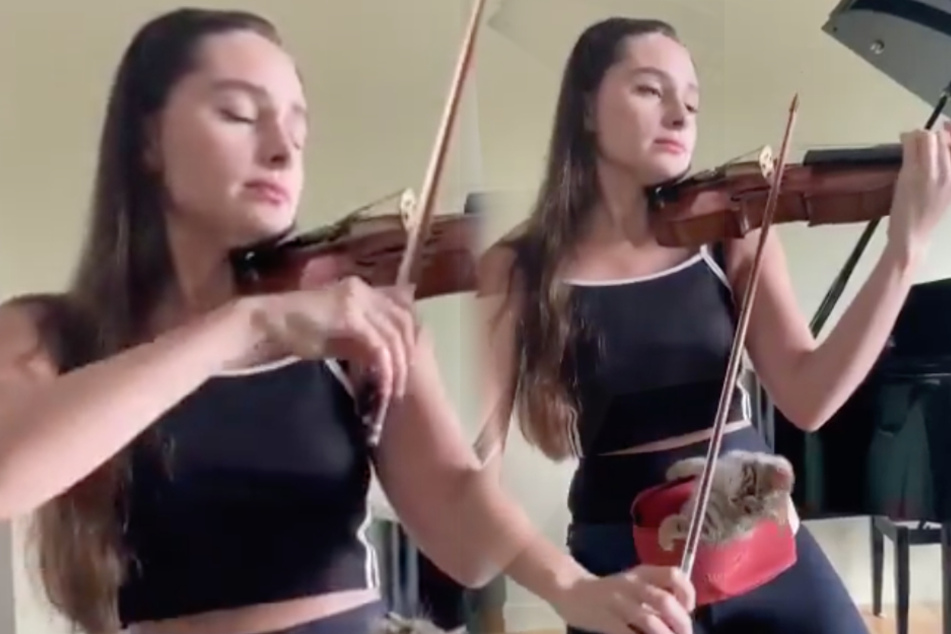 Esther Abrami is a well known French violinist. She is considered a rising star in the industry.
The young woman has played all over the world and received many prizes for her musical skills.
Esther is also active on social media. On Instagram alone, she has over 199,000 followers, and she recently gave them a taste of her virtuosity.
And though Esther might be used to playing large concert halls, this time she has a very special audience of one: a tiny kitten in her fanny pack.
In her post, the musician explained why she gave the little fur ball the best seat in the house, "She cries whenever I leave her on the floor so here's what I did!" 
The kitty, called Rémila, is clearly enjoying her vantage point, although at first she's more interested in the violin bow than the melody. But towards the end, Esther's beautiful playing has lulled her to sleep.
The internet is loving this clip. On Twitter it has 776,700 views and it has 25,100 views on Instagram.
One Instagram user commented, "This is the cutest thing I've ever seen." Another can't get enough of the cat's final pose and wrote, "Hahaha her position at the end."
Rémila might not get a chance to experience an encore, as the kitten is only being fostered by Esther for now. Followers are keeping their fingers crossed for this partnership to become permanent.
Cover photo: Screenshot/Twitter/estherabrami