Dog gets a case of pup exhaustion and calls for mountaintop rescue
Cumbria, UK - Climbing a tall mountain turned out to be too strenuous for one four-legged friend. Because the dog refused to walk back down Scafell Pike, rescuers had to intervene.
Scafell Pike is one of the highest mountains in the UK. Compared to the mountains on the European mainland, however, it is quite small with a height of roughly 3,208 feet. The inactive volcano is part of the UNESCO World Cultural Heritage, and is a popular destination for tourists as well as hiking fans.
Despite the relatively low altitude, the hike to the summit is strenuous, especially for doggos. An Akita Inu experienced this on his own, and the dog's body paid the price. The poor dog climbed the Scafell Pike with his owners and could not cope with the descent from exhaustion.
Additionally, the pup was said to have an injury, according to a Facebook post, thought it didn't mention how the dog may have gotten injured.
Fortunately for the animal, the mountain rescuers were not far away, as they already had to go out several times that day. Not one, but 13 emergency personnel came to rescue the dog.
"Despite being quite a large dog at [72 lbs], it was a joy to carry such a relatively lightweight casualty. The [dog] remained cool, calm and positively regal throughout", the rescuers said of the operation.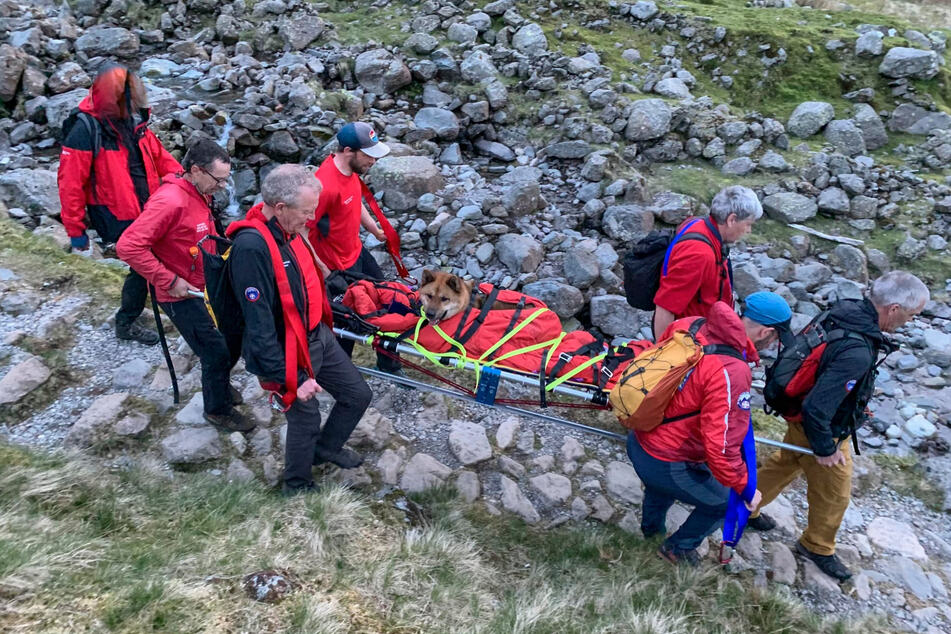 The owners could not carry the dog down the hill themselves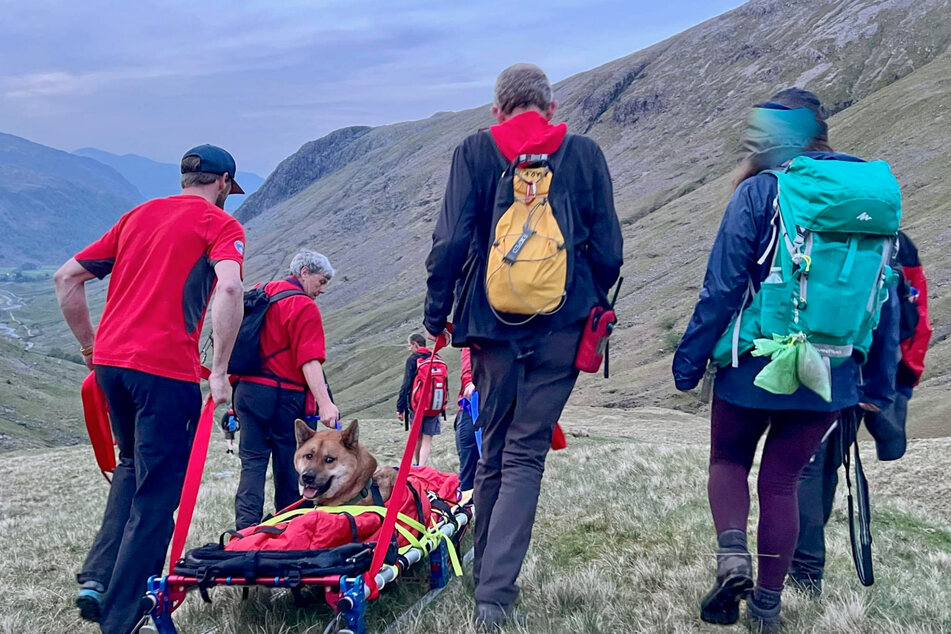 The Akita Inu's owners decided to cool down for a moment before they were instructed by the mountain rescuers to begin their descent on-foot.
The 72-pound dog was then carried down the mountain on a stretcher by emergency personnel, which took over four hours. As you can see in the photos, he clearly enjoyed the ride down!
The dog and its owners were reunited at the base Scafell Pike, making for a happy end to a scary situation!
Cover photo: Screenshot/Facebook/Keswick Mountain Rescue Team