Getting along like cats and dogs: these two fluffy friends are melting TikTok users' hearts!
Canada - Dogs and cats can't stand each other, right? This cute duo proves otherwise and delights millions of viewers on TikTok.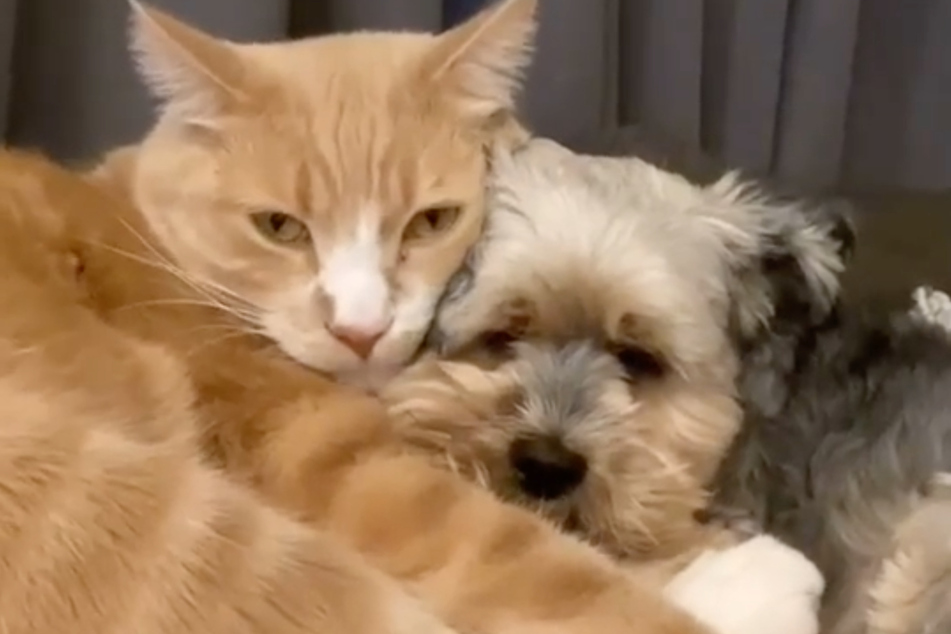 The cute couple's latest video already has an amazing 6.7 million views and more than 1.7 million likes just a day after it was posted on TikTok.
The clip uploaded on their thatdoggosarge account shows a little Canadian doggie named Sarge and a cat called Conan lying on a bed together. At first, the two have some space between them and just look at each other. But then Sarge rolls over ending up in the loving embrace of his feline friend.
Conan immediately welcomes his buddy, wrapping his velvet paws around him as he starts giving Sarge a good clean. The two comfortably spoon together and give the expression "getting along like cats and dogs" a whole new meaning.
Check out the duo's viral hit video for yourself! And don't worry: it's not the only video of these buddies cuddling. You'll find tons evidence of their love for each other on both Instagram and TikTok.
TikTok users are jealous that their pets aren't best buddies too
The video doesn't just have millions of likes – there are also nearly 20,000 comments from fans purring with pleasure at the adorable scene.
Sarge and Conan are making many pet owners envious of their relationship, with some asking how they can get their own animals to get along this well:

"My heart just exploded, this is so cute!"
"the dog just wanted to be the lil spoon."
"how do i make my cat and dog not hate eachother..."
Before their latest viral hit, Sarge and Conan's videos only got a few thousand views. But now that this dynamic duo have become internet famous, more footage of their cuddle sessions is hopefully on the way.
Cover photo: instagram.com/morkiebaby