Scaredy-dog: this Great Dane is terrified of a tiny harmless critter
Lancaster, New Hampshire - Poppy, the poor Great Dane, is cowering on the sofa, shaking with fear. What is she so afraid of? The hilarious answer soon comes hopping into view.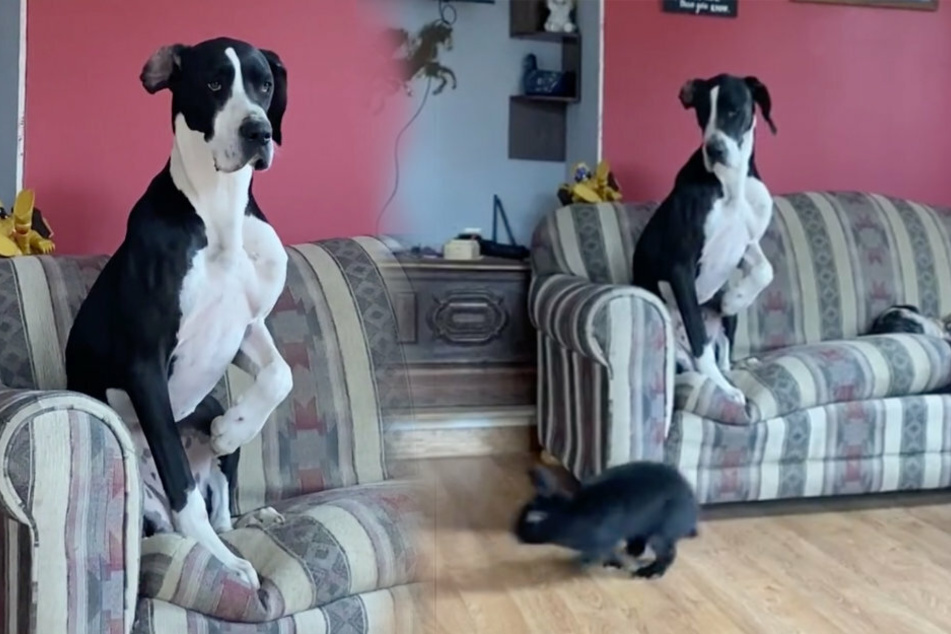 It's a well known fact that big dogs are sometimes irrationally afraid of creatures much smaller than them. And this short TikTok video published by Summerbeth proves it once again.
The video shows the huge black-and-white Great Dane perched on a sofa. The pooch is trembling in terror and holding one paw up, as she's trying to get even further from the floor.
The source of Poppy's horror? A fluffy black bunny hopping around on the floor.
It's no wonder Summerbeth's post includes a new nickname for her dog : "Chicken is afraid of the bunny."
The adorable rabbit bounces his way through the room, which seems to scare the wits out of Poppy. She clearly has no idea how ridiculous it looks for someone her size to be quaking in her paws this way.

More than 2.1 million people have seen the clip and users left over 4,300 comments. Some commenters empathized with the dog. One wrote "Oh bless her, she's SHAKING".
Another noted that Great Danes are often some of the biggest scaredy-cats: "Danes are the BIGGEST dogs yet the BIGGEST BABIES!!!"
The video of the frightened dog goes viral on Twitter and TikTok
One big dog is scared and the other naps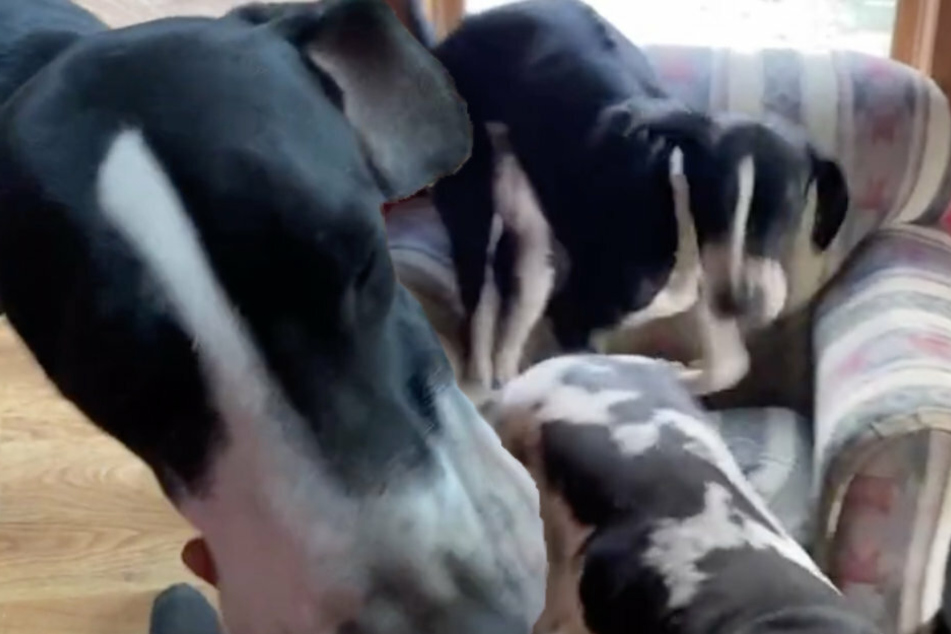 It's not just TikTok users who love the video. On Twitter, the clip has over a million views.
Some viewers noticed a detail that makes the video even funnier. They pointed out a second dog next lying on the couch next to Poppy, snoozing without a care in the world while all the drama happening.
After some users objected that scaring the big dog with the little bunny was cruel, Summerbeth posted a video update. She explained that Poppy was perfectly fine and that she just doesn't like the loud noises the bunny makes when it hops around.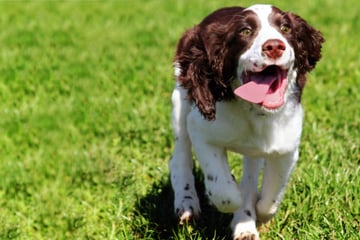 According to Summerbeth's TikTok profile, she is a veterinary assistant student, so she probably knows a thing or two about caring for pets.
Cover photo: TikTok/Screenshot/Bildmontage/summerbeth90