This woman and her dog are so cute, you'll have to smile
Internet - A weighted blanket is supposed to make you feel warm and safe but according to this Reddit user, a cuddly dog makes the best blanket of them all. She posted an adorable clip of a cuddle-session that is so sweet, you won't be able to resits a smile.
The internet loved the short clip that was posted on Wednesday by user WrinklyDog1.
She wrote that she had only adopted the dog, named Stella, the week before. But it seems like these two already have a very special bond.
In the clip, the young woman and the dog are cuddling on the couch.  They're wearing matching striped outfits and that's not even the cutest part. The proud owner beams at the camera, as Stella sleeps peacefully nuzzled up to her neck.
The post also added that the snoozing pooch is the perfect remedy for anxiety: "I haven't had to take an anxiety pill since getting her because she's like the ultimate weighted blanket."
Reddit users love the sweet stripe wearing duo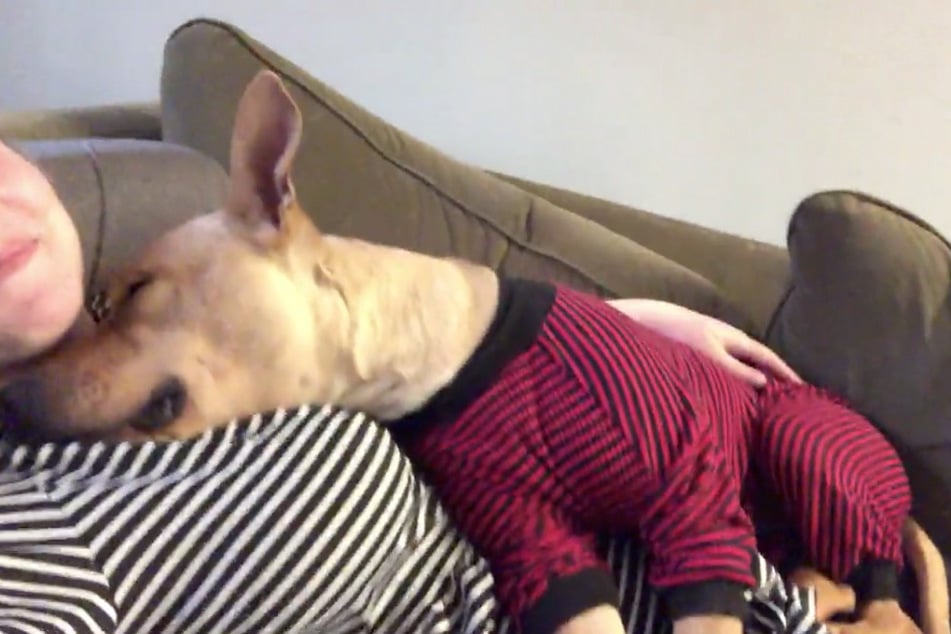 It's clear from the video that this four-legged friend's cuddles fill her owner with joy and it seems that Stella feels very comfortable in the arms of her rescuer too.
Reddit users love the clip. It already has over 60,000 upvotes and counting. There are also hundreds of comments, some of which prove that users had no choice but to smile when they saw the footage.
One wrote: "You cute stripey bastards brought a bit of joy to an angry old man." Another praised the pair, "You're a match made in heaven. so sweet." And yet another said that the sentiments were clear: "This is so wholesome, you can literally see the love in your smile."
Hopefully Stella keeps cuddling, enjoying her new home, and supporting her rescuer.
Cover photo: Screenshot/Reddit/WrinklyDog1