Video of police officer brutally beating his dog sparks outrage!
Vacaville, California - Police brutality towards a dog: an officer was caught on tape beating his canine partner and now his whole precinct is under fire.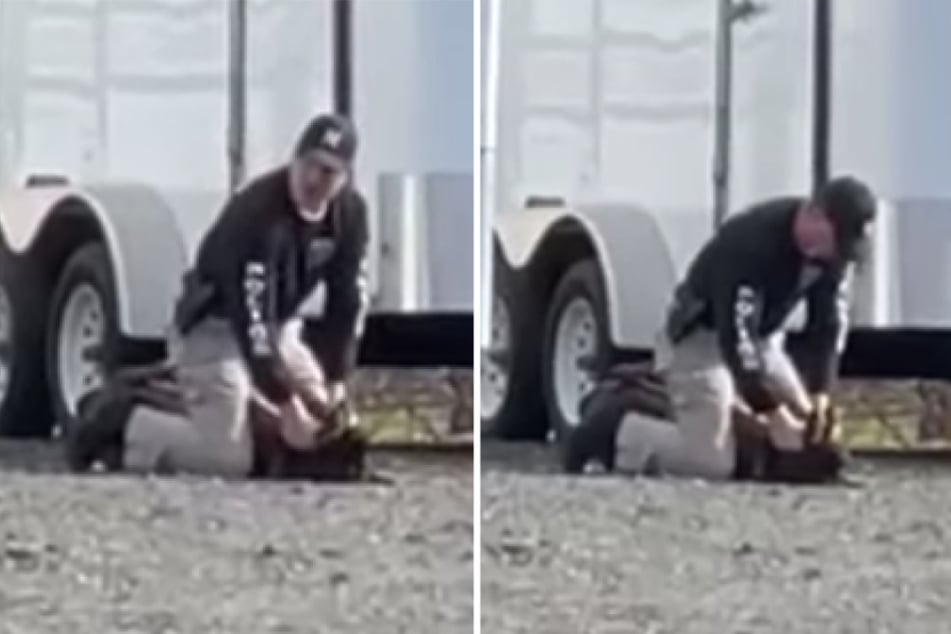 A witness named Roberto Palomino captured the disturbing incident on his cell phone and posted the video on his Facebook page on Tuesday.
In the clip, an officer from the Vacaville Police Department in California can be seen kneeling on the dog and pushing its head into the ground. At one point, he even punches it hard.
Palomino said in his post that he first heard a dog howling, then discovered the officer beating the dog "over and over again." He quickly began recording but didn't feel safe intervening himself.
After Palomino put the video online, users shared it hundreds of times and replied with outraged comments.
In an interview with ABC7, the man described how the dog had been howling for around "at least five minutes" and that he had seen the officer deliver "at least ten punches."

K9 dog allegedly became aggressive and tried to bite its handler
Police Chief Matt Lydon told ABC7 that the officer and his K9 partner had just completed a drug search training session, after which the dog was given a toy as a reward.
However, Lydon said the animal then became aggressive, refusing to let go of the toy, and it "lunged in an attempt to bite the handler."
The officer has 11 years' worth of experience in law enforcement, but had only been in the dog training program for a few months.
Despite the shocking images, Lydon refused to criticize him and even defended the brutal treatment of the dog: "The canine handler placed the dog in a position of dominance, which is common in police canine training."
Internet users outraged by violent scene
The Vacaville Police Department also issued a statement via Facebook, promising to thoroughly investigate the incident. The dog is unharmed and showing "no signs of distress or injury," according to the post.
But thousands of angry users were outraged, with many calling the incident and the department's handling of it "unacceptable" and "sad" in the replies.
One woman wrote "As someone who's married to a Master K9 Trainer who has trained many police and military dogs, there is no excuse for what was on that video. This was a very poorly executed response." Some also called for the violent handler to be fired.
It remains to be seen what the investigation will reveal and whether the officer will actually face any consequences.
Cover photo: facebook.com/robertopm7