Woman pulls prank on her dog and sends him on a hilarious guilt trip
Newcastle, UK - Buster, a German shepherd, won the hearts of dog fans on Instagram and TikTok for his reaction to his owner's sneaky prank.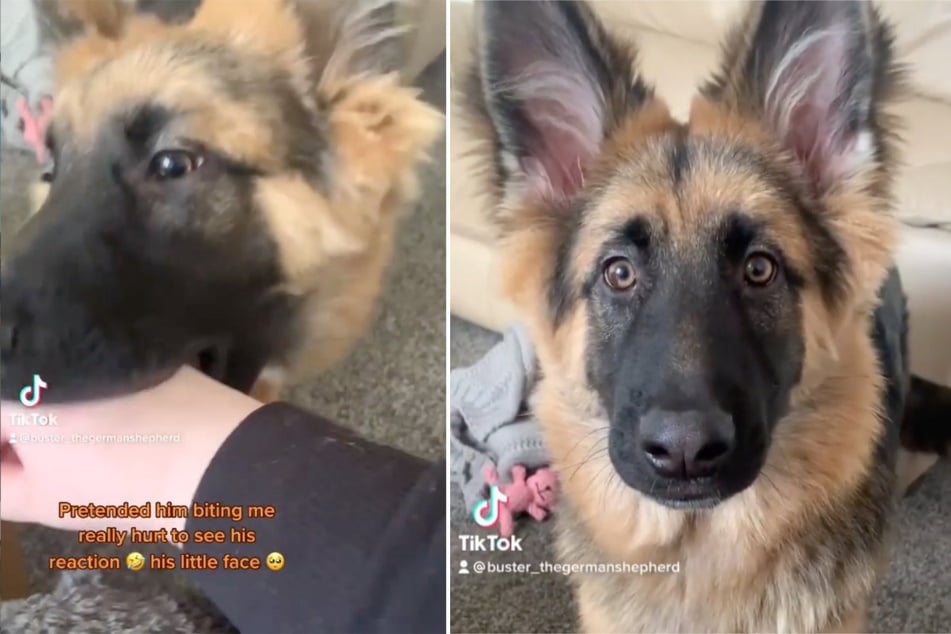 Lots of dog owners will excuse the aggressive behavior of their pooches, who "don't mean any harm" and "just want to play." But this is actually the honest truth when it comes to Buster's, whose reaction to a bit of dramatic acting from his owner made him an internet star.
In a clip on the handsome hound's very own TikTok page, you can see him playing with his owner Olivia Brown.
Buster is nibbling her hand when the woman suddenly makes a sound as if she'd actually been hurt.
Buster immediately draws back, shocked the thought of having overdone it, and he looks anxiously into the camera. Then he makes a terribly sad-sounding sigh and walks off.
The dog is clearly ashamed, which only makes Olivia laugh more.
Millions of users are laughing along with her and the video has become a viral hit. Many found Buster's reaction heartwarming, while others felt a bit sorry for him.
Viewers label the German shepherd a "drama queen"
Some users were worried that Buster might be feeling very guilty over the whole thing: "He's gonna be thinking about it the whole day," one wrote.
Another said "He's definitely losing sleep over this," and a third urged Olivia to let her dog in on the joke: "You better tell him you're ok right now."

Others took a more relaxed approach. "German Shepherds are the biggest drama queens ever," one person quipped.
But whether viewers felt bad for the dog or amused by his reaction, they loved the video. On Buster's Instagram channel alone, the clip has almost 100,000 likes.
And On TikTok, the clip shot to more than 2.6 million likes.
Cover photo: tiktok.com/@buster_thegermanshepherd