Humungous bird photo has Instagram gobsmacked
Murrells Inlet, South Carolina - A photographer couldn't believe her eyes when she saw her own jaw-dropping photo of a bird appearing to tower over her friend. It's since been posted on Instagram, where users have been shocked by the optical illusion.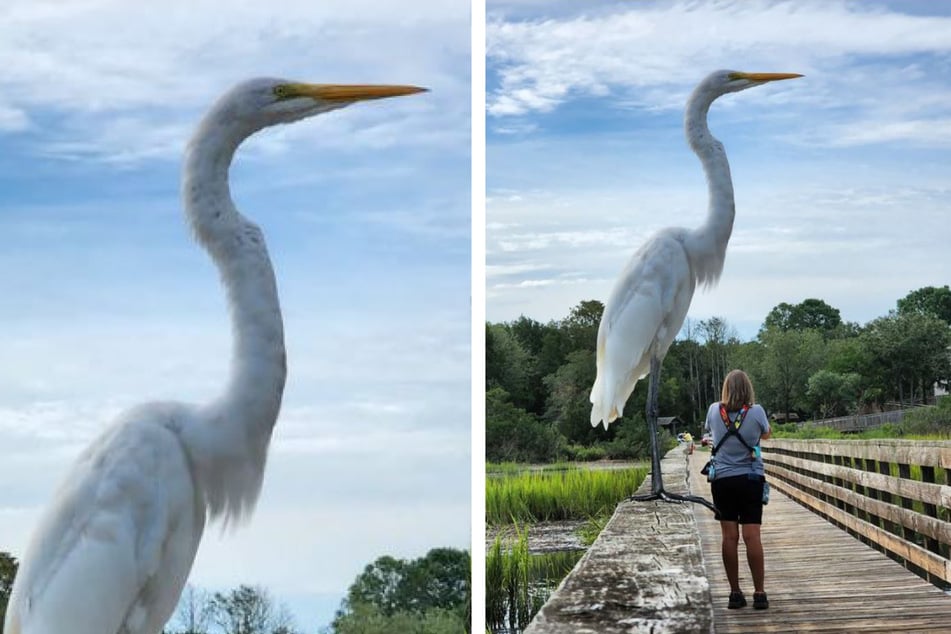 Jenny Hough and her friend Jean visited South Carolina's Huntington Beach State Park, where they wanted to take photos of local birds and wildlife, according to The Dodo.
At one point, an impressive heron came into view, perching on the railing of a wooden bridge.
"My friend Jean and I were within three feet of the bird, and as it was now too close for my camera with a zoom lens, I took out my cell phone to take a photo," Hough told the outlet.
"I placed the cell phone on the railing, but as I was concentrating on the egret, I didn't notice at first that Jean had walked about 15 to 20 feet further along the boardwalk to focus on another bird."
She switched to a different angle and focus on her camera lens, snapped some pics, and thought nothing of it.
It wasn't until a few hours later that she scrolled back and saw her awesome results.
Giant bird photo gets its time in the sun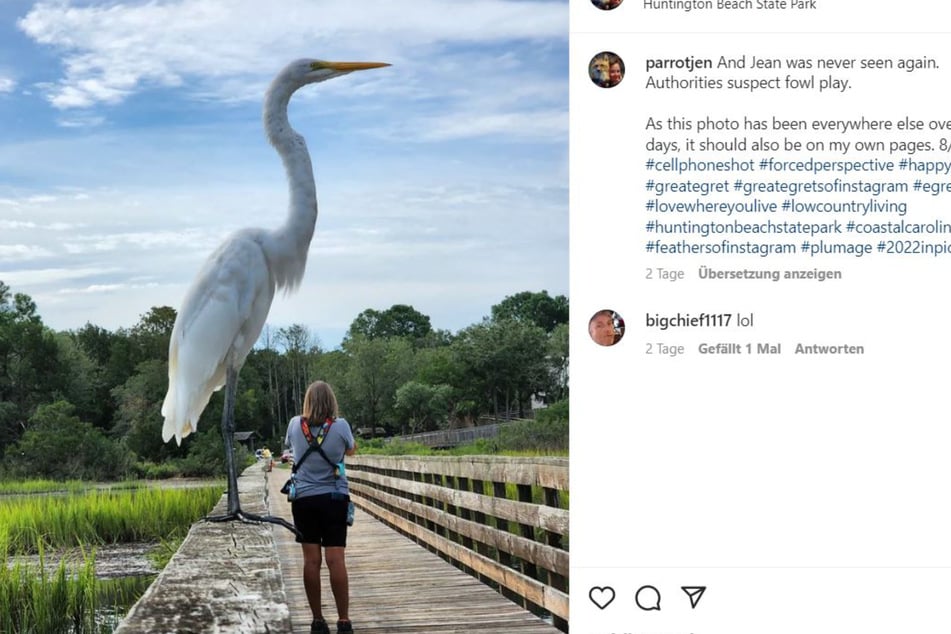 The two friend soon realized that the change in camera perspective had created one of the funniest looking unedited photos they'd ever seen.
"It looks like Jean is about to be eaten by a mutant shorebird," Jenny said.
Keeping the joke alive, Jenny posted the happy accident on Instagram, with the caption, "And Jean was never seen again. Authorities suspect fowl play."
The kismet moment has made its way around the internet, with animal lovers appreciating that life is all about how you see it.
Cover photo: Collage: Screenshot/Instagram/parrotjen