Sssss-weet dreams: Man curls up in bed with two giant snakes in terrifying video
Imagine drifting off for an afternoon nap and waking up to two huge, yellow snakes wrapped around your body.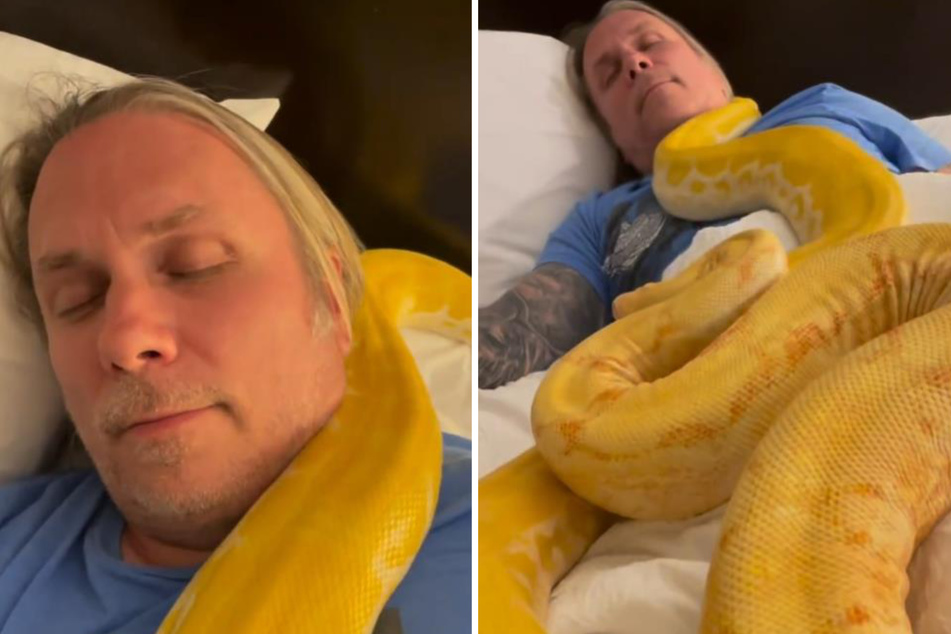 For many people, it would be a nightmare scenario, but for Brian Barczyk, it's anything but terrifying.

Barczyk loves his snakes so much that he allows them to slither into bed with him.
The vlogger recently shared an Instagram video of himself curling up to sleep with two enormous snakes!
With a peaceful look on his face, Barczyk seems to really enjoy snuggling with his slithery companions.
The video even shows one of the
animals
winding its way up his neck.
"Sometimes after a long day, taking a nap with your favorites is a must," Barczyk wrote under the post.
The hashtags suggest that the two yellow-scaled snakes are probably a boa and a python.
Who wants to share their bed with two monster snakes?
Brian Barczyk loves snakes and reptiles of all kinds
Users' reactions to Barczyk's video differed wildly in the comments section.
"Snakes r so cool," one user wrote, while another said, "You make me want a snake sooo bad."
Others were less enthusiastic. "Oh hell na. Lol. That's like my biggest nightmare," one comment read. "I am afraid," another user wrote. "How can u chill like that," a third Instagrammer wondered.
Apparently, catching some z's with two giant reptiles is no problem for Brian Barczyk!
Cover photo: Screenshots/Instagram/snakebytestv