"Broadway's Back!" with a jubilant Tony Awards night
New York, New York – The message rang loud and clear on Sunday night as the curtain rose on the Tony Awards at the Winter Garden Theatre: "Broadway's back!"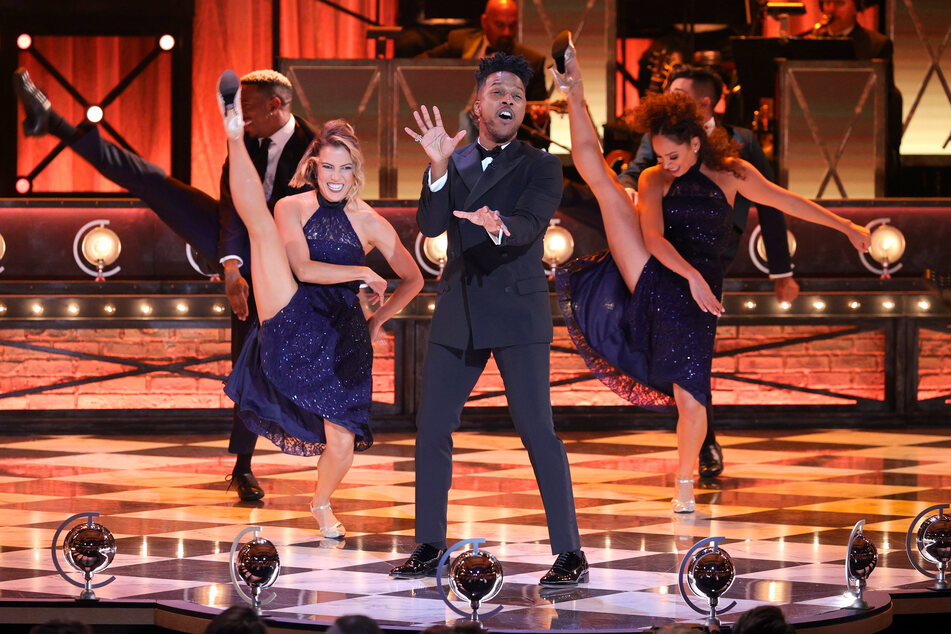 Host Leslie Odom, Jr. high-kicked the live CBS broadcast to center stage with a razzle-dazzling opening number touting, "Broadway's back tonight!"
The original song heralded the fully-vaccinated and masked-up audience and thrust Broadway's post-pandemic return into the spotlight.
Continuing in glitzy style and teetering between the industry's past and its future, the 74th annual awards show pulled out all the stops and 11 o'clock numbers to revive theatergoers' enthusiasm. Yet, it touched on very different subject matter than in years past, laying the stepping stones for a new-and-improved Great White Way.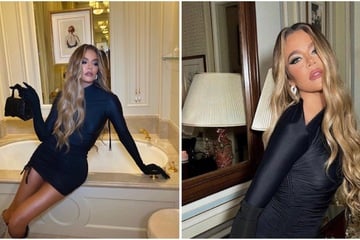 Moulin Rouge! The Musical was the night's top dog, taking home 10 trophies including Best Musical and one in every musical design category. The Inheritance captured Best Play and A Soldier's Play was named Best Revival of a Play.
Sonya Tayeh was the first female to take home Best Choreography in a decade, and the night saw the first Latinx playwright to ever win in Matthew López. Lauren Patten acknowledged the "tough conversations" surrounding the erasure of trans and non-binary people with her role in Jagged Little Pill, for which she took home Best Featured Actress in a Musical.
"Hold on to your voice," Tayeh said in the Tonys press room after her emotional win "as a brown, queer, Arab-American woman." "Keep pushing forward that voice."
Aaron Tveit won Best Performance by an Actor in a Leading Role in a Musical, which he had a chance of losing despite being the sole nominee in his category.
"You never know," he said of his win, which still needed 60% of voters to swing his way. "So until it happened, I wasn't going to count any chickens in my basket."
He also said that after the 560-day Broadway shutdown, he hopes live theater is never taken for granted.
The night repeatedly turned its attention back to activism and accessibility in the industry with numerous performances, speeches, and a special Tony honoring the Broadway Advocacy Coalition. CBS' opening number was made up of an ensemble of mostly Black dancers, as Odom, Jr. gave a pointed wink while changing up the lyrics: "There's brand-new cast and a brand-new day in sight ... Now Broadway's Black tonight."
"I feel like Harriet Tubman is dancing in the clouds," said Broadway Advocacy Coalition President Britton Smith after accepting the Tony for his organization's work. "This award represents there is willingness to shift."
Yet Slave Play, the most nominated play in Tony Awards history with 12 nods, received zero awards – showing that Tony voters may not yet have embraced the changes in the industry that many are so desperately seeking.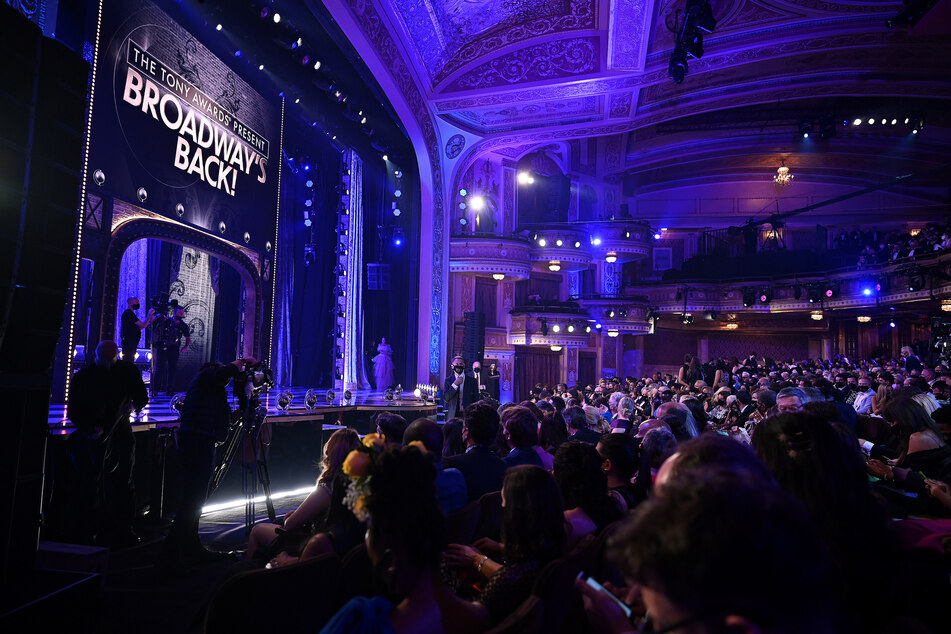 A Tony Awards that flipped the script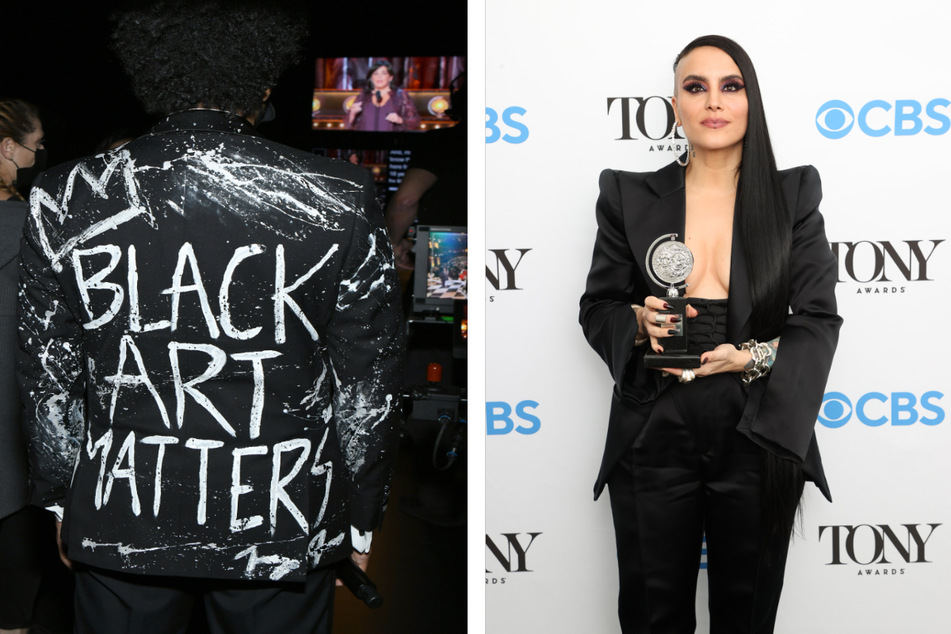 Adding to a year which flipped the script – quite literally – the Tony Awards aired in two parts on Sunday night after its June 2020 ceremony was delayed for over a year when theaters went dark.
The jam-packed Paramount+ broadcast from 7-9 PM EST handed out all but three of the night's awards behind a streaming paywall. It left viewers still puzzled as to why the broadcast was split into two parts – the awards at 7 PM and the CBS concert special at 9 PM – and why access was restricted at a time when Broadway is clearly in need of a revitalizing boost.
Some theater fans boycotted this year's Tony Awards altogether and relied on a play-by-play from Twitter, while others posted reminders to cancel their free-trial of Paramount+ if they had downloaded the subscription service just to watch the ceremony.
It felt as if the streaming broadcast rushed through the awards in two hours, with multiple design categories being presented at the same time in a clear attempt to condense things. Even host Audra McDonald herself noted as she opened the show that she had a lot of awards to give out and not much time.
A few slip-ups snuck into the broadcast, including McDonald reading her own name off the teleprompter, Odom, Jr. not picking up the cue to come back from a commercial break, and the CBS broadcast starting almost ten minutes late. The Paramount+ broadcast's Hairspray opening offered a bumpy start with awkward choreography and vocals, and Kerry Butler coming in singing the wrong verse halfway through – an unintended, yet noticeable nod to live theater being back.
Yet, what this year's Tony Awards lost by having a crammed streaming broadcast, it gained with a two-hour follow-up concert chock-full of nostalgic musical performances.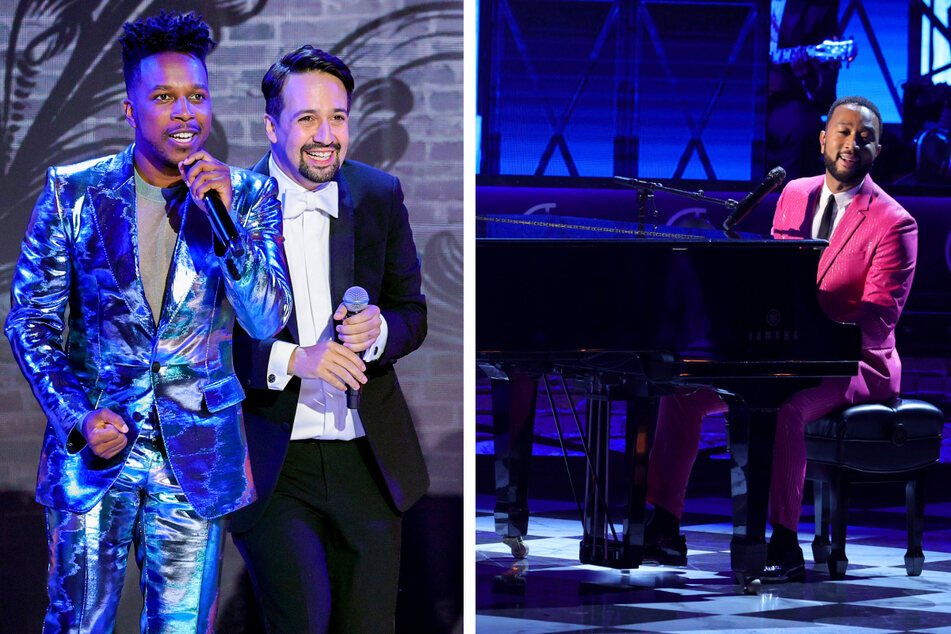 Duets galore shined the spotlight back on Broadway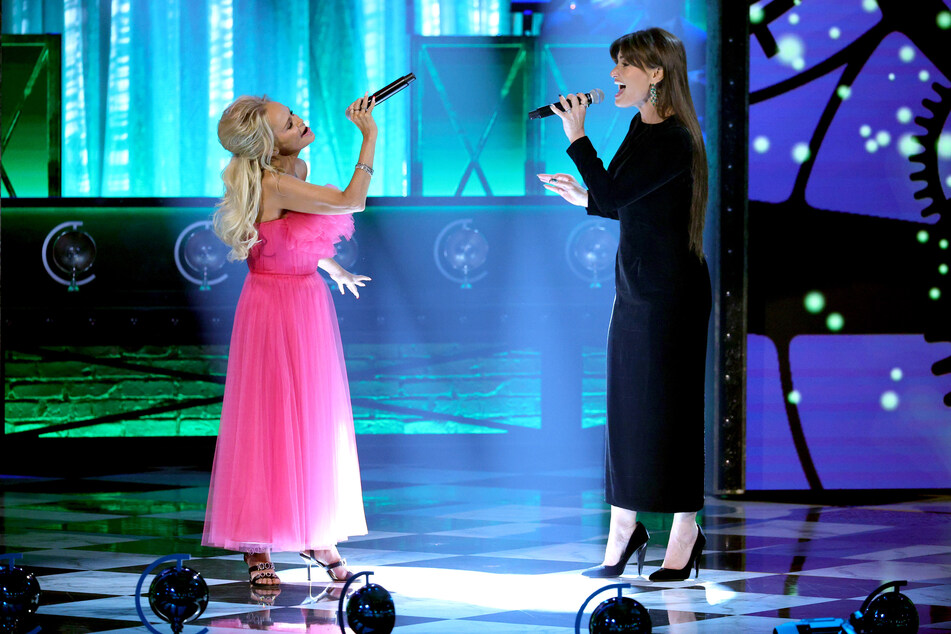 CBS' portion of the night included classics from the musical theater songbook, throwing around Sondheim and Lloyd Webber tunes like rice at a wedding.
While some choices seemed random (see: Anyone Can Whistle), others put a fresh spin on an old sound. An eerie new layer emerged to the song Give My Regards to Broadway as it accompanied the In Memoriam tribute segment, showcasing too many in the industry who had passed away from Covid-19.
Highlight performances included John Legend performing the music of The Temptations and Jennifer Holliday delivering an out-of-this world And I Am Telling You – which she won a Tony Award for nearly 40 years ago – that withstood the test of time.
Josh Groban joined host Odom, Jr. for a comedic bit about the duo both being Tony hosts and alums of the same school. The gorgeous male duet of Godspell's Beautiful City expertly navigated between being lighthearted and a touching tribute to educators and NYC.
It was just one of the Tonys' endless duets – and duets galore. The pairings hit a high note at the night's end with Kristin Chenoweth and Idina Menzel singing For Good (sounding as wickedly good as ever), Adam Pascal and Anthony Rapp reuniting over Rent, and McDonald and Brian Stokes Mitchell blowing the audience away with their iconic Wheels of a Dream. It was one of the many moments that brought the audience to their feet, and tears to stain some soggy masks.
"I think everybody's just happy to be in a theater," said Mary-Louise Parker, who won Best Performance by an Actress in a Leading Role in a Play. "You really feel that tonight in a way that's indescribable."
"I do think it's different [since the pandemic]. I really do," she added of the evening.
The night capped off both the familiar and the uncharted waters that theater fans are now treading, and turned the lights back on over Broadway.
Cover photo: Courtesy: Tony Awards Productions/Getty Images/ Theo Wargo