Angelina Jolie gives emotional appeal to renew the Violence Against Women Act
Washington DC – Angelina Jolie joined a bipartisan group of senators on Wednesday to announce efforts to revive the Violence Against Women Act (VAWA) that expired in 2019 due to Republican opposition.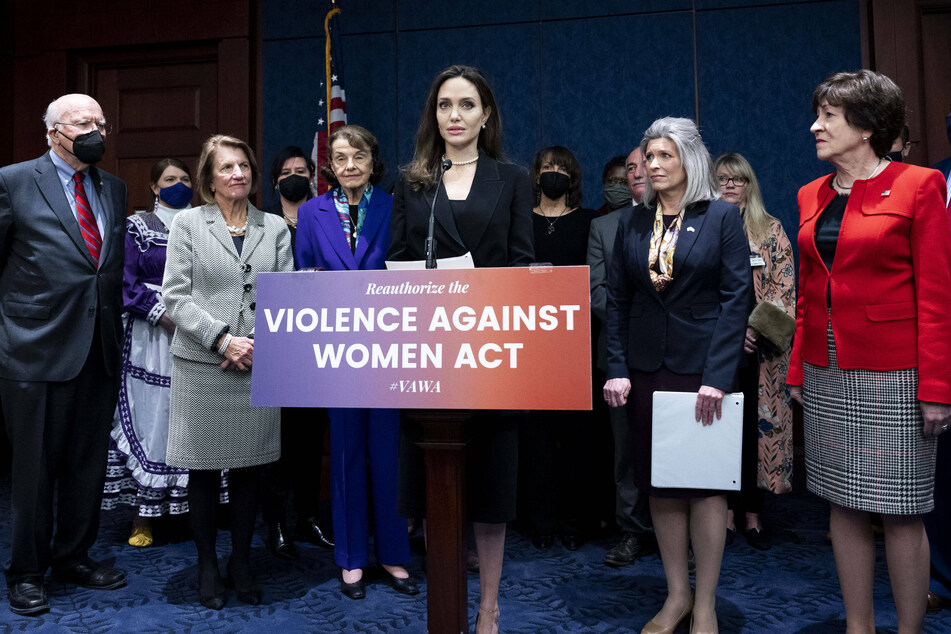 The VAWA provided important protections to victims of domestic and sexual assault and violence.
First proposed by then Sen. Joe Biden in 1990, the law was last renewed in 2013.
But since 2019, Republicans have blocked the legislation to reauthorize it, finding fault with a provision that prevented people convicted of misdemeanor stalking from possessing firearms. The measure received strong vocal opposition from the National Rifle Association (NRA).
Now, advocates are confident they have the support they need to get the legislation through the deeply divided Senate. They were joined by none other than Angelina Jolie as they introduced their proposal to renew the law.
Surrounded by lawmakers, the actor gave an emotional speech during a press conference: "Standing here at the center of our nation's power, I can think only of everyone who has been made to feel powerless by their abusers, by a system that failed to protect them," she said, as reported by the Associated Press.
"The reason that many people struggle to leave abusive situations is that they've been made to feel worthless," she continued. "When there is silence from a Congress too busy to renew the Violence Against Women Act for a decade, it reinforces that sense of worthlessness."
She implored Congress to support the bill, as she has before, calling it "one of the most important votes you will cast this year in the Senate."
Senators praise their bipartisan cooperation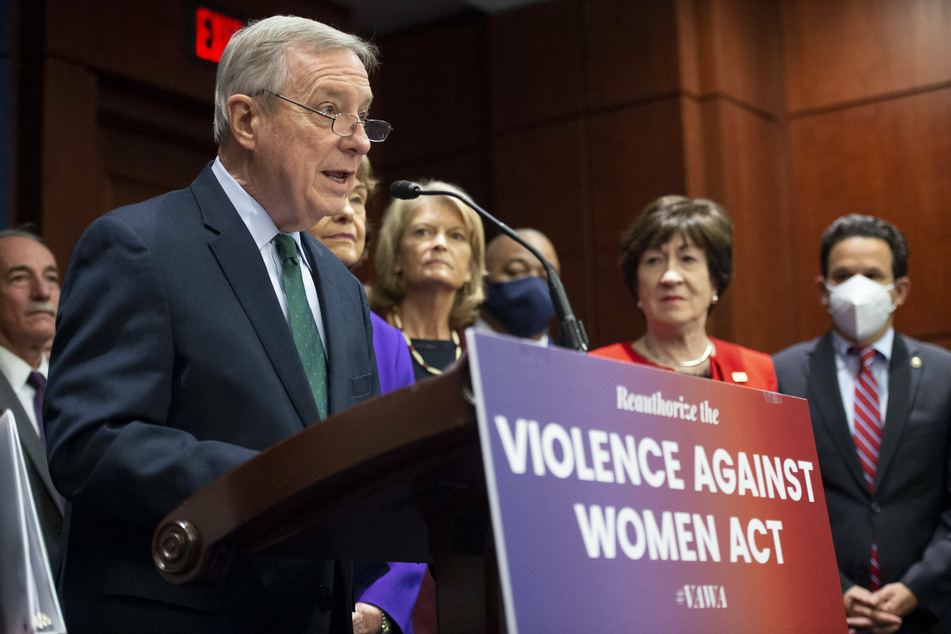 Senators from both sides of the aisle joined the press conference to show their support of the VAWA.
And of course, it wouldn't be the US Senate if members didn't take every opportunity possible to play up the merits of their "bipartisanship."

"For those who have given up hope on the United States Senate functioning, passing important laws, working together on a bipartisan basis, take a look behind me," Illinois Sen. Dick Durbin, a Democrat, said during the news conference.
But it's thanks to that bipartisanship that important measures were left out of the renegotiated proposal, including a provision to close the so-called "boyfriend loophole," which allows abusive partners or ex-partners to obtain firearms so long as they did not marry, cohabitate, or have a child with their victims.
Though many Democrats admit that omission leaves a gaping hole in protections for women and other people at threat, many believe it's more important to put what protections in place they can now and return to the negotiating table at a later date.
President Biden also weighed in on Wednesday's announcement: "Combatting domestic violence, sexual assault, dating violence, and stalking should not be a Democratic issue or Republican issue," he said in a statement. "It's a matter of justice and compassion."
"I am grateful that this critical bipartisan bill is moving forward, and I look forward to Congress delivering it to my desk without delay."
Cover photo: IMAGO / ZUMA Wire