"Free Billie Eilish" sign sparks confusion in Los Angeles
Los Angeles, California - Billie Eilish is at the center of a bizarre stunt that occurred in Los Angeles on Tuesday evening.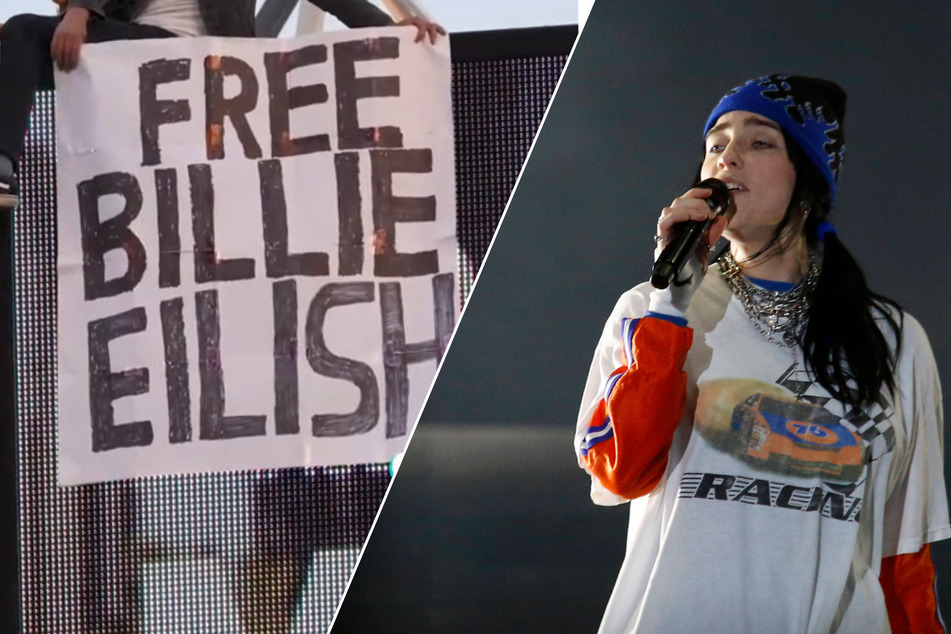 Around 6:30 PM, a man climbed 30 feet up the KTLA news tower in Hollywood, holding a guitar and a sign that read "FREE BILLIE EILISH."
The stunt drew a significant crowd and led the 21-year-old singer to trend on Twitter well into Wednesday morning.
Per KTLA, law enforcement deemed the man a "protestor," but the exact cause he was protesting for remains unknown.
In addition to the Eilish sign, the man displayed another handwritten poster that read, "MK ultra sex slaves Donald Marshall Clones."
The building scaler stayed on the tower for over three hours before climbing down of his own accord at 9:30 PM. LAPD officers then arrested him for trespassing.
Though the man's reason for naming the Ocean Eyes singer is unknown, fans buzzed about the incident for several hours after his arrest.
Billie Eilish fans react to bizarre stunt in Los Angeles
News of the incident led "Free Billie Eilish" to trend on social media, adding further confusion for fans who briefly panicked at the trending topic.
"Billie Eilish, sleeping peacefully as "FREE BILLIE EILISH" trends, not knowing she needs to be set free," one fan tweeted along with a photo of a sleeping woman.
"free billie eilish? from what exactly" another joked.
Cover photo: Collage: Screenshot/TikTok/@iamsikora & IMAGO / Aton Chile