Chris Pine tests out his poker face with the help of Harry Styles
Venice, Italy - Harry Styles caught a lot of flak on social media for his response during an interview at Venice Film Festival, but it was his Don't Worry Darling co-star Chris Pine's reaction to the nonsense he was spewed that really stole the show.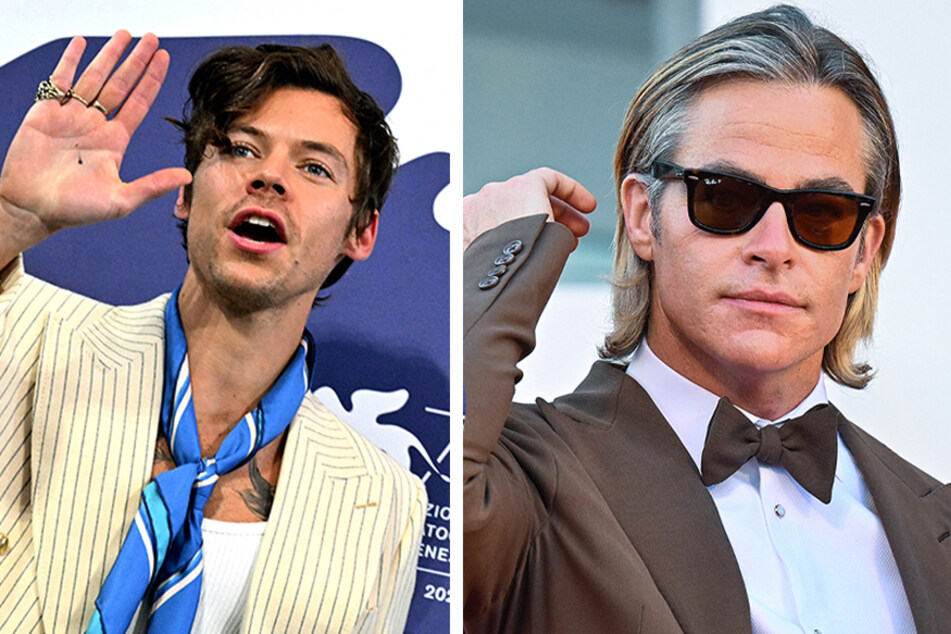 If you've been on Twitter or Instagram lately, you've probably seen one particular snippet from an interview with Harry Styles and Chris Pine at a Venice Film Festival press event.
For those who haven't witnessed Styles' riveting response, allow us to fill you in.
In the clip, Styles was asked about his thoughts on the upcoming film Don't Worry Darling that the 28-year-old stars in alongside Pine and Florence Pugh.
Rather than taking the time to let the question sink in and offer up a compelling response, the Grammy-winning singer known for his witty penmanship mumbled that his "favorite thing about the movie is like, it feels like a movie. It feels like, a real like, you know, go to the theater film movie, that you know, you kind of ... The reason why you go to watch something on the big screen."
While Styles' words were wildly captivating, it was near impossible to focus on anything other than Pine's reaction to his co-star's sentiments.
As the former One Direction bandmate went on about how much of a movie the movie was, Pine couldn't help but smirk and roll his eyes in disbelief that this was really happening. Though it wasn't much of a poker face, it did offer up some much-needed comic relief amid the behind-the-scenes drama of the film itself.
Honestly, we're just impressed he didn't bust out laughing before taking ownership of the interviewer's initial question with an in-depth answer of his own. Don't Worry Darling hits theaters on September 23.
Cover photo: Collage: Tiziana FABI / AFP