Israeli singer Noa Kirel protests Kanye West's antisemitism with MTV EMA outfit
Düsseldorf, Germany - Israeli pop singer Noa Kirel stole the show with her outfit at the MTV European Music Awards.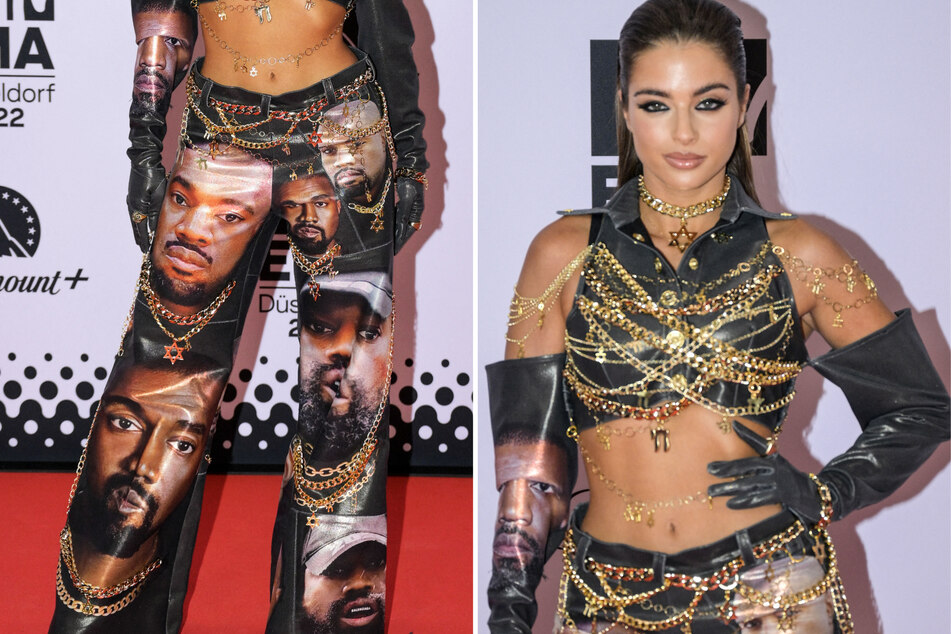 The star showed up on the red carpet during the event on Sunday wearing pants and gloves imprinted with Kanye West's face, as well as gold chains with the Star of David and the Chai symbol.
The move was a protest against Kanye's bigoted and antisemitic statements, which he repeatedly doubled down on in several interviews.
"I chose to wear on the MTV red carpet a fashion item with a message for the whole world, an item that clearly symbolizes that I am both Jewish and Israeli," the singer reportedly explained.
"We have recently been experiencing a lot of antisemitism, especially in light of Kanye West's statements. I am proud to be an Israeli artist who represents Israel in the world."
Kirel is one of Israel's biggest pop stars, and went on that night to win the award for "Best Israeli Act" for her fifth year in a row.

Noa Kirel also approached fellow pop sensation Taylor Swift at the show, who reportedly dug the controversial outfit.
Kirel served in the Israeli Defense Force for two years, completing her mandatory service in February this year.
Cover photo: Collage: Sascha Schuermann / AFP