Miley Cyrus trolls her dad while pitching some NSFW merch
Los Angeles, California - No one does bawdy quite like Miley Cyrus – and her fans are here for it!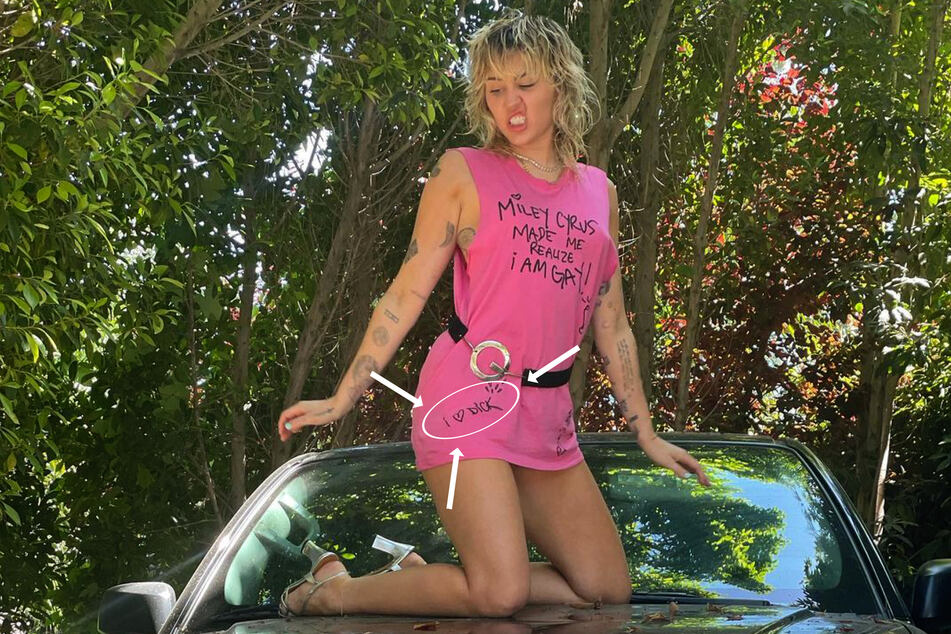 Fans of the Wrecking Ball singer are pretty used to her antics by now.
She feels most at home swinging naked on a wrecking ball, twerking at the MTV Video Music Awards, or posing in sexy leather suits for Christmas.
Miley really is always up for a surprise, and they're usually pretty provocative.
Her latest Instagram is no different. In it, she's on the hood of a black Nissan truck in a short pink T-shirt dress, a black belt ,and shimmery high heels, rocking her new mullet hairstyle.
"I don't know what @billyraycyrus is gonna be more p***ed about!" Cyrus captioned her post mischievously, "Me making a shirt that says 'I love d***' or me crawling all over his truck in my Gucci heels!"
"Speaking of Daddy's" the singer continued, before announcing a new fan item on her online store.
"Ask your [Daddy] for 35 bucks and get my new 'Miley Cyrus made me realize I'm gay' merch on shop.mileycyrus.com!"
The pitch was clearly a hit with her millions of followers, who instantly filled the comments with fire and heart emojis.
"Okay I need this top," one user wrote under the crazy post, and another added, "I'm just crazy about you, it's as good as bought!"
And it wasn't just fans reacting to Miley's post. Her sister Brandi also jumped on with a hilarious quip: "LOL, not the Nissan!"
No word as yet on how Billy Ray Cyrus feels about his daughter's new ad campaign – or any potential dents on his car.
Cover photo: Bildmontage: Instagram/Screenshot/mileycyrus (2)