Tyga undergoes anesthesia to get eight-hour tattoo job
Los Angeles, California - Rapper and songwriter Tyga has never been shy of tattoos, but a recent eight-hour stint under the needle – and a general anesthetic – truly took the ticket.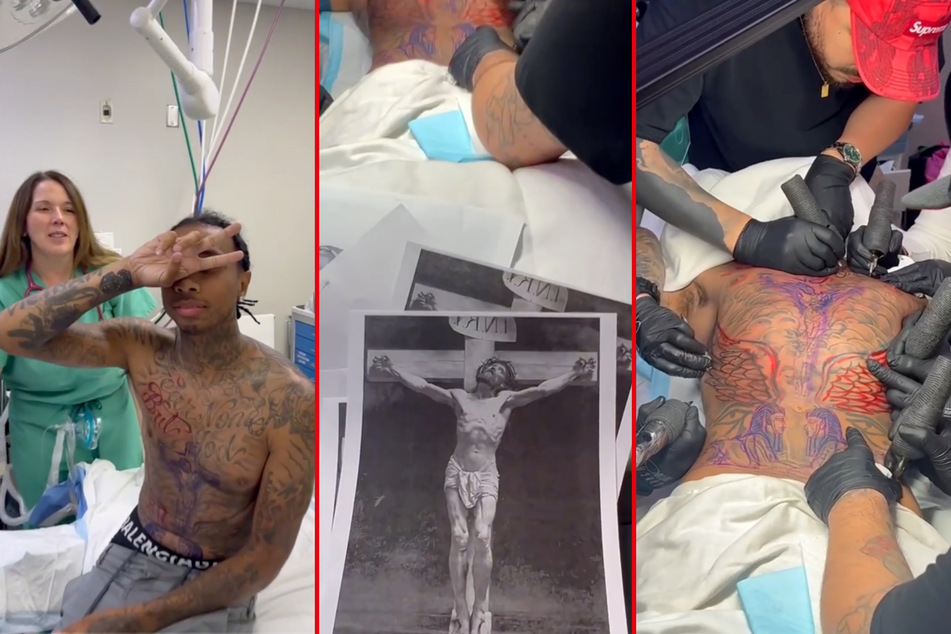 In an Instagram clip posted on July 14, 2023, by No Pain by Ganga, the parlor behind Tyga's new tattoos, it was revealed that the rapper had to get anesthetic for an eight-hour tattoo job.
The video shows Tyga both awake and asleep, under the needle. He seems to be getting a tattoo of Jesus' crucifixion, along with a set of wings and two sphinxes.
No Pain by Ganga is a self-described pioneer in the tattoo industry, boasting full tattoo pieces "in just one day without pain." They are located in Beverly Hills and have worked with a variety of celebrities, including Post Malone and Moneybagg Yo.
Ganga's post announcing Tyga's procedure was captioned: "Full project cover up full back and front touch up, in just 8 hours, soon I will upload the result."
Tyga criticized by tattoo community for getting anesthetic during ink session
Fans were split over Tyga's new tattoos. While most loved the new ink itself, with many even wondering how much the procedure cost, others were less than impressed.
One commenter on Instagram said, "I think that's cheating... the pain is part of the process," while another simply posted, "Zero respect."
Many of the comments accused the rapper of being weak for getting an anesthetic when going under the needle. One even went so far as to say it was the "Weakest thing I've ever seen. I would be so embarrassed to post this."
In the TikTok comments, many fans expressed concerns over Tyga's health. There is always a small chance you won't wake up from a general anesthetic, and people thought it this was too high of a risk to take just for a tattoo.
"All this for tattoos seems like a risky move, but what do I know," one TikToker said. Another commented, "Imagine the risk of not waking up just for a tattoo."
Cover photo: Collage: Screenshot/TikTok/@ganga