This little meat-lover got a very special cake for his ninth birthday!
Clarksville, Tennessee - To make his son's ninth birthday as memorable as possible, one father baked him a pretty special cake.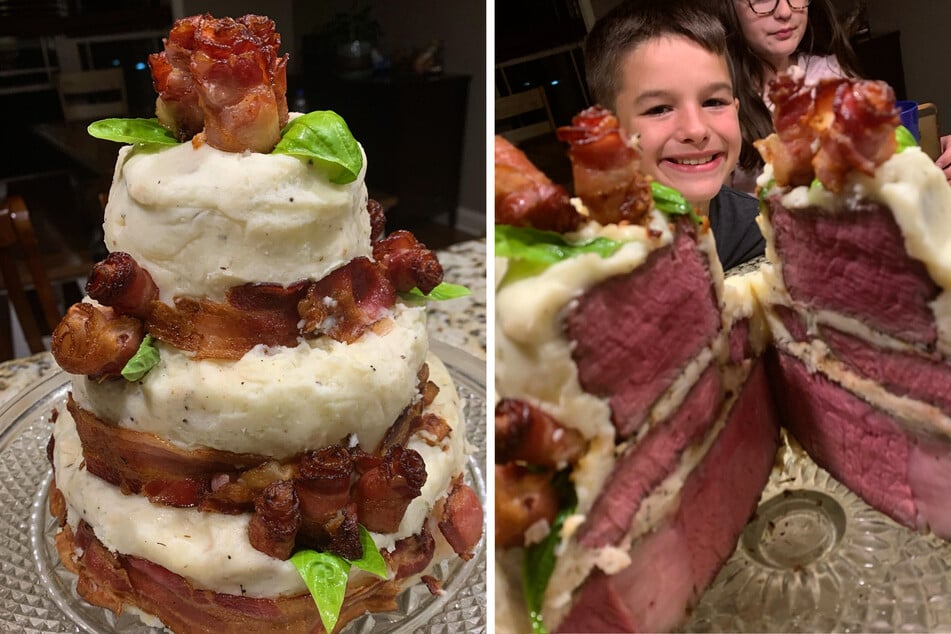 Jeff Janes wanted to throw his boy Zander a birthday party for the ages.

It's fair to say that he succeeded.
On his birthday, Zander was presented with a very unusual cake and he could hardly believe his eyes. There was no batter, chocolate, or whipped cream in this culinary creation. And an extra sharp knife was needed to cut the first slice.
That's because it had to go through several layers of steak.
You read that correctly – the cake was made of meat!

This piece of food art was tastefully decorated with layers of mashed potatoes, small roses made of rolled up strips of bacon, and what looked like basil leaves.

Zander was very happy with his high-calorie surprise. "He loved it, as did my daughter Zoey and our other guests. I'll definitely be doing it again," Jeff said.
His son's tenth birthday is already in planning.

Jeff Janes: "My kids are my inspiration for cooking."
Jeff proudly shared his impressive results on Facebook. In just a couple of days, more than 25,000 people liked and over 130,000 shared the pictures of this bizarre invention.
Apparently, Jeff's talents have caught the eye and he added that various marriage proposals came poring in. But even though he was very flattered, he wished for a woman who would love him "for more than just a piece of meat."
However, the 39-year-old single dad was not always so active in the kitchen. During his 10-year marriage, he only ever took care of breakfast and occasionally cooked some meat on a gas grill.

Being on his own, he felt a little lost at first. But things changed thanks to his children.
"My kids are my inspiration for cooking," the Jeff said. "They are always so encouraging and kind and throw out the best compliments."
Cover photo: Facebook/Screenshot/Jeff Janes