Chicago teachers to end walkout and return to school on Wednesday
Chicago, Illinois – The Chicago Teachers Union (CTU) on Monday announced teachers would return to school on Wednesday after they walked out in demand of better Covid-19 health and safety measures.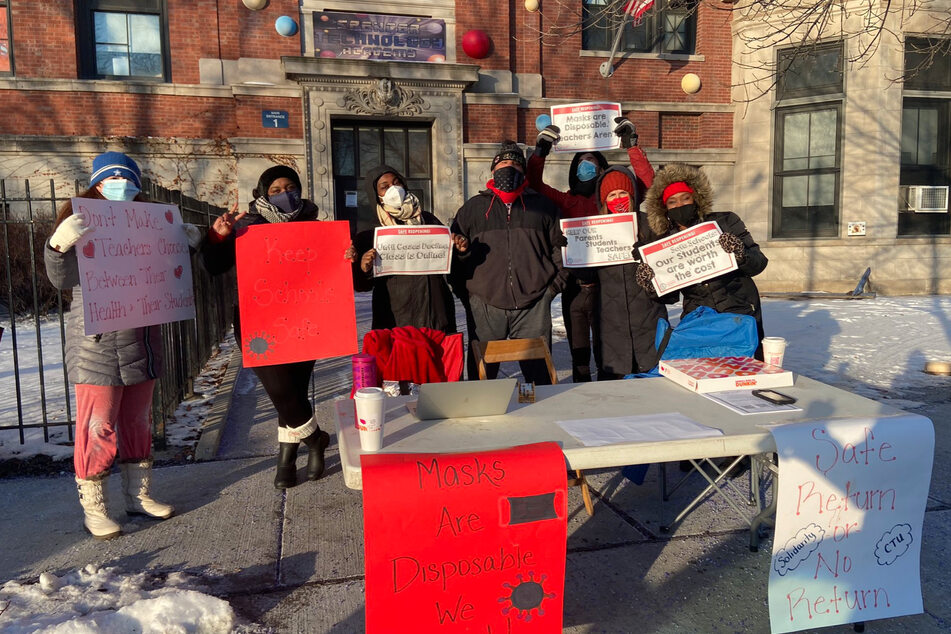 The CTU's House of Delegates approved a measure on Monday that would see teachers return to the classroom, with clear conditions for when schools would return to remote learning.
Those guidelines take into account the number of faculty and students in quarantine and the virus' transmission rates, the Chicago Tribune reported.
The agreement also includes increased testing in schools, wider distribution of KN95 masks to teachers and students, and a better system for contact tracing.
It does not call for opt-out testing, which allows people to submit proof of vaccination instead.
"It was not an agreement that had everything, it's not a perfect agreement, but it's certainly something we can hold our heads up about, partly because it was so difficult to get," CTU President Jesse Sharkey said.
The measure is expected to go to a vote among union membership this week.
Teachers union spars with Chicago mayor
Chicago teachers shot to the national spotlight last week after refusing to work in-person until their demands for better Covid precautions had been met.
As the Omicron variant surges across the country, instructors voted overwhelmingly in favor of remote learning until January 18.
The educators argued that Covid outbreaks and lack of adequate protections meant that in-person learning was putting teachers, staff, students, and families at greater risk of contracting and spreading the disease.
But Mayor Lori Lightfoot claimed the walkout was "illegal," saying that remote learning is less effective than in-person teaching and poses particular disadvantages to marginalized youth.
She had harsh words for the teachers involved, claiming, "They abandoned their posts and they abandoned kids and their families."
After many teachers found they were barred from accessing their remote learning platform, they rallied behind the hashtag #LoriLockout.
Earlier on Monday, Sharkey said Lightfoot was being "relentlessly stupid" and "relentlessly stubborn" for bullying teachers instead of negotiating in good faith.
Teachers stressed that their priority was to return to an in-person environment – but only when health and safety in the classroom could be guaranteed.
Cover photo: Screenshot/Twitter/MrsDiehl