Five Starbucks locations in Richmond vote to unionize!
Richmond, Virginia – The union election ballot count for five Starbucks locations in Richmond, Virginia, took place on Tuesday, with the best possible results for local organizers.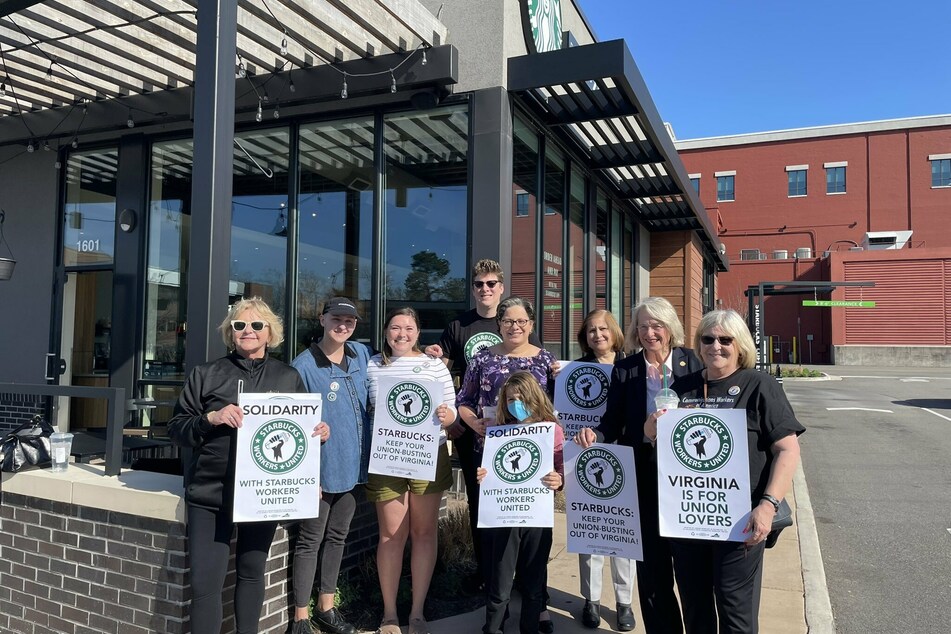 The union election was administered by the National Labor Relations Board at their regional office in Baltimore, Maryland, with interested parties and observers tuning in online from around the country.
The ballots were tallied by individual location. In order to successfully unionize, each store had to receive at least 50% of their vote plus one.
The Forest Hill Ave. store was the first to have its ballots counted, and they started things off strong with a 17-1 victory, with one challenged ballot.
Next up was the location at Midlothian Turnpike and Carmia Way, where workers once again voted to unionize, this time 22-3. There were no challenged ballots.
The third tally was for the Huguenot Rd. store, which voted 11-2 in favor of unionizing, with one challenged ballot and one void ballot.
The Westchester Commons store continued the success with a 13-8 pro-union result. There were two challenged ballots and one void ballot.
The fifth location at Willow Lawn Dr. brought it home with 19 votes in favor and none against. There were no challenged ballots.
The wins infused positive energy into the unionization movement in Virginia after Starbucks workers at a store in Springfield suffered a narrow loss in their election last week. Organizers have blamed Starbucks' relentless union-busting for the unfavorable result, making Tuesday's victories all the sweeter.
The wins will certainly bring good vibes as Richmond organizers gear up for Unity Fest this Sunday. The Starbucks Workers United free festival will feature live music and Senator Bernie Sanders as the keynote speaker.
Cover photo: Screenshot/Twitter/_devinonearth