Indigenous leaders and allies occupy Bureau of Indian Affairs for first time in decades
Washington DC – Indigenous leaders and allies on Thursday occupied the Bureau of Indian Affairs (BIA) in Washington DC for the first time in around 50 years.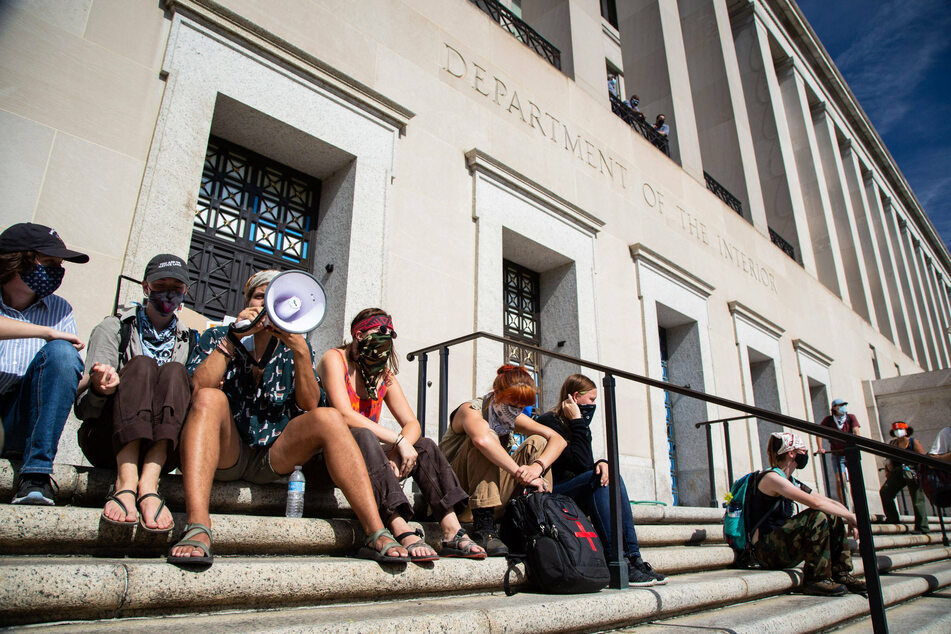 The protesters, numbering around 50 people inside the building and more outside, issued a series of demands for the Biden administration to address the climate crisis and ongoing oppression of indigenous people.
They called on the president ban new fossil fuel leases on public lands, restore 110 million acres of land to native groups, and remove native lands from state jurisdiction, among other demands.
They also urged Biden to close the BIA, which was established by the War Department in 1824 and tasked with overseeing relations between the US government and tribal authorities.
The BIA, which manages 55.7 million acres of land held by the US government for Native American and Native Alaskan groups, has a long history of trying to force indigenous people to assimilate into white culture and society.
"We will no longer allow the U.S. government to separate us from our relationship to the sacred knowledge of Mother Earth and all who depend on her," the protesters said in a statement.
"Her songs have no end, so we must continue the unfinished work of our ancestors who have walked on before us. Because of colonization, our mission has been passed on generation after generation – to protect the sacred. Just as those who walked before us, we continue their song and rise for our youth, for the land, and for the water."
"Politicians do not take care of us," they continued. "Presidents will break their promises, but Mother Earth has always given us what we need to thrive. We will not back down until our natural balance is restored."
Police crack down on protesters
The indigenous leaders and climate activists inside the BIA were simply sitting in a circle holding hands, certainly not posing a threat to anyone's safety.
Nevertheless, the crackdown on the protest came quickly, with DC Metropolitan Police hitting the scene and rounding up demonstrators.
The Indigenous Environmental Network (IEN) released a statement saying 55 activists were arrested.
They also said police tased at least two people and destroyed the equipment of one indigenous member of the press.
Outside the BIA, images showed police with K-9 units creating barricades with their bicycles to intimidate the demonstrators.
Jennifer K. Falcon, an IEN activist, said on Twitter that all but four of the protesters who were arrested have now been let go and are safe.
Falcon added that the IEN will soon release information on how people can support the indigenous leaders recently released from police custody.
The demonstration was part of a week of People vs. Fossil Fuel protests and action, which started Monday on Indigenous Peoples' Day. The series culminates Friday as indigenous and climate activists prepare to march to the US Capitol.
Cover photo: IMAGO / ZUMA Wire