Starbucks baristas in Buffalo speak out one week before historic union vote
Buffalo, New York - Starbucks baristas in Buffalo spoke out on corporate union-busting, community support, and worker solidarity one week before ballots are due in their historic union vote.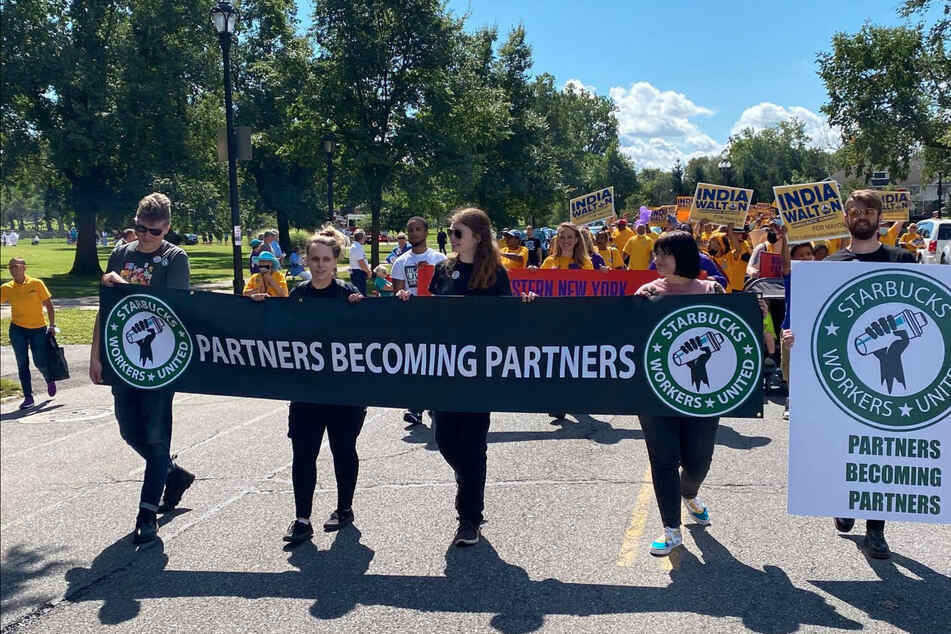 Starbucks workers in Buffalo, New York, are fighting to form the coffee chain's first unionized store in the country – and facing stiff resistance from the company as they do so.
Apart from frappuccinos and seasonal lattes, Starbucks may also be making a name for itself for union-busting thanks to its recent activities in Buffalo.
Forcing employees – "partners" in Starbucks' lingo – to attend anti-union meetings, ordering corporate bigwigs to surveil Buffalo stores, and sending out emails and text messages urging employees to vote no are just a few of the tactics the company has used to put a stop to the union drive.
It has also tried to influence the election outcome by registering around 100 eligible voters, when there should only be about 60-70 voters across the three stores in question, employees noted at a Wednesday press conference.
They said Starbucks had shifted workers from stores undergoing remodeling to the voting stores in an effort to dilute the results, while also taking hiring decisions away from store managers and giving them to corporate reps.
"I think the purpose of taking the hiring out of the store managers' hands was to be able to vet these new employees and to get them into the anti-union meetings we were attending before they even entered our stores," said Michelle Eisen, a local partner and Starbucks Workers United organizing committee member.
Partners demand a seat at the table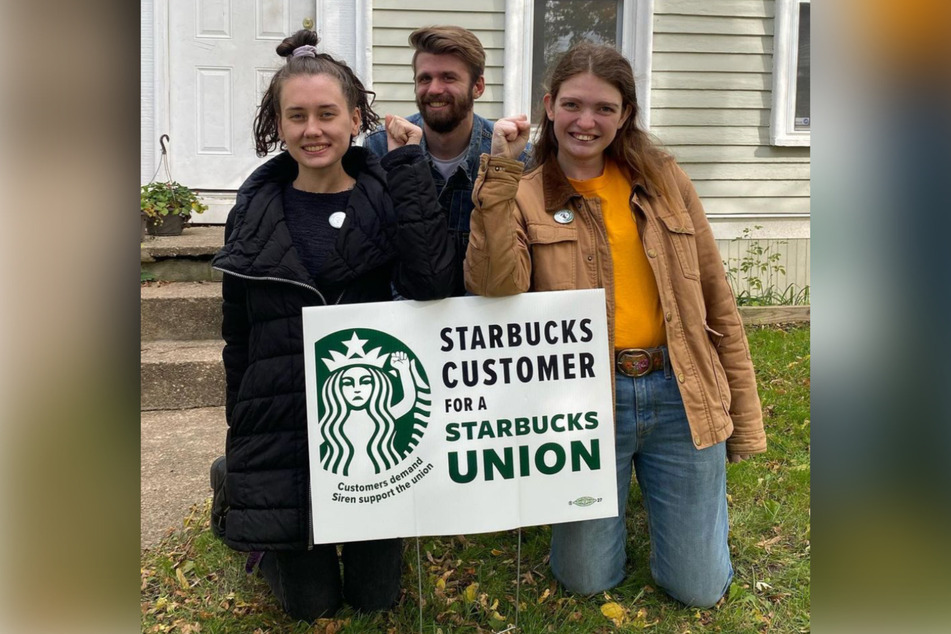 The primary purpose of unionizing is to win a seat at the table to negotiate a fair contract, partners told the press.

At Starbucks' corporate meetings, a seat is left unoccupied to represent the baristas. They are looking to fill that symbolic seat with actual representation so they can achieve changes that meet their everyday needs.
Each of the three stores currently voting to unionize is casting their ballots separately. While demands for change at individual stores may vary, there are several common interests.
One of those is seniority pay. "I myself have been at the company for over a decade, and I make about $1.20 [an hour] more than someone who was hired yesterday," Michelle said.

Partners also want to see their pay increased across the board. Because wages remain so low, many are unable to access the benefits Starbucks already provides.
"The benefits that Starbucks states that they offer to us look really good on paper," Michelle insisted. "What they don't talk about is the fact that most of their employees or partners make so little annually that they don't need to use the Starbucks benefits because they still qualify for federal benefits."
Jaz Brisack, another organizing committee member, added that the company has weaponized the existing benefits program to prove partners don't need a union while threatening to take away those same benefits if the union effort succeeds. "It's really a one-two punch of 'you ungrateful partners' and then also 'we can take everything away.'"
None of those alleged tactics have worked, it seems. The importance of collective bargaining has only grown clearer to organizers the more the company has tried to shut it down.
"We are going to win the first unionized Starbucks, but we shouldn't have had to go through all of this to do it," Jaz said confidently.
Importance of community support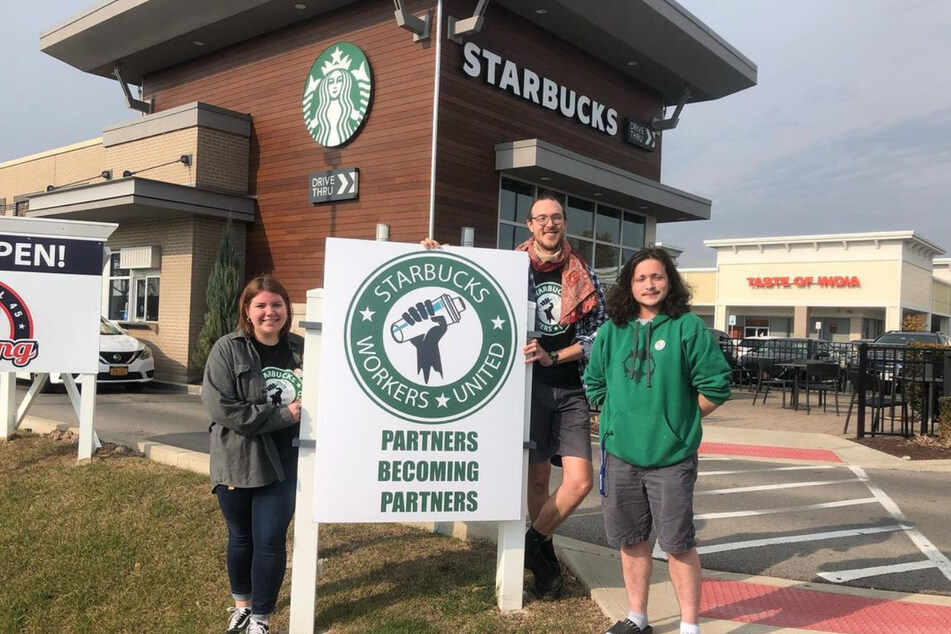 Despite, or perhaps because of, Starbucks' relentless opposition, partners have gained a lot of support from the local community and beyond.
That good will is what keeps the employees going.
James Skretta, a partner at a store that has filed a petition to unionize, told TAG24, "I find at my store that Starbucks' union-busting activities have swayed a good number of people towards supporting the union. There are a few people at our store who have been there for much longer than I have that have said the union campaign has been the single most unifying experience that has happened during their time while working at the store."
"At the same time, we can't deny that what all of us are experiencing is nothing short of psychological warfare," he continued. "I go into work each day anxious about which support manager is going to be on the floor."
The only relief he gets from this "constant state of anxiety" comes when customers let him know they support the union.
And customers have found many creative ways to show this support, whether through ordering drinks under names like "Solidarity Mike" or placing Starbucks Workers United yard signs around Buffalo. Their efforts have helped shine a national spotlight on Buffalo partners' unionization campaign.
The baristas have even gained the backing of New York Sen. Kirsten Gillibrand and Rep. Alexandria Ocasio-Cortez. On Tuesday, organizers received a personal call from Vermont Sen. Bernie Sanders expressing his support for the cause.
Michelle said they will need these politicians to help them get Starbucks to the negotiating table for a fair contract once the union vote goes through.
In the meantime, ballots are still being submitted. The results will be tabulated live over Zoom on December 9 at 1:00 PM.
Cover photo: Screenshot/Facebook/SBWorkersUnited