"Striking for students": Minneapolis educator speaks out amid historic labor fight
Minneapolis, Minnesota - Thousands of Minneapolis educators are picketing outside their schools and rallying around the Minnesota State Capitol to demand higher wages and better conditions on the job. TAG24 NEWS spoke with Tequila Laramee, an Education Support Professional (ESP) and union organizer, on day two of the historic strike – the district's first in more than 50 years.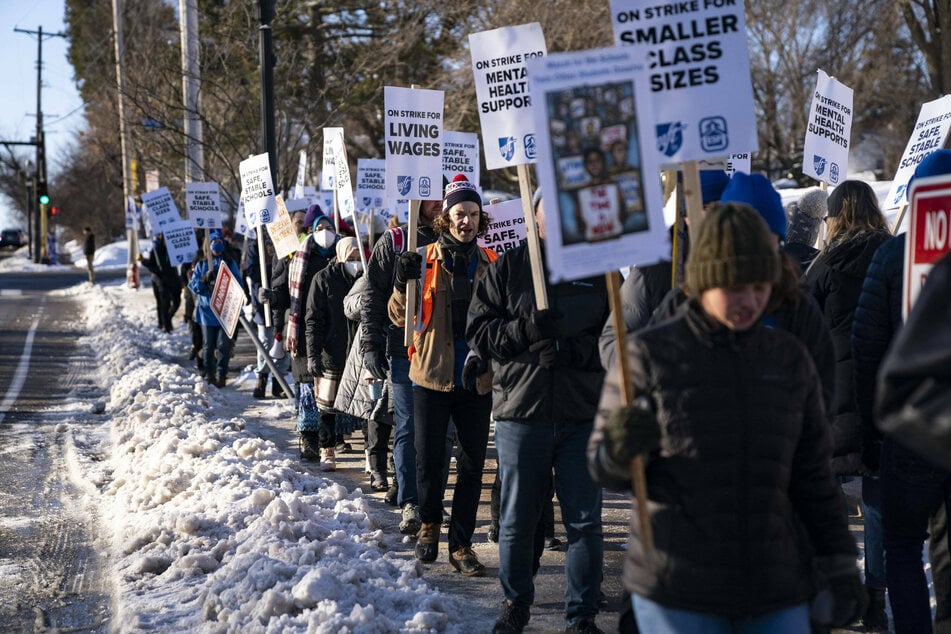 Laramee and fellow striking Minneapolis Public Schools workers are demanding higher wages and better support structures in their schools, especially for ESPs.
She herself makes $22.50 an hour and works 33 hours a week in her primary role. Many ESPs have a starting salary of just $24,000 a year.
"When you hear $22.50 an hour, that doesn't sound like a bad salary, right?" she told TAG24. But with just 33 hours a week and summer, winter, and spring breaks and other holidays unpaid, her takeaway sum is not enough to get by.
That's why Laramee has had to take on several additional paid roles, and she's not the only one. "I don't know one ESP who only works for Minneapolis Public Schools. We all have other jobs," she said, adding that some of her MPS colleagues even live out of their cars because they can't afford rent with their salaries.
Even with her multiple paid positions, Laramee is fighting to stay afloat: "Every other night I'm eating ramen, and gas prices are ridiculous. Our gas is almost $4 a gallon right now. I can't afford fresh fruits and vegetables. It's crazy."
"We're working to survive, and we're working our whole day. When are we enjoying life?" she asked. "These people making the decisions for us, they only work one job. Their families only work one job. One job should be enough."
It's not only educators who suffer from the terrible wages. It's also the students. Because ESPs are not paid fair salaries, schools are having difficulties finding people who want to take these crucial jobs. That leaves students without crucial mental health support.
"We need 40 hours a week," Laramee insisted. "Imagine if we were fully present, getting paid to be at just this one job, not coming in sleepy. Imagine what this would mean for our students."
That's why she and her colleagues are fighting to raise the starting salary for ESPs to $35,000 a year. "That's not even a livable wage," she acknowledged, "but it's a start."
Struggling to make ends meet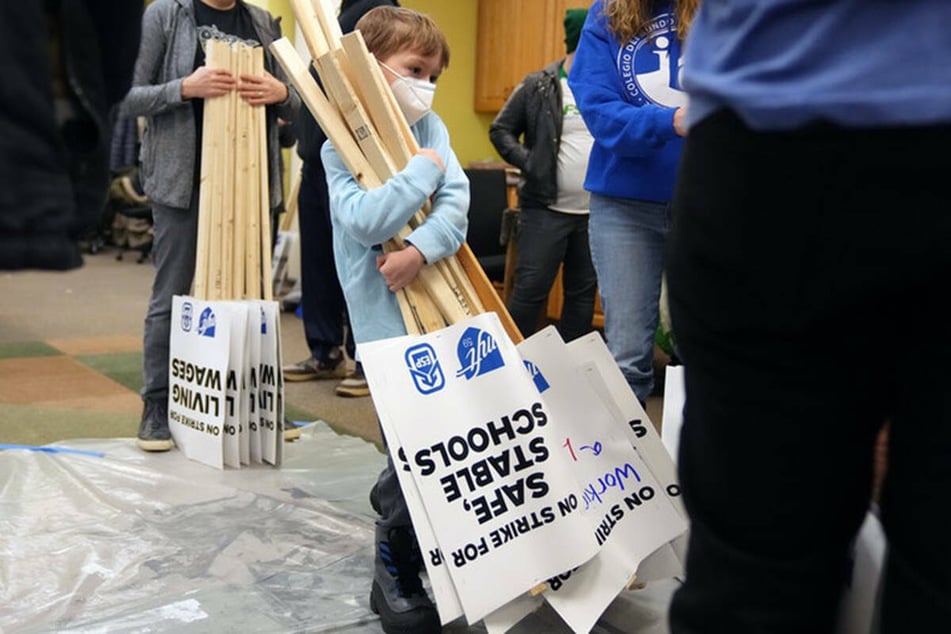 Laramee has been working for Minneapolis Public Schools for 10 years, with the last seven spent at Bethune Arts Elementary.
She says she loves her job as an associate educator, or classroom assistant to the teacher, working primarily with five and six-year-olds during the day. She plays a vital role in everything from attendance and lunchtime duties, to small-group learning and end-of-day activities.
Often, the most important part of her day is greeting students in the morning so they feel safe and supported at school. "Depending on what their day is like, what happened prior to coming to school, it's either you've got to show them some love ,or you've got to kind of redirect them if they're having a hard time" she told TAG24.
Laramee also steps in when students require mental health support, working with them to find ways to process their emotions rather than acting out. In many cases, she has to take on tasks that aren't technically part of her job description, including one-on-one interventions for students, many of whom may be experiencing traumatic situations at home.
"Since we don't have all the staff we need or mental support students need, it's on me," she explained.
When the regular school day ends, Laramee stays on, working with fourth and fifth graders in an after-school program. She transitions into doing jobs for the union after the students go home. Already time-consuming, her roles as Minneapolis Federation of Teachers (MFT) Local 59 treasurer and organizer have ramped up recently, with at least two or three meetings per day ahead of the union's ongoing strike.
As if that weren't enough, she also works as a personal care assistant several days per week to make ends meet.
"But it's all for a greater cause," she said of her organizing efforts.
Fighting for greater representation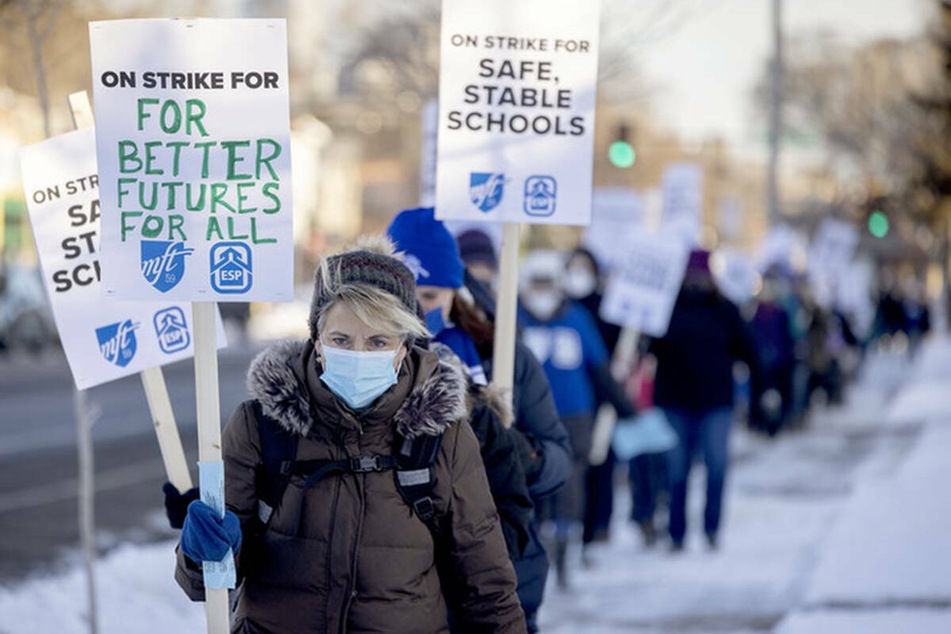 Part of what keeps Laramee going despite the difficult conditions is her passion for her job – one sparked at an early age when she was a student herself.
"Growing up I remember not having any teachers of color, anyone in the school who looked like me. At home, I didn't have someone reading to me, so I always had inside me, I want to be that person in school who looks like the students, who reads to them, who's in the school system for them," she explained.
Born and raised in the community where she now works, Laramee was the first in her family to graduate high school. After that, she didn't consider attending college initially, instead taking on several "odd-end jobs in factories" before picking up her original dream of working in education.
Now, one of the driving demands for Laramee and her colleagues is improving the recruitment and retention of educators of color, who are underrepresented in Minneapolis schools today.
"Students need to see people of color in their schools because in an urban community, we're already a stereotype," she insisted. "Seeing people in your school, teachers who look like you, who understand where you come from, who understand the community, who understand the language, who understand the culture, I feel like we're able to show students you can go to school."
In her own work, Laramee is committed to giving students the experience she didn't have.
Never having heard about Black History Month in school when she was younger, she decided to create an entire BHM program for Bethune this year on top of her other duties. She encouraged each class to highlight important Black figures past and present to show students of color they can accomplish great things.
"I didn't have anyone talk to me about college, and here I am talking about college to my kindergartners," she added.
Laramee is now seven courses away from completing her Bachelor degree in education, but she can't afford to finish at the moment.
Eventually, she hopes to become a counselor for middle and high-school students to prove they don't have to drop out or stop at high school. She wants to show them: "You're not done. You're going to go to college. You can do this."
"Party on the corner"
Despite being outside all day in frigid 10-degree temperatures, which Laramee said feel more like -1, striking educators are "out there partying like, what cold?"

"It's a party on the corner. People are coming by honking, playing music," she continued. "Tomorrow's going to be even colder. We're going to have the music even louder."
The educators have received an outpouring of support from parents, students, and other members of the community, many of whom have donated money as well as snacks and drinks to support workers on the picket lines.
Now, union members are calling on the wider community to sign and share their petition and donate to their strike fund as they continue fighting for a fair contract with the school district.
Ultimately, their efforts are centered on their students: "Right now, hundreds of ESP positions are not filled. That's not safe. When we're asking for money, it's so we can fill these positions and get students' needs met."
"I truly love all my students," Laramee continued. "I don't have children, so these are my babies. They're asking, 'Ms. Tequila, do you have any kids?' I say, 'Yeah, I've got all of y'all.'"
"We're fighting for students, first and foremost," she emphasized.
Cover photo: IMAGO / ZUMA Wire