Irish man goes to extremes at Dublin embassy to protest Ukraine war
Dublin, Ireland - On Monday, an Irish man took things to the extreme when he ran his truck through the gates of the Russian Embassy in Dublin to protest Russia's invasion of Ukraine.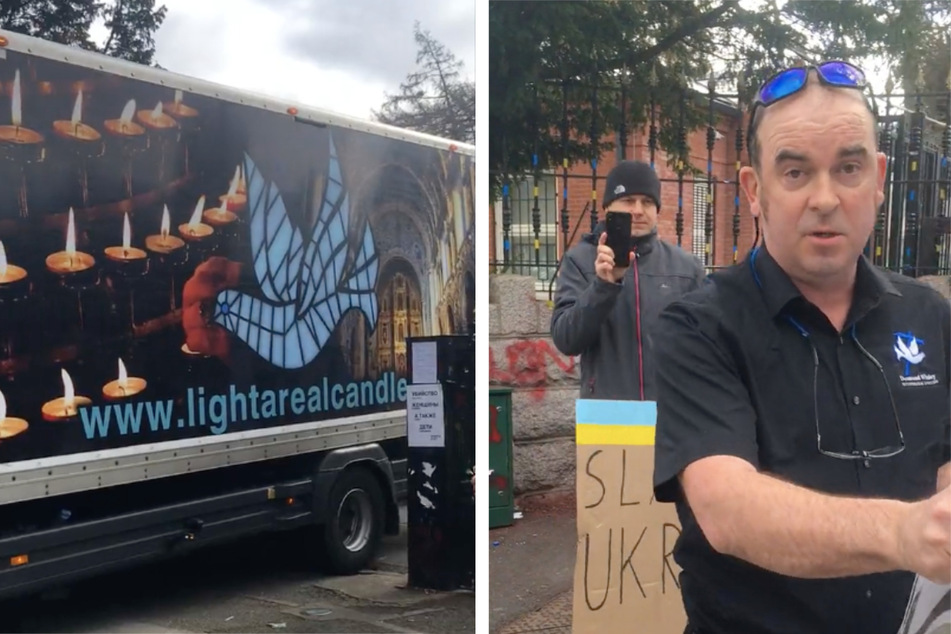 Desmond Wisley was arrested for the incident and charged with criminal damage and dangerous driving after his truck rammed into the Russian embassy gates.
A video of the event shared on Twitter has over 450,000 views.
The viral clip shows Wisley backing the truck through the entrance, as onlookers cheer him on. Wisley then exits the truck and begins speaking to a crowd of protesters, handing out copies of a photo of a family killed in the Ukrainian city of Irpin.
"I just done this to create a safe corridor for the Russian ambassador to leave Ireland," Wisely says. "I want the ambassador and his colleagues to leave this country."
As an officers escorts Wisley away, he says, "I've done my bit, lads. It's about time Ireland does theirs."
"Well done!" the protesters chant as he is arrested. "Bravo."
The embassy, which has been a hot spot for protesters since the ongoing invasion began, quickly responded to the incident via Twitter, calling it "a criminal act of insanity against a peaceful diplomatic mission."
"We believe that no people of sound mind could support such senseless and barbaric actions," it wrote. The embassy also slammed local police, who they claim "stood idle."
In a follow-up tweet, the embassy praised Irish authorities for their cooperation and said new security measures will be taken to ensure the safety of its personnel.
Irish protesters have reportedly taken other measures at the same site in the past two weeks, like throwing red paint at the embassy entrance and spray-painting phrases like "Nazis," "Blood on your hands," and "F**k Russia" outside.
Steel barriers have since been erected around the building.
While Wisley's intentions and message seemed heartfelt and honest, he is definitely walking a thin line between peaceful and aggressive means of protest. He was expected to appear at Tallaght District Court on Tuesday, according to The Irish Times. He has reportedly been released on bail.
Cover photo: Collage: Screenshot/Twitter/EisabelMoth