Oh boy! Gender reveal stunt could see these parents charged with a crime
Tangará da Serra, Brazil - This Brazilian couple's grand gender reveal has landed them in some very hot water with local authorities. After dying a waterfall blue, they may be charged with a crime.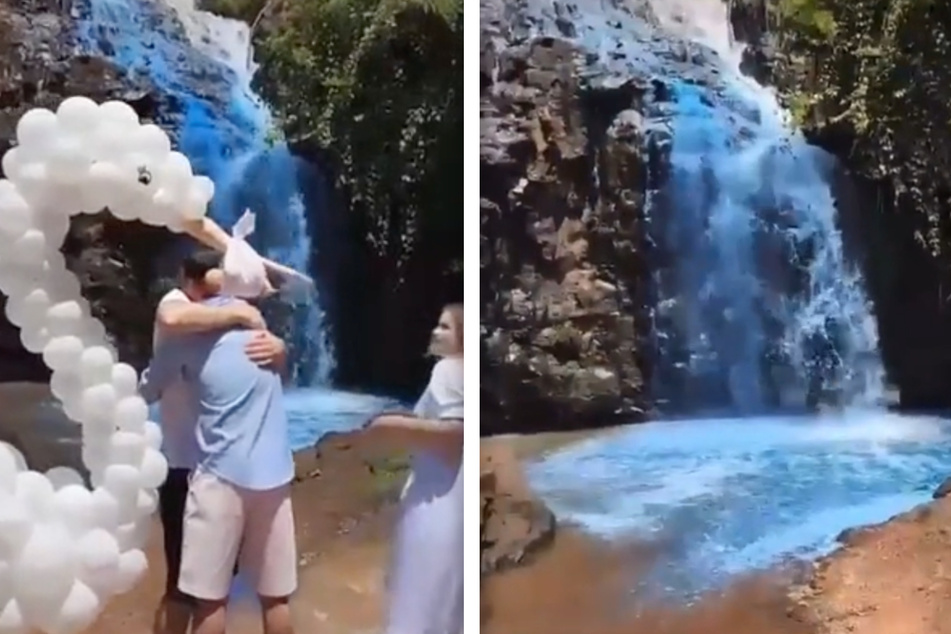 Last Sunday, a Brazilian couple celebrated their baby with a Gender Reveal Party at the Queima-Pé River waterfall.
They dyed the waterfall bright blue to show that they were expecting a boy.
The Queima-Pé River is the main source of water for Tangará da Serra, and the area recently suffered a long drought, according to the New York Post. The waterfall is also an ecological tourist destination.
When the water suddenly turned blue, residents in the area started worrying that it had been contaminated.
The couple may have thought this was a cute idea, but after posting pictures of the gender reveal party to Instagram, they quickly found themselves facing backlash.
They removed the pictures, but once something is online, it's hard to take back. It's kind of like when you put dye in water – it just stays.
Environmental authorities to investigate the case
Social media users from all over the world were up in arms about the gender reveal stunt.
Many want the couple held accountable for the potential ecological damage they caused.
One Twitter user wrote, "When did gender reveal parties become a 'hold my beer challenge' on who can do the most environmental damage?"
According to multiple outlets, Mato Grosso's environmental agency released a statement saying they "will investigate the environmental damage caused by the material thrown into the water."
"If there is an environmental crime, those responsible will be charged and may be held accountable," the statement continued.
As of Wednesday, no charges have been filed against the couple.
Cover photo: u/TheodoreBaker/u/Prululululululululu/reddit.com