How to make beef stew: Best traditional beef stew recipe for winter
When winter comes, a warm and easy beef stew recipe is the ultimate go-to for families keen for a cheap, tasty, and long-lasting dinner. Here's how to make beef stew!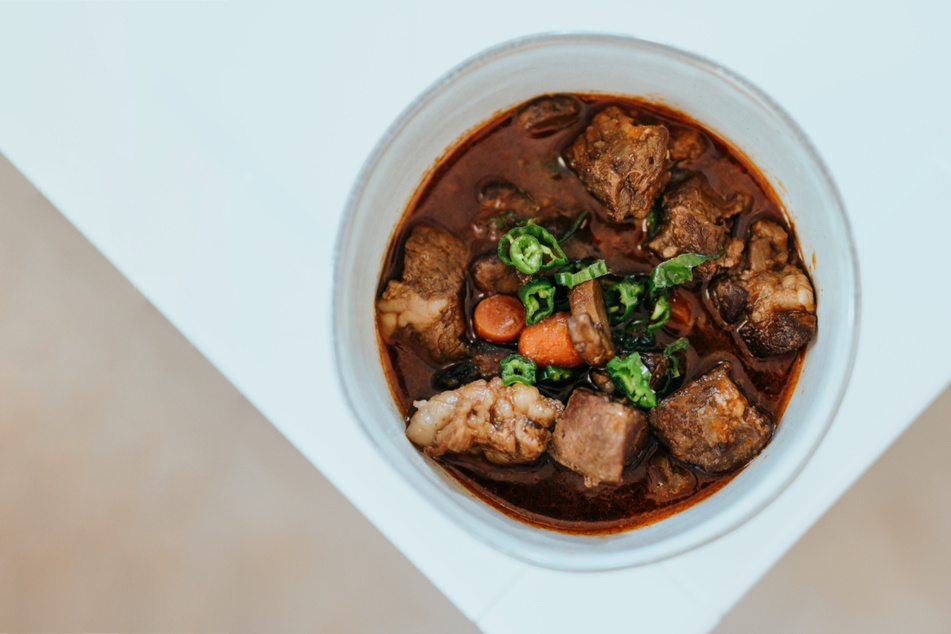 Christmas season and the entire winter season can be rather chilly. The perfect way to ditch the winter blues is a warm, tasty beef stew with just the right amount of red wine and some scrumptious potatoes.
If you're down for some easy winter food, TAG24 is here for you with our easy beef stew recipe, complete with all the warmth and comfort you could ever want. How do you make beef stew? We've got you covered...
What makes a great, easy beef stew?
Beef stew isn't about technical skills, but more about those good, hearty, and chunky ingredients that warm up your belly like nothing else. A great beef stew is one where the meat melts in your mouth, there's a little bit of a bite in the potatoes and carrots, and the broth is thick and rich.
The trick to making such a stew isn't actually the cut of beef, or even the quality of the ingredients, but the love and time you give it. Sauté those onions and garlic slowly and carefully, season at every step, and make sure that your veggies are chopped up nice and big so that you have something to get your teeth into.
Hot tip: Don't bother peeling the potatoes or the carrots. Their skin helps them hold together, and adds a fantastic texture that you'll enjoy to the Earth's end!
How to make homemade beef stew on the stove top
There are a few things you need when you make beef stew, but for the most part, it's pretty straight forward! We'd recommend an electric stove over a gas one, if possible, so that you have more temperature control, and we'd recommend a very heavy-bottomed cast-iron pot.
If you have an accident, though, we've got you covered with our guide to cleaning burnt pots! Here are a few other things you will need for this beef stew recipe:
A large, deep, and heavy-bottomed pot
A (preferably electric) stove top
A large spoon
A sharp knife
A chopping board
A measuring jug
As you can see, you don't need a lot to make beef stew and, let's be real, that's kind of the point! It's supposed to be easy, after all.
Easy beef stew recipe | Ingredients
There are quite a few ingredients needed for a good ole fashioned stew, but don't worry, they're not expensive! We're going for easy and cheap, but that doesn't mean it won't be absolutely delicious.
Here are the needed ingredients for this beef stew recipe:
A handful of all-purpose flour
35oz beef chuck, or a similar cut that is relatively fatty
4 onions
10 cloves garlic
4-5 carrots
5-6 medium-sized potatoes
3-4 tomatoes
5 sprigs of celery
17oz beef broth/stock
17oz passata
7oz red wine
Olive oil
1 tbsp paprika
Salt
Pepper
Of course, you can toss whatever you want – feel free to mix-and-match. Don't like celery? Don't include it! Feel like some bell peppers could elevate the recipe – feel free to add them! This is about making things easy and flavorful, so don't go worrying about specifics.
Easy beef stew recipe | Instructions
When you've gathered all of your ingredients together, it's time to get that killer soundtrack banging in the background, and that chopping board ripe and ready on the kitchen counter.
Here's how to make our easy beef stew recipe:
Step 1: Start with the beef, take it out of the fridge and chop it into medium-sized cubes. You don't want it to be too unwieldy, but also big enough that it won't dry while cooking.
Step 2: Once your beef has been diced, season it generously with some salt and pepper, combine the flour and paprika, and mix the beef in the mixture until all sides are lightly dusted. This will seal in the seasoning and help to thicken the broth.
Step 3: Heat the pot on high, adding a generous amount of olive oil and waiting until it is slightly smoking at the bottom. Sear the beef on the bottom, in rounds, so that every single piece of beef has a nice, golden sear and is a little bit crispy on the outside. On a high heat, this should take no more than a minute for each cube.
Step 4: Remove the beef from the pot, add a generous amount of olive oil and (once smoking a little again), and mix in the chopped onions. Stir briskly for around 2 minutes and then add the minced garlic and continue to sauté until golden and translucent. Add in the beef at this stage and mix everything together thoroughly.
Step 5: It's time to get excited! Add the red wine and de-glaze the bottom of the pot while doing so with a spatula. What this means is that you scrape up all that burnt-on stuff from the bottom of the pot – that's where the flavor is! Mix in the red wine. Simmer on a medium heat for around 5 minutes, until the red wine has evaporated a little bit and is fragrant.
Step 6: Remove this mixture and set aside. Now add another healthy dose of olive oil, and the tomatoes (roughly chopped). Allow them to melt away before mixing in the carrots, potatoes, and celery (all chopped roughly into nice, solid chunks). Stir until all mixed together, and season with salt and pepper.
Step 7: Re-add the beef-onion-garlic-wine mixture and combine everything. Have the beef stock pre-prepared and mix it in, along with the passata. Mix everything together and bring it to a simmer. Add about a cup of water, and a little bit more red wine for that extra flavor!
Hot tip: If you want to use beer in this recipe, this is when you want to add it. Don't add it with the meat and onions, as there is a higher volume of beer than wine and it will create a weird slurry.
Step 8: Simmer everything on medium heat for around 1.5-2 hours, tasting and seasoning as you go to make sure it is flavorful and just perfect! Make sure to stir it regularly, so that nothing burns to the bottom. This is why a gas stove is not advisable.
Step 9: Continue to cook, and top it off with water if it seems to have evaporated too much. Serve in a shallow bowl with some rye or sourdough bread, dumplings, or whatever else you want!
See, this easy beef stew recipe really is just as advertised – easy! With that tasty combination of vegetables, well-seasoned beef, and red wine, you'll eat it all up in no time at all!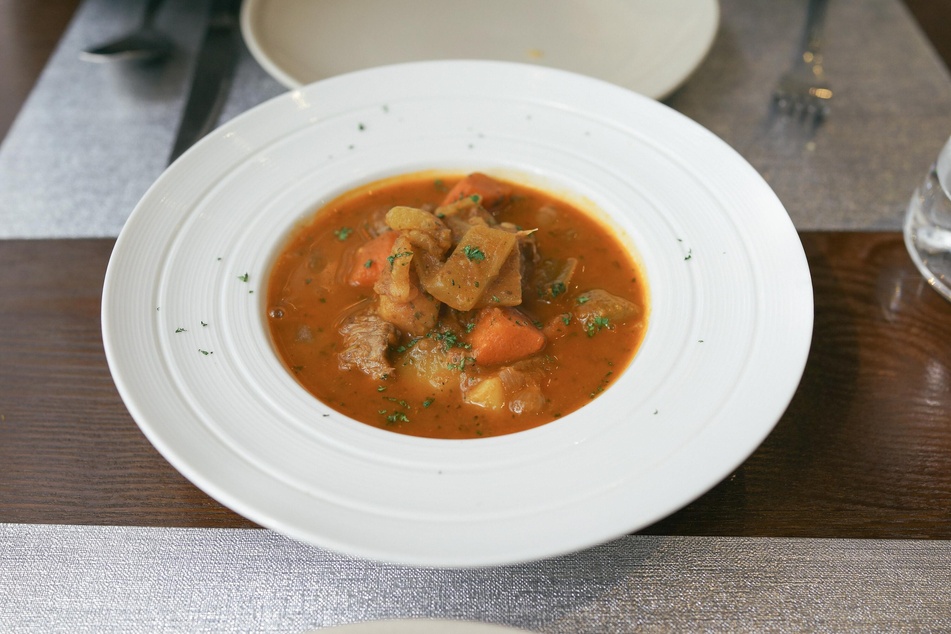 How to make beef stew thicker
There are three things that contribute to the thickness of your beef stew: the flour you dusted the beef with, the starch from the potatoes, and most importantly, the amount of evaporation that occurred during cooking. The latter is the most crucial aspect when talking about "thickness."
What you want to do is allow the liquids in the stew's broth to thoroughly combine, and for the starch in the potatoes to rise to the surface, ready to thicken everything up nicely. At the 2-hour mark of cooking on a low-medium heat, you will greatly reduce the quantity of liquid in the pot and, in turn, thicken everything up.
Caution: Be careful that, when you are letting it cook, you give it a good stir every 5-10 minutes and add a little water if the liquid has reduced too much.
Best meat for beef stew
There's a variety of different cuts that you can use for a lovely beef stew, but it's best to stick with something like chuck beef that's not too expensive.
Here are a few alternative cuts you could use for beef stew:
Beef eye round
Sirloin steak
Roast beef chunk
Brisket
Short-rib
Instead of making a stew with expensive cuts, chuck them on the grill and get them to that perfect medium-rare with a light seasoning of salt and pepper!
How to make beef stew meat tender on the stove
When you cook a rough or chewy cut of beef as a steak, you're going to have trouble getting it tender. This is where basting is going to be needed, and even that won't save some cuts. In the case of a beef stew, though, you are cooking the beef for so long that it will be falling apart once you are done with it.
The trick is to make sure that you do three things:
Step 1: Make sure that when you dice it you discard any particularly sinewy, chewy, or dry bits of the beef.
Step 2: Give it a good, solid sear to melt down any fat veins inside the chunks.
Step 3: Cook it for a very, very long time on a medium-low heat, in a lot of liquid.
The acid that's in the wine will also help to soften the meat, as will the salt seasoning and the beef stock you add.
Should you use dark beer or red wine in a beef stew?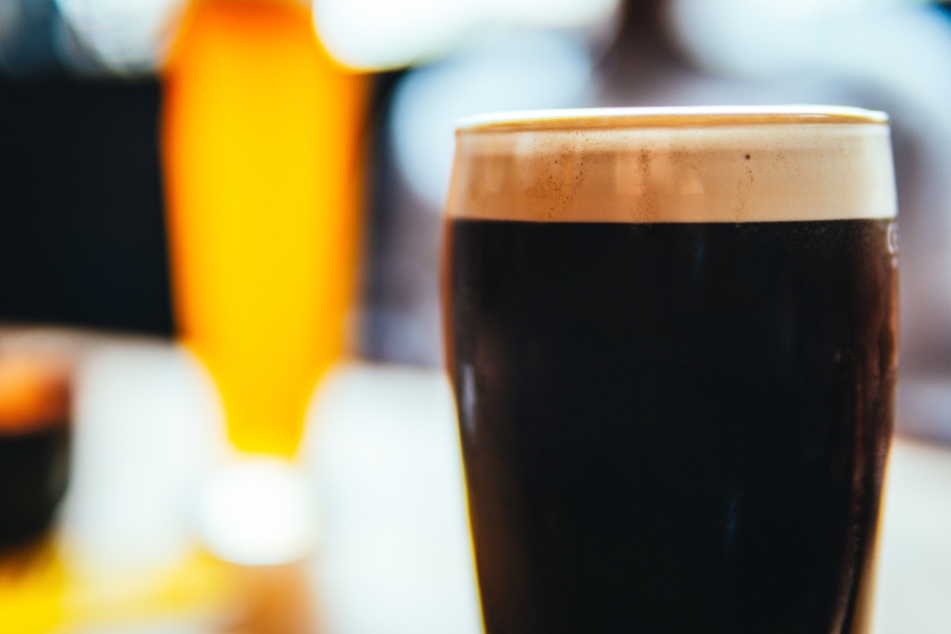 You can use either red wine or dark beer/stout in this recipe – or even both if you want. The only rule is that there needs to be one or the other. If you are going for a more French-style stew, red wine is the go, and if you want something a little more Irish, then a stout is the way to go. Just make sure not to use light beers or lagers, as they won't create the scrumptious result you're looking for.
How to make beef stew without beef broth/stock
Whilst it is crucial that you have some kind of stock in your beef stew, you can happily use any vegetable or chicken stock if you have no beef stock on hand. This will, admittedly, change the taste of the stew, but hey, we're going for easy – and it will still taste incredibly good. Feel free to experiment!
A well-seasoned beef stew is a real winter treat!
Getting seasoning right, with that tangy paprika and the slight dryness of the red wine, is the key to making a beef stew worthy of the whole family. Pair it with a nice glass of red, some sourdough bread, and a little bit of parsley on top. You won't regret it!
The trick with this beef stew recipe is to give it the time to break down the ingredients and make that chuck-beef tender and melt-in-your-mouth. It'll warm you up, and guess what? It's healthy, too!
Cover photo: Nathan Dumlao / Unsplash