How to make pumpkin pie: The best recipe ever!
Beautiful homemade pumpkin pie is the perfect fall treat, so we're here with a quick-and-easy recipe. Here's how to make pumpkin pie, and here's how to impress your significant other.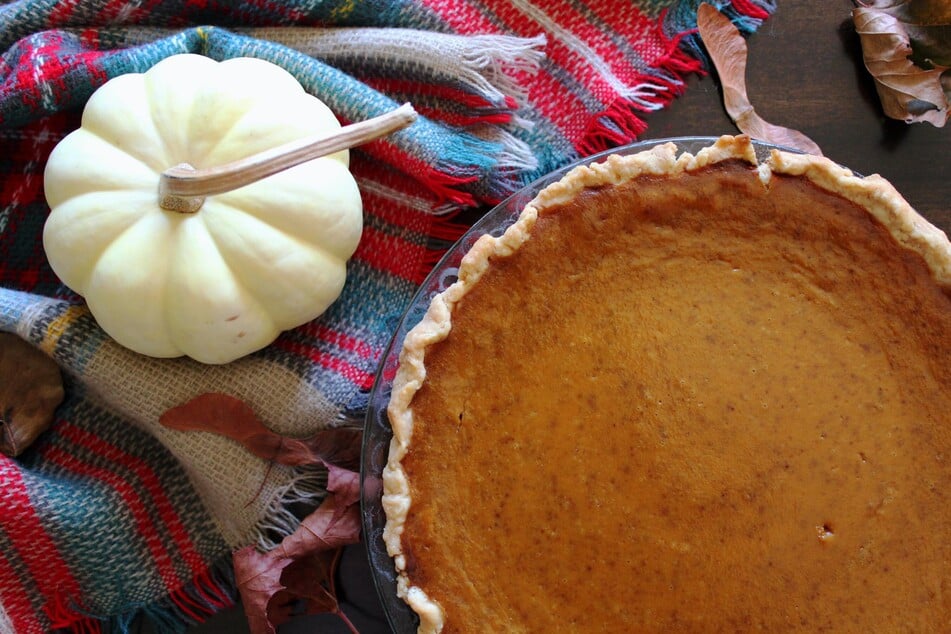 With a perfect combination of spices, sugar, and fruity goodness, homemade pumpkin pie is one of the best things to bake this fall.
The thing is, though, that many people get flustered when it comes to picking out the ingredients and making one themselves. Exit the store-bought rubbish, and enter a quick and easy way to make a delicious pumpkin pie.
In this quick and easy pumpkin pie recipe, TAG24's food writers are here to help you get your bake on. Here's how to make a pumpkin pie...
How to make a pumpkin pie from scratch: Recipe
Pumpkin pie is not a particularly hard dessert to make. The trick is getting that perfect crust – but this is something that time-restricted or cautious cooks can resolve by picking up a 10" frozen pie crust from the supermarket.
There are a few pieces of equipment you are going to need:
A 10" pie tray (or whatever size you're after)
A nice big pot
A good quality whisk
A mixing bowl
A wire rack
Pre-heated oven at about 375 to 400°F
With these items and some great ingredients, it ain't too hard to make a scrumptious pumpkin pie. Let's take a look...
Pumpkin pie recipe | Ingredients
With two main components – the filling and short-crust pastry – you would expect pumpkin pie to have a pretty extensive ingredient list. Actually, it's pretty forward to shop for.
Here's what you need for this pumpkin pie recipe:
For the pastry
9oz Plain flour
4.5oz Butter
1-3 tbsp Milk
Salt
For the pumpkin pie filling
1 entire pumpkin
1 cup sugar
2 teaspoons of pumpkin spice blend (cinnamon, ginger, nutmeg, and ground cloves)
1 cup evaporated milk
2 eggs
Salt
You can use the same pumpkin spice blend you use in coffee to make your pie absolutely delicious!
Pumpkin pie recipe | Instructions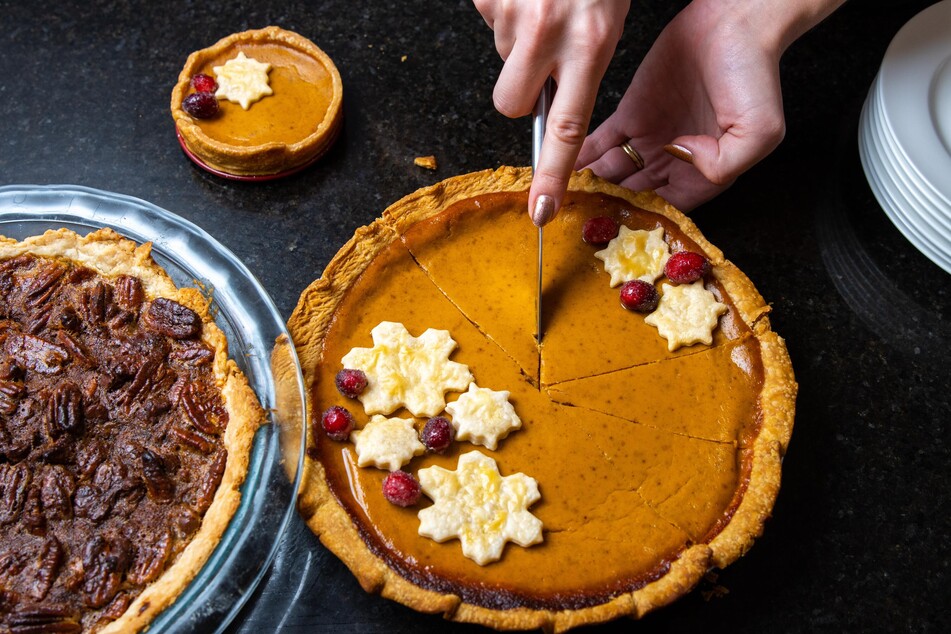 Don't feel intimidated by pumpkin pie, it's actually an incredibly quick and easy dessert to put together. The trickiest part, of course, is the pastry crust, so let's start with that.
How to make the pumpkin pie crust
Step 1: Take the butter out of the fridge, dice it, and let it sit until it is at room temperature. Sift the flour into a food processor, as well as the butter and salt, and blend until the mixture has the consistency of bread crumbs.
Step 2: Slowly add the milk as you blend, allowing the mixture to come together as a dough.
Step 3: Dust your countertop with a bit of flour and take your mixture out of the blender. Gently bring the dough together so that it forms a nice, solid blob.
Step 4: Allow the mixture to chill for 20-30 minutes.
How to make pumpkin pie filling
Step 1: In a large bowl, mix the pumpkin and spices with salt, evaporated milk, and sugar.
Step 2: Beat your eggs and add these as well, mixing thoroughly with either a strong whisk or a wooden spoon.
Step 3: Pre-heat your oven to 350°F.
How to put together a pumpkin pie
Step 1: Prepare your pie tray by buttering up the inside of the mold. Once covered in butter, dust it with a thin layer of flour.
Step 2: Use a solid rolling pin to start rolling out the pastry. Flatten until the pastry is about 1/5 inch thick, being careful not to allow it to tear and keeping it as even as possible.
Step 3: Carefully pick up the rolled-out dough and place it in to the pie tin, molding it into the right shape whilst avoiding any tears.
Step 4: Partially cook your pastry for about seven minutes, until relatively sealed. Remove and allow to cool for about 10 minutes whilst increasing the oven's heat to about 400°F.
Step 5: Put the pumpkin mix into the pie crust evenly so that the entire bottom of the pie is covered at approximately the same thickness.
Step 6: Bake for about 10 minutes, then reduce the temperature again back down to about 350°F and bake for another 30 minutes, or until a knife or fork comes out clean when inserted in the center.
Step 7: Make sure that you allow it to fully cool before serving, and store in the refrigerator when not eating!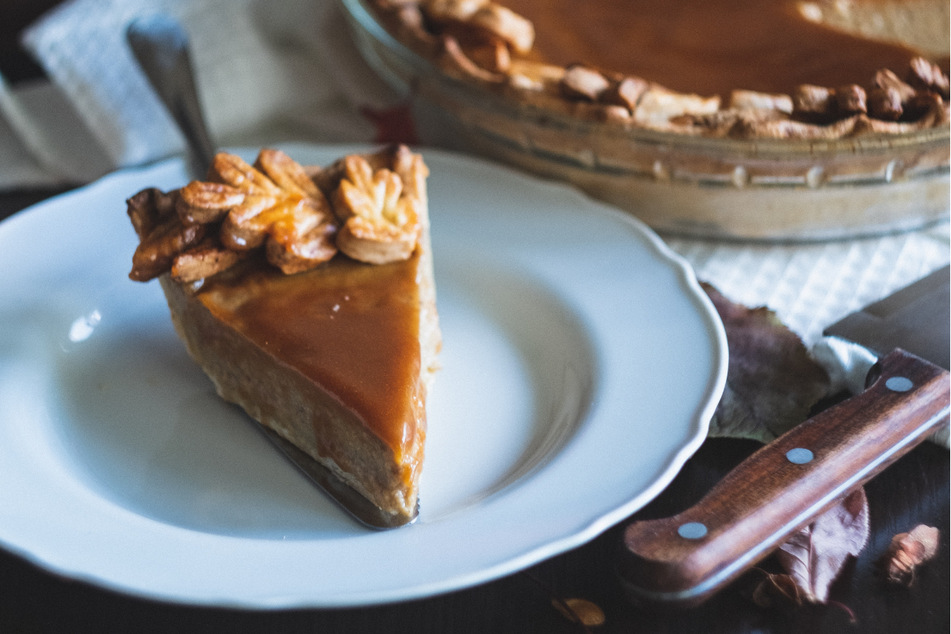 Can you make a vegan pumpkin pie?
It is possible to make a vegan pumpkin pie if you replace the eggs, milk, butter, and evaporated milk. Indeed, the pie will not be as buttery and delicious, as this will seriously change its texture.
Here are some good replacement ingredients:
Butter: Vegan butter, vegetable oil
Evaporated milk / milk: Coconut cream, coconut milk
Eggs: A thickening agent like cornstarch
Can you make a gluten-free pumpkin pie?
It's incredibly easy to make gluten-free pumpkin pie. All you need to do is replace the flour that has been used in the crust with some kind of gluten-free alternative. Some good options are cornflour, almond flour, oat flour / oatmeal, and rice flour.
How to make easy pumpkin pie with canned pumpkin
Whilst we strongly recommend against using any pre-prepared ingredients in this recipe (they are far less tasty, far more unhealthy, and don't really save that much time), it is possible if you really want to.
In the case of using a canned pumpkin purée, or a pre-made pumpkin pie mix, all you will need to do is make the crust as described above (or use a pre-made crust) and put the mix into it. If you use straight pumpkin purée, you need to mix it with the other ingredients listed in our recipe. Everything else is the same.
Check out our pumpkin tips to help season and prepare the perfect squash to bake with.
Pumpkin pie is the perfect fall snack!
People often get a little intimidated by the idea of making their own pumpkin pie from scratch. The thing is, though, that it's actually pretty darn easy! Once you have tried out this pumpkin pie recipe, you'll never find yourself heading to the store to buy a premade one again.
Remember that you don't need to be concerned if you are vegan or gluten-free, either, as there are plenty of options available to you. Preheat your oven, and get baking!
Cover photo: Kelsey Weinkauf / Unsplash