How to make homemade gnocchi: An easy recipe
With a little bit of time, and not much difficulty, you can make homemade gnocchi. It's straight-forward, better than the pre-made stuff, and can be paired with a bunch of delicious toppings and sauces. Let's dive into this epic recipe and some different delicious sauce combos!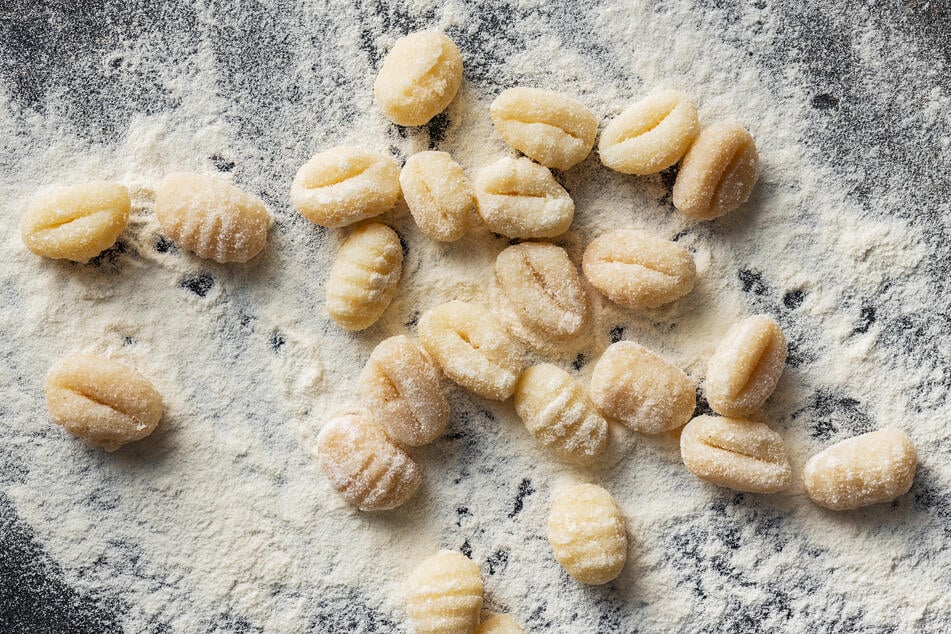 Making gnocchi pasta can seem rather daunting, and it's not surprising. We admit: It's quicker and easier to buy the pre-made kind.
Yet, there's nothing quite like the satisfaction of making them yourself. It also helps that, while time-consuming, homemade gnocchi surprisingly isn't hard to make.
Are you ready for some homemade food that will impress your guests? With this easy potato gnocchi recipe, we take you through everything you need to know for a warm, comforting dinner for family or friends.
What is gnocchi pasta?
Gnocchi are small, pillow shaped pasta made primarily of potato rather than wheat flour or semolina.
They are perfect dressed with pasta sauces that are thick and full-bodied, like tomato, ragu, or simply butter and sage.
These little pouches of flavor make unbelievable winter treats, and enough to share with a group of hungry eaters.
Interestingly, potato gnocchi originate from the days of the Roman Empire, when the ancient Romans expanded out across Europe. In those days, most gnocchi were made primarily of semolina, only being made with potato after the root vegetable was brought across the Atlantic during the Columbian exchange of the 15th century.
Easy potato gnocchi recipe
These little bundles of joy will take you a little while to make, purely because the process of rolling out the dough, cutting it, and then shaping the gnocchi can be quite time-consuming. Other than that, the process is simple and easy, and the ingredients are inexpensive. On top of all this, you don't need much equipment.
Here's what you will need to make homemade gnocchi:
A large pot
A potato masher
A wide, clean, and flat surface such as a bench top or table
A cheese grater
A fork
A sharp knife
There are a few items that can be substituted for others. The potato masher, for example, can be replaced by a large fork or wooden spoon. Just mash hard!
Homemade gnocchi recipe | Ingredients
There aren't many ingredients necessary when making gnocchi. You can even mass-produce these little pillows if needed, and spend relatively little money. It's a cheap but delicious foodstuff, and making them is a great skill to have in your back pocket.
Here are the ingredients for potato gnocchi:
5-6 medium-sized potatoes
1 cup all-purpose flour (and more for dusting / adding)
1 egg
Pinch of salt
On the subject of flour: Two things: a) Feel free to use semolina flour instead, but be aware that it will change the texture, and b) Make sure that you have plenty of flour, the 1-cup is just a starting point. You will need more flour to dust your flat surface, and may need to add more if the mixture is too wet.
Homemade gnocchi recipe | Instructions
Let's dive into the nitty-gritty of how to make homemade gnocchi. Don't fear, it's not too hard. Allow plenty of time, though, as the receipe could take a while.
Here's how to make homemade gnocchi:
Step 1: Peel your potatoes, chop them up relatively small, and put them into some lightly salted-boiling water. Cook until they are relatively soft but haven't gotten completely mushy.
Step 2: Once they have been fully cooked, drain all the water, mash the potatoes so that they are smooth but not fluffed up, and set aside for at least half an hour to allow them to cool.
Step 3: Put your cup of flour onto your flat, pre-cleaned surface. Pile it up and shape it like a volcano, with a crater in the center. While shaping it, mix in the salt.
Step 4: Once the potatoes have cooled, start scooping them into the center of the "volcano." Use your hands to mix the flour with the potato, slowly combining into a mixture.
Step 5: When this has been combined, make another volcano shape from this flour-potato mixture and crack the egg into the center. Use your finger to scramble the egg and then combine all together in much the same way.
Step 6: It's time to get kneading. Now that your dough is all together, continue to knead it on the surface. As you are doing this, slowly incorporate more flour into the mixture until the dough is still moist but not sticky, and a little bit fluffy. During kneading, make sure to continuously dust your surface with flour.
Step 7: Once you have finished kneading your dough, allow it to sit for an hour to let the gluten develop.
Step 8: Chop the dough into a few manageable pieces. Dust your surface very thoroughly with flour. Take one of those chunks of gnocchi dough and dust it with flour so that it isn't too sticky.
Step 9: Using your hands, roll out the dough so that it is a long tube. Roll it on the floured surface in a backwards and forwards motion. Start in the center and then slowly push out the dough and allow it to form a very long strip.
Step 10: Once you have a nicely thin tube-like roll of dough, approximately a third of an inch in diameter, grab your knife. Chop the tube into half-inch pieces, taking care to dust these pieces with flour as you go.
Step 11: Take each little piece and run it over the underside of a fork, giving it little strips that will help it hold sauce, and shaping them into little pillow-shaped pieces.
Step 12: Collect these little pieces on a tray, trying as best you can not to have them piling on top of each other. If you have no choice in the matter, dust each piece thoroughly with flour as you go to make sure that they do not stick together.
Step 13: Repeat this process for the rest of your dough, creating plenty of gnocchi, and preparing them for some delicious feasting.
Regarding the proportions: This will make enough gnocchi for about 2 people, assuming they eat a single portion each. As you add more people, increase the proportions accordingly.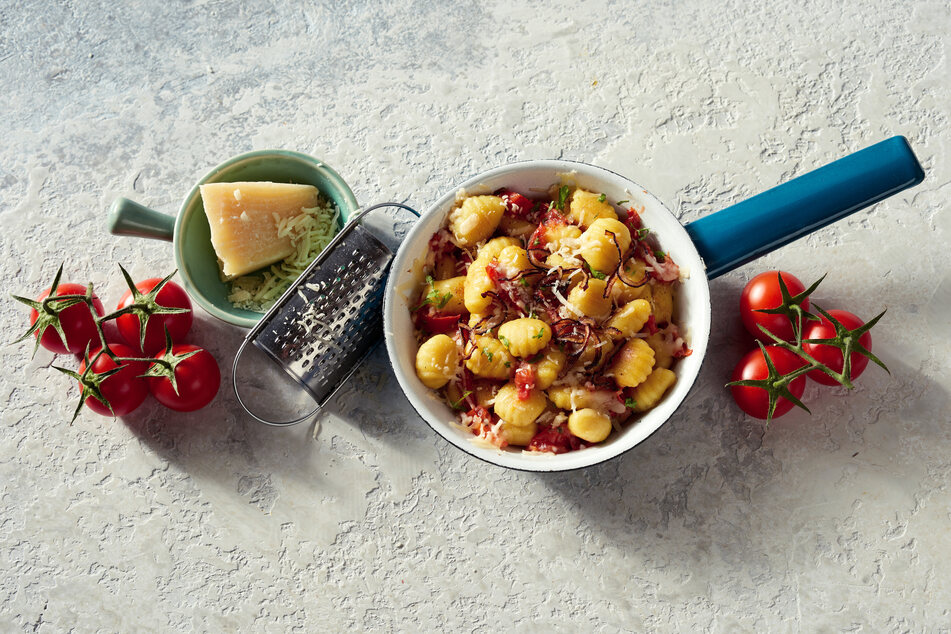 How to cook gnocchi perfectly every time
Once you have finished making your gnocchi pillows, it's time to cook them so that they are tasty and tender. It's rather simple: Bring salted water to a rolling boil, stick in your pasta, and cook until the majority of your gnocchi have risen to the top. That's the cool thing about gnocchi - they tell you when they're ready by rising to the top!
Healthy recipes for homemade gnocchi
There are tons of things that you can combine gnocchi with. Beware though: If you fry your gnocchi, it makes these treats fairly unhealthy, and ruins the texture of your little fluffy pillows.
As a result of their versatility, here are two easy pairing recipes to try out with your gnocchi.
Pumpkin gnocchi recipe
Many foodies believe pumpkin is one of the best pairings for gnocchi. It combines what makes a pumpkin soup so delicious and what makes gnocchi such tender, beautiful little nuggets.
Ingredients:
Your homemade gnocchi
1 whole pumpkin
2 medium sweet potatoes
4 cloves of garlic
1 large onion
5oz parmigiano reggiano (parmesan) cheese
Olive oil
Salt
Pepper
Instructions:
Having chopped up the pumpkin into pieces (keep the skin) and sweet potato (don't keep the skin), lightly season them in salt, pepper, and olive oil, and bake in an oven at around 350-400°F for about 40–50 minutes. You need to wait until they have a mushy consistency and are a little caramelized.
Before you have finished baking, chop up your garlic and onion and sauté in a pot with some olive oil until the onions are translucent and fragrant. Now that you have finished cooking the pumpkin and sweet potato, add them to the pot with a bit more olive oil and mix everything together.
Use a blender to mush up and combine the onion, garlic, sweet potato, and pumpkin. Once combined into a thick and fragrant sauce, season to taste with salt and pepper. Now, cook the gnocchi (using our method) and add the cooked gnocchi to the mixture. Combine thoroughly, mixing in some parmigiano reggiano.
Don't forget the garnish! Sprinkle some more of that delicious cheese over the top, as well as some cracked black pepper. If you've got some basil ready-to-go, chuck some on there as well!
Cheesy tomato gnocchi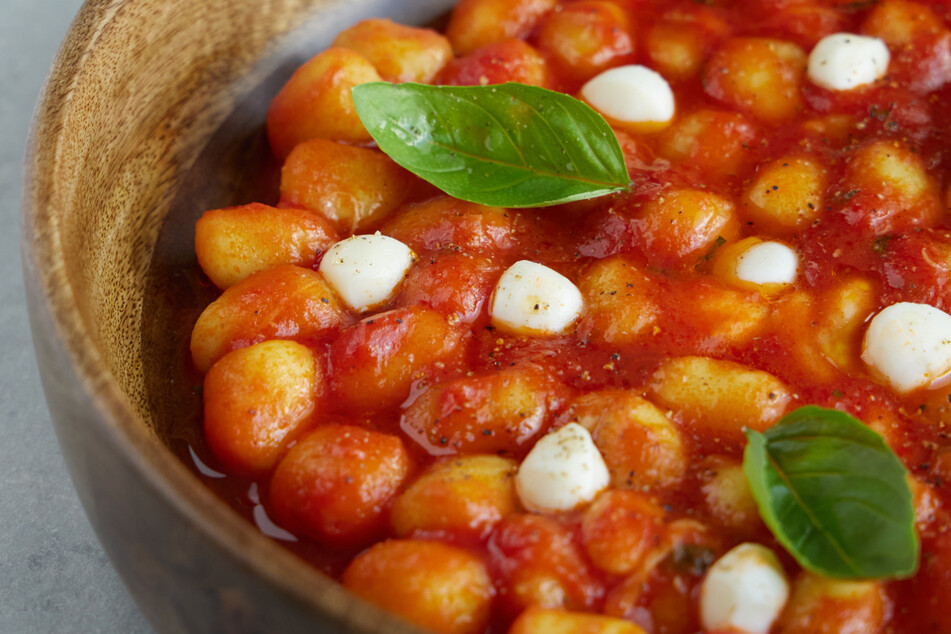 As they say, the key to happiness is ... cheese. Especially mozzarella. Lots of mozzarella.
Its creamy goodness adds a quantity of flavor well in excess of proportions, and when combined with a good, garlicky tomato sauce and some squishy homemade gnocchi, absolutely nothing compares.
Ingredients:
Your homemade gnocchi
5–6 large ripe tomatoes
1–2 cups of passata (tomato pureé)
4 cloves of garlic
1 big buffalo mozzarella, about 10oz
Bunch of basil, about a handful
Olive oil
Salt
Pepper
Instructions:
Chop, grate or crush your garlic cloves after removing the skin. Sauté in olive oil for a few minutes on a medium heat, until fragrant, and then add your finely chopped-up tomatoes. Continue to cook on a medium heat until the tomatoes have gotten syrupy and a little bit caramelized, but not browned.
Now chuck in the passata and season the whole thing thoroughly with salt and pepper to taste. Take about half of your basil and steep it in the mixture, allowing the aromatics and flavor to come out. Cook up your gnocchi (as indicated earlier) and add them to the pot of sauce.
Throughout your cooking, use the gnocchi pasta water to add substance to the sauce, and its starch will make for a fantastic texture when combined with the cheese. Once the gnocchi has been added, add one last spoonful into the sauce as well as all the mozzarella, chopped-up into pieces. Mix thoroughly so that the cheese melts and thickens up the sauce.
Serving this sumptuous sauce: Pop your gnocchi in a nice bowl and garnish it with the rest of the basil and some black pepper. If you have some, chuck some grated parmesan on there as well. Yummy!
Easy homemade gnocchi is a great winter treat
If you are feeling a little bored, are stuck inside, and cold this winter, the adventure of making homemade gnocchi will do the trick to lift your spirits. It's a great activity to bring family and friends together: kneading the dough, rolling it out, and shaping the individual gnocchi, all while listening to some great music (of course)!
Not only is homemade gnocchi relatively healthy and delicious, it's also satisfying. There's nothing better than making fresh gnocchi and ending with a feeling of achievement – and a full stomach!
Cover photo: IMAGO / Panthermedia