How to make naan bread: Recipe
There are few side dishes more delicious and satisfying than good, fluffy naan bread. How are naan breads made, and can you do it yourself at home? Here's our homemade naan bread recipe!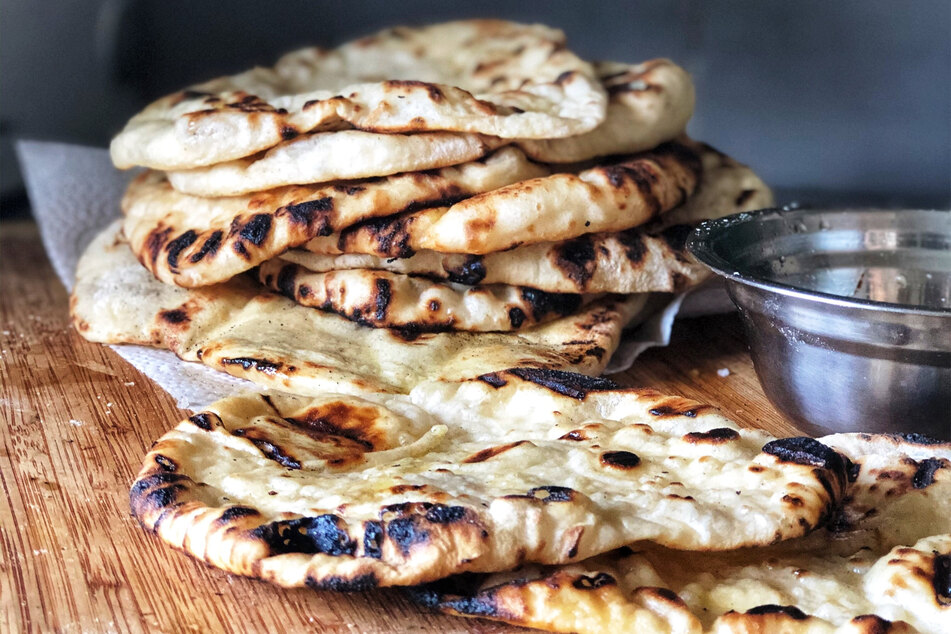 It goes without saying that the best night of the week is, and always will be, curry night. Yet no good Friday night curry is complete without the perfect naan bread on the side. These fluffy flat breads have a unique and smoky flavor, and perfectly scoop up your curry, making every mouthful an absolute joy.
If you're a fan of some great Indian food on a Friday night (or any night, to be fair), then you'll be a fan of this naan bread recipe. Say goodbye to takeaway and learn how to make a gorgeous naan bread.
What is naan bread?
Naan bread is a gorgeous tandoori-baked bread with a smoky flavor and a soft texture. A standard addition to Indian fare, naan bread is a favorite among the kids, and its variants are often sold in the West with garlic and even cheesy toppings.
Often associated with Indian cooking and food, naan is actually a kind of bread that has spread across south Asia in a variety of forms, and only came to the Indian subcontinent during the 1300s. You can also find it commonly eaten in other countries, including Indonesia, Myanmar, China, Japan, Pakistan, and a variety of ex-Persian nations.
A good naan bread has a very distinctive taste. This flavor generally comes from the yogurt and ghee used in the dough, as well as the fact that it is cooked in a tandoori oven. We will do our best to replicate the unique naan yumminess without the latter.
Hot tip: If you're thinking of putting together a delicious Friday feast, or a nice Sunday evening meal, combining naan bread with our gorgeous butter chicken recipe will be an absolute winner. Give it a go, and you won't regret it!
How to make homemade naan bread: Recipe
There's a lot that's great about naan bread, and many, many reasons to make it yourself. That doesn't make it easy, as it can be a long and arduous process. Naan bread would usually require a tandoori oven, but we're going to use a skillet instead – it's not the same, of course, but as close as we're going to get without buying an expensive (and massive) piece of equipment!
There are a few things you're going to need when making naan bread:
A skillet (preferably cast iron, or a tandoori or pizza oven)
A rolling pin
Accurate measuring utensils
Here's how to make the perfect side dish to the perfect curry. Get the family together, start kneading, and cook yourself a fantastic naan bread that'll keep everyone happy.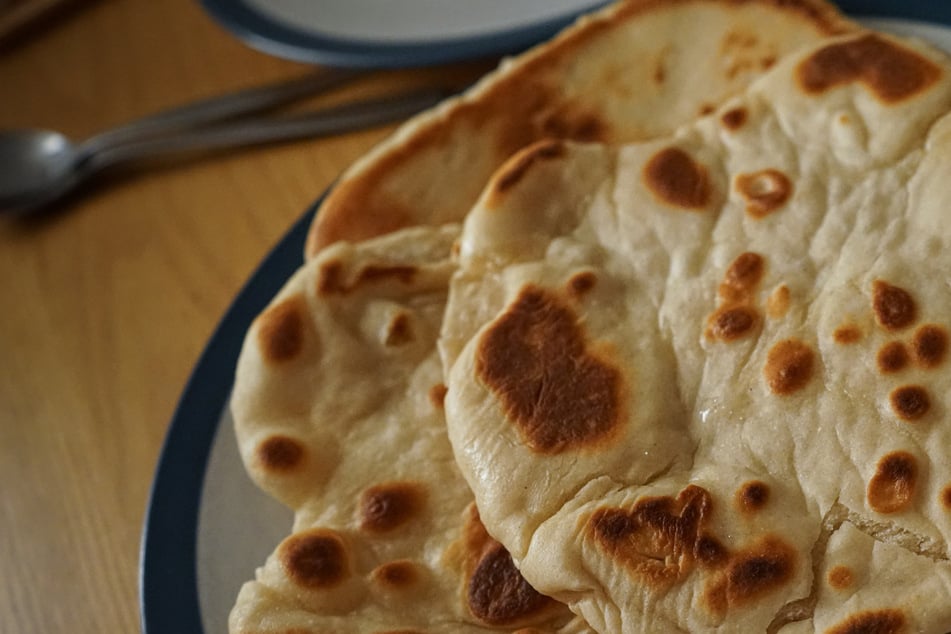 Naan bread recipe | Ingredients
You don't need many ingredients to make naan bread, and nothing particularly fancy or expensive. What you will need, however, is genuinely active dry yeast, proper yogurt, and ghee instead of standard butter. Without these components, you simply cannot make a decent naan bread.
Here are the ingredients for homemade naan bread:
Plain yogurt, 3/4 cup
Flour, 2.5 cups
Melted ghee, 5 tbsp
Active dry yeast, 1 oz
Caster sugar, 1/2 tsp
Warm water (enough to reach the right consistency)
Salt
Oil, 1 tbsp (plus more to use while cooking)
On the proportions: This recipe should make enough for around five or six large naan breads. If you want to make more or less, feel free to adjust the amounts listed above accordingly.
Naan bread recipe | Instructions
The process of making naan bread is not so dissimilar to the process of making most bread. You are going to need to knead and to apply some form of heat to activate the yeast, cook the bread, and have it rise. It's not easy, but it's also not the hardest thing in the world to get right.
Here's how to make naan bread at home!
Step 1: The first step should be to activate your yeast. Do this by adding sugar, warm water, and the yeast together in a small bowl.
Step 2: Wait for around 10 minutes, until the yeasty water has foamed up. Then, get out your other wet ingredients and have them prepared – melt the ghee, measure out the yogurt and oil, etc.
Step 3: Take your flour and turn it into a volcano, with a circular hole in the middle of the mountain. Now add your yeast along with the other wet ingredients, positioning them so they are all in that central hole.
Step 4: Start the process of kneading by folding the flour into the wet mixture and using your hands to combine everything. If you want a more thorough guide to kneading, check out our homemade pizza dough recipe.
Step 5: Continue to knead until the mixture is smooth and buttery on the outside. It needs to feel slightly sweaty, but also needs to have a shiny and smooth feel to the outside of the ball.
Step 6: Let the dough rise by setting it aside in a warm environment, but not a hot one (on the window sill in the sun, for example). Make sure it is in a bowl that has been greased with oil (to avoid sticking) and is covered with a damp cloth. Naan bread needs at least an hour to rise, so make sure you give it long enough for the yeast to work its magic.
Step 7: Once the dough has risen to about double its original size, take it out and portion it into about six different pieces. Make sure they are all around the same size.
Step 8: One by one, roll the pieces out so they take on a rounded triangle shape, like you see at the shops. Make sure they are not too thin but will still cook all the way through relatively quickly (about 1/4 of an inch).
Step 9: Heat up your skillet and grease the surface with some extra oil. Put the dough in, keeping the temperature at a medium-high level, and wait for it to start bubbling. At the point that it seems to have started burning a little, turn it over with a spatula.
Step 10: Repeat this process and cook all of the pieces until they feature those signature black "burnt" marks. You want to try and get that slightly smoky and crispy texture, as well as a light and fluffy bread. Just remember to brush it with a bit more ghee right at the end (when you serve it up). Enjoy!
Remember your naan might not be perfect on your first attempt, but give it a few goes, and soon enough you'll be making beautiful naan bread at home every Friday night.
Garlic naan bread recipe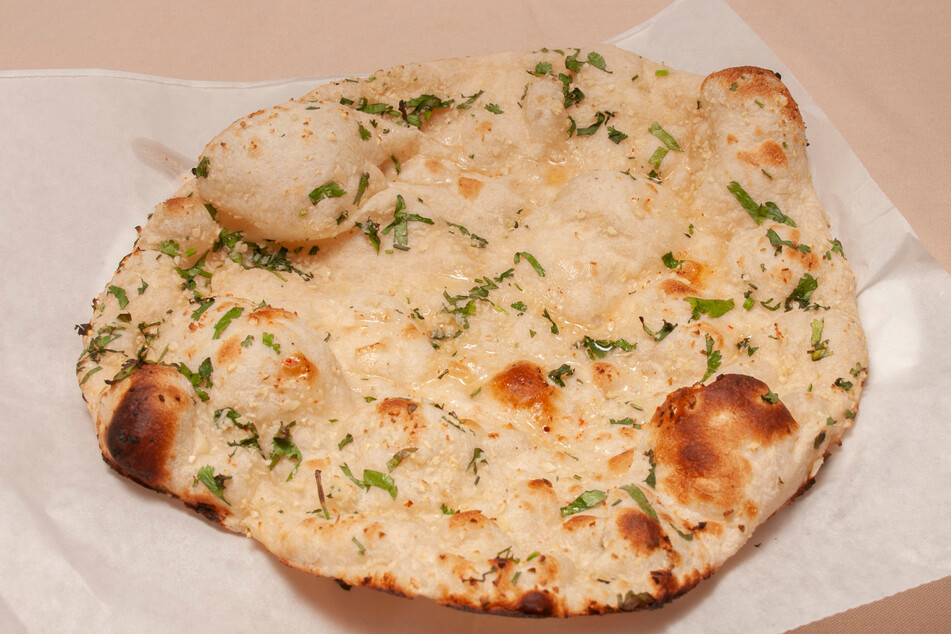 Garlic naan is no easier or harder to make than your standard naan bread, as the garlic flavor is simply conveyed through a garlic butter/ghee that's added and melted onto the top of the bread. It's straightforward and delicious, and well worth a try if you've never had it before.
Here are the ingredients for garlic naan:
A finished and cooked naan bread, still hot
Ghee (or salted butter)
Full cloves of garlic
Coriander or parsley (whichever you prefer)
How to make garlic naan:
To make the perfect garlic naan all you need to do is melt the butter in a pot with the garlic mixed in and simmer until the garlic flavor has released, brush the butter onto the top of a freshly cooked naan bread, and sprinkle it with herbs and some nice cracks of salt. It's easy, quick, and incredibly delicious.
On the proportions: We haven't provided proportions for the garlic butter as it entirely depends on how much butter you want to put on each naan bread, as well as how many garlic naans you are making.
How to make naan bread without yeast
While you won't get the same consistency and texture without yeast, it is still possible to make yeast-free naan bread. To do this, all you need to do is substitute the yeast for baking powder and combine into the dry mix before you add the liquids. Add around one teaspoon of baking powder and one teaspoon of baking soda.
Keep in mind that yeast creates large pockets of gas, which make the bread light and fluffy, and helps develop those big surface bubbles that characterize a good naan bread. You won't get this texture with baking powder, but hey, at least you don't need to activate it like you do the yeast.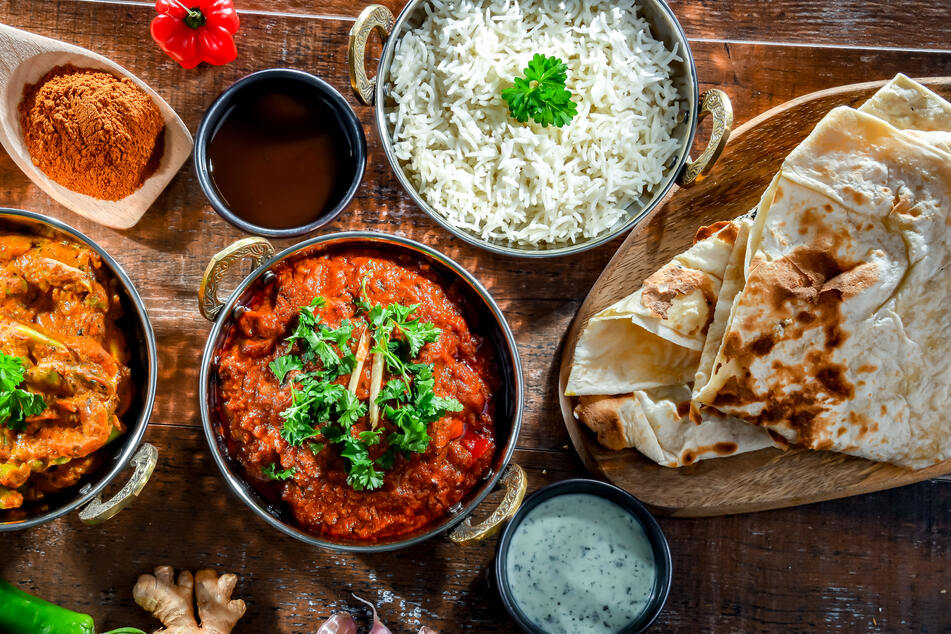 What should you eat with your homemade naan bread?
Make sure you pair your naan bread with something delicious. There are many great options at your fingertips, and you can even consider mixing cuisines if you're not feeling a curry but still want some of this fluffy and flavorful bread. That being said, a nice spicy curry is always wanted.
Here are a few suggestions of great dishes to try with naan bread
Butter chicken: The absolute classic, this buttery and spicy meal is something few dishes can top. Made famous in the West but originally from North India, this dish has become a staple and is characterized by a sweet and buttery flavor.
Rogan josh: This lamb curry is much spicier than your average butter chicken but packs even more flavors into the mix. Marinated in yogurt as well as a variety of spices, this is one of the best curries out there.
Chicken korma: The obvious alternative to butter chicken, a good korma is rich, creamy, and not too spicy. It's basically the Indian equivalent of a braised chicken stew, and it's to die for.
Vindaloo: These bad boys are famous for being extremely spicy and extremely tasty. Made with red wine, garlic, and a lot of chilies, this pork or beef curry is absolutely packed full of flavor.
Aloo gobi: A dry potato and cauliflower curry, this spicy and absolutely wonderful vegetarian dish brings the flavor of ginger, turmeric, coriander, and a vast assortment of spices to the mix.
Palak paneer: Paneer is an absolutely delicious cottage cheese, and palak is the Hindi word for spinach. This gorgeous vegetarian curry features a creamy spinach gravy with chunks of rich cheese. Incredible!
Make what you want: Naan is a South Asian bread that has been designed to be paired with such dishes, but that doesn't mean you have to be traditional. Make a nice buttery tomato sauce, whip up a great bolognese, or cook up some steaks! All these and more options will be a great fit.
Naan bread is a simple and delicious side dish
There's something incredible about a good naan bread. It soaks up the sauce perfectly, it turns into the perfect spoon with very little effort, and it brings a unique and delicious flavor unrivaled in the world of bread. With a few additions – garlic, for example – this unbelievable side dish can get even better!
While there's no way you can replicate that tandoori flavor without a proper tandoori oven, these naan breads will still pack that punch you want. Chuck them together and enjoy them with your family – you'll have no regrets.
Cover photo: Unsplash/Sweetyoga Justine