Spicy Indian scrambled eggs: The perfect Indian breakfast recipe
It's time to set aside the sugary pancakes and the cereal that barely resembles food, and pick up a couple of delicious wraps filled with spicy and nutritious eggs. Here's how to make spicy Indian scrambled eggs.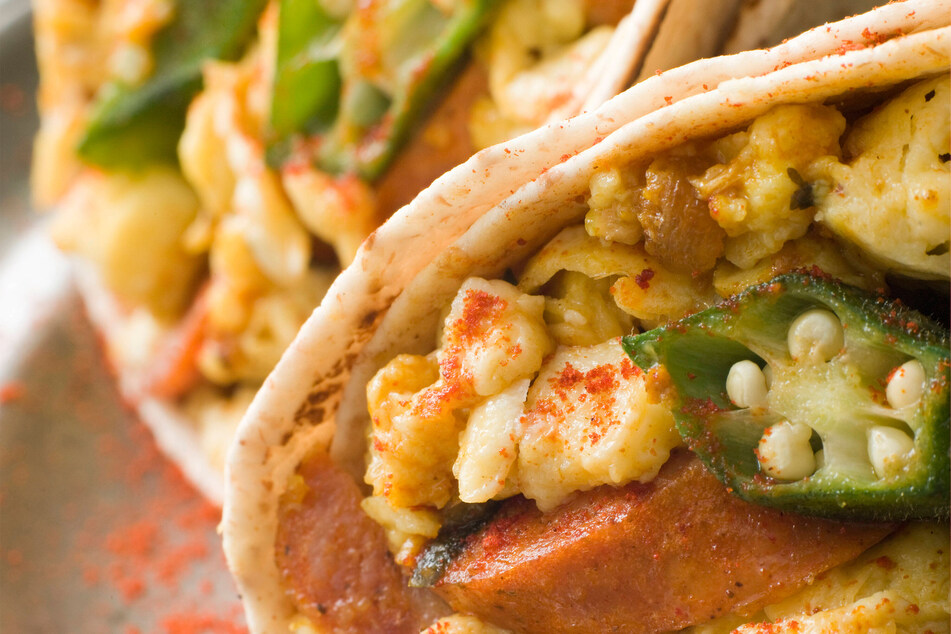 A good Indian breakfast wrap has three components: The bread, the eggs, and the sauce. Even if it isn't the most traditional of Indian dishes, it's a quick and easy breakfast that'll replace the sugary stuff you may be filling up with on a Sunday morning.
Even if you're not the biggest fan of Indian food, this is one recipe to keep your eye on. Here's how to make Indian scrambled eggs, wrapped up in bread with a delicious yogurt sauce.
An Indian breakfast is something truly special
There's something incredible about eating a dish that's savory – and healthy – when you wake up in the morning. Most breakfasts fill you up with fat, sugar, and carbohydrates, but that's not the case when it comes to Indian cuisine. From the world-famous masala dosa to the Indian eggs we're talking about today, there truly is nothing better.
If you fill your belly with something that's flavorful and complex, filled to the brim with different herbs and spices, vegetables, and a good amount of protein, you'll start your day feeling rejuvenated. You may never look back once you try these beautiful and spicy scrambled eggs. They're not only easy and quick to make, they're also ridiculously tasty.
Keep in mind: There are many different kinds of Indian scrambled eggs, usually referred to as Akoori. This is a basic variation that has been balanced to contain all the main spices, but it is not definitive. Feel free to make your own variation, adding what you want and removing what you don't like!
How to make Indian curried scrambled eggs: Recipe
Scrambled eggs are a staple of most American households. And with a bit of pizzazz, you can add tons of flavor and a bunch of healthy ingredients to take this breakfast staple up a notch. Don't be afraid of experimenting, this is an incredibly easy recipe that doesn't require any fancy equipment!
What equipment do you need when making Indian scrambled eggs?
Large, wide-bottomed frying pan
Large bowl
Whisk
Spatula or wooden spoon
Sharp knives
Chopping board
Spoons
As you can see, there is very little that you'll need when making Indian curried scrambled eggs. It's an easy recipe that can be finished in under 20 minutes.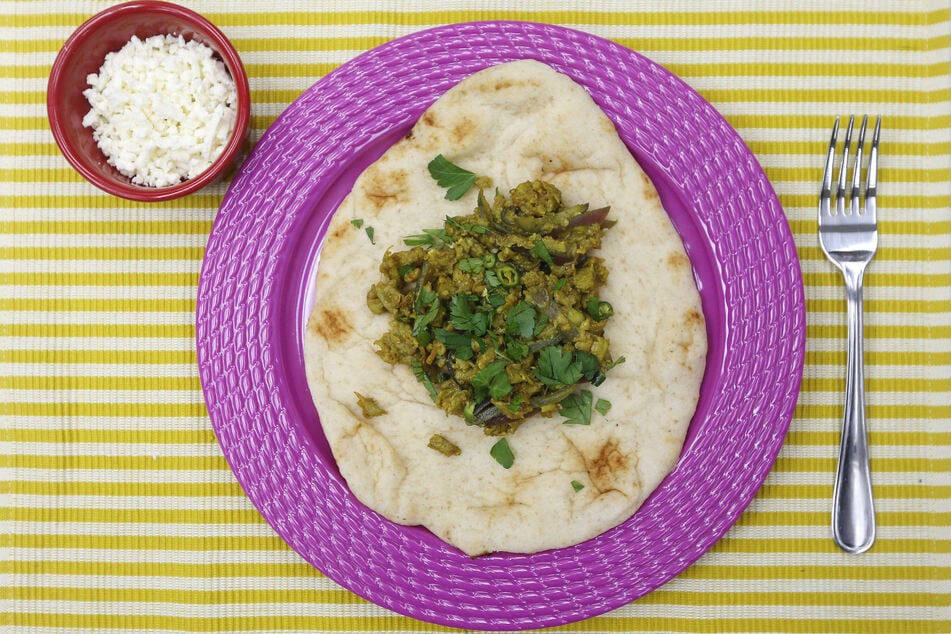 Indian scrambled eggs recipe | Ingredients
There are three components to this Indian scrambled eggs recipe: The eggs themselves, the bread, and the yogurt sauce. They are all vital, delicious, and complementary. While you can feel free to experiment with this recipe (indeed, we encourage you to do so!), it's best to try it before you make any changes. Get the balance right first, then dive into those variations!
Here are the ingredients for Indian scrambled eggs
Scrambled eggs:

6 eggs
2 medium onions
Spinach, 8 oz
2 chilies
3 cloves of garlic
1 thumb of ginger
Turmeric, 3 tbsp
Garam masala, 2 tbsp
Cumin seeds, 1 tbsp
Mustard seeds, 3 tbsp
Neutral-tasting oil (sunflower, vegetable, rapeseed)
Salt
Pepper
1 stick of butter

Bread:

Store-bought chapatis, naan bread, paratha, or some other kind of flatbread like a tortilla or pita
Neutral-tasting oil (sunflower, vegetable, rapeseed - not olive oil)

Yogurt sauce:

Dahi yogurt or Greek yogurt, 2 cups
Turmeric, 2 tbsp
Garam masala, 2 tbsp
6-7 mint leaves
Pinch of salt
On the proportions: We have included enough here to feed two people, assuming that each person has two or three wraps each. Of course, if you want to cook more or less food, adjust the proportions accordingly.
Indian scrambled eggs recipe | Instructions
It's incredibly quick and easy to make some great Indian scrambled eggs and combine them with some crispy bread and a nice yogurt sauce, but it can also be a bit of a frantic process. Prepare yourself to do multiple things at once, and make sure that you chop up all the necessary ingredients beforehand.
Here's how to make Indian scrambled eggs!
Step 1: Start by preparing your ingredients into separate piles or bowls. Dice up the onions, wash your spinach, chop the chilies into rounds, crush the garlic and the ginger, and whisk all the eggs together.
Step 2: Now it's time to get cooking. On low-medium heat, add your mustard and cumin seeds, and half the garam masala, along with a healthy amount of oil. Sprinkle in a decent amount of pepper and a pinch of salt. Stir slowly but attentively.
Step 3: Once the mustard seeds start popping and everything smells fragrant, add the onions and sauté for 3–4 minutes. Now add your crushed garlic and ginger, as well as the chilies, and cook for another 3–4 minutes, or until the onions turn slightly translucent.
Step 4: Now add in your spinach and turn the head up to maximum. When you cook the spinach it will release a lot of moisture, and this heat should help to evaporate that water and stop the dish going all runny and nasty.
Step 5: While the spinach is cooking, mix together all the yogurt sauce ingredients in a large bowl. There's no trick here, just mix it together with a spoon. Taste and adjust for seasoning.
Step 6: Remove the spinach mixture onto the chopping board. Next, add a healthy dose of oil as well as the butter knob into that same pan. Add your turmeric and the rest of the garam masala.
Step 7: Once the turmeric and butter is frothing up, add in your eggs and scramble them like you would a normal scrambled eggs. Remember to fold them properly, control the temperature, and feel free to get a little bit of charring to add an extra flavor.
Step 8: Half-way through the egg-cooking process, quickly chop up the spinach so that you don't get any stringy bits. Add the spinach to your eggs, as well as a pinch of salt (to taste) and mix thoroughly while continuing to scramble.
Step 9: Once finished, decant the eggs into a big bowl and put your pan back onto the heat, at a medium-low level. With a little extra oil, fry your flatbread. You want the bread to soak up the residual flavors from the curried eggs. Keep them moving around the pan and be careful that they don't burn.
Step 10: Now assemble it all! Add your egg curry into the flatbread, along with a dollop of the yogurt mixture. Wrap it up nice and tight or simply leave it open, folded in half.
There is nothing quite like curried scrambled eggs. Creamy, salty, spicy, and packed full of nutrition and flavor, you'll never go back to pancakes or waffles.
Other great Indian breakfast ideas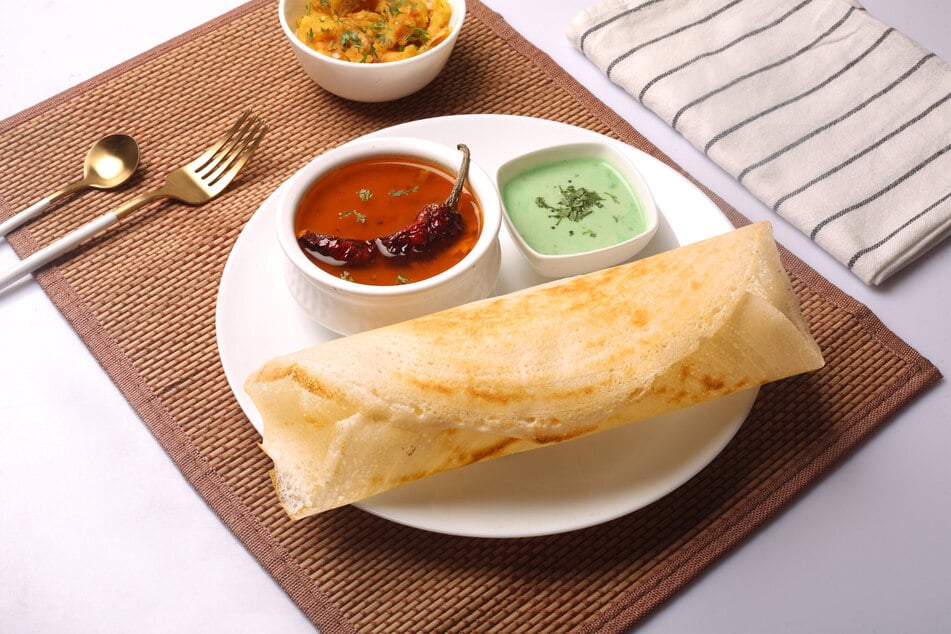 India is rich and ripe with incredible food, and few things are more joyful than a proper Indian breakfast. It leaves you feeling light, but full, and packed with energy and happiness. The stomach-warming effect of a perfectly cooked masala dosa, and that little tang of spice that warms up your mouth and wakes up your brain, is something that you'll crave each morning after your first bite.
So, other than these gorgeous Indian spiced scrambled eggs, what other Indian breakfast ideas should I try out?
Masala dosa: A crispy flatbread wrapped around a gorgeous mild curry (usually made of potatoes and other vegetables), served with yogurt and a selection of chutneys and sambar.
Aloo paratha: A spicy potato mixture that has been turned into a gorgeous flatbread that features crispy golden-brown layers of goodness. Usually paired with a chutney.
Idli: Savory cakes made from fermented lentils and rice and steamed into a disk-like shape. They have a beautiful fluffy texture and are usually dipped in sambar.
Appam: A bowl-shaped pancake, crispy on the outside and soft and bouncy in the center. Usually served with spicy curries or even sweet fillings.
Puri: Deep fried balls of bread, usually consisting of a large amount of wheat flour, forming puffed balls of crispiness. It is consumed as a side dish, usually with a curry of some kind.
Uttapam: India's answer to the pancake, a creamy batter is formed and then combined with a bunch of spices as well as various vegetables. Served as its own dish, it usually comes with some sambar and chutney.
Many of these dishes are not things that you can easily make at home, so we'd very much recommend heading over to a local Indian joint for breakfast if possible. Alternatively, go on a trip and discover some of this great food for yourself!
The perfect Indian breakfast brings the spice!
Some American breakfast staples are packed full of sugar and carbohydrates. They may fill you up at first and taste great, but sometimes, they leave you feeling bloated afterward. Indian breakfasts are packed full of nutrition, taste absolutely wonderful, and prepare you for the day better than any other cuisine.
From beautiful veggies, to gorgeously spiced eggs and a nice savory wrapping of yogurt and fresh flat bread, what more could you ask for? Don't feel like spice first thing in the morning? Fair enough! Drop the chili to turn down the heat. Give this Indian breakfast eggs recipe a go, you won't regret it.
Cover photo: IMAGO/Design Pics