Homemade pizza dough: These tips will give your pizza dough some pizzazz
The genuine article from a real Italian restaurant is, of course, an experience in its own right. Nevertheless, homemade pizza – if it's made well – can also hit the spot. After all, an airy dough topped with a savory tomato sauce and all kinds of yummy ingredients is a great meal for kids and adults alike.
You want to know how to make pizza dough at home? This guide reveals what is important when making your own pizza dough and what steps you should follow to get an airy crust.
You just need these ingredients for the perfect homemade pizza dough
Luckily, if you want to make your own pizza dough at home, you only need a few ingredients.
There are many different recipes, but most pizza dough is made from just four ingredients: flour, yeast, salt, and water. Depending on your taste, you can add a little olive oil or even milk to the mix.
Yeast ensures that the dough rises nicely, and adding olive oil makes the mixture smooth. The type of flour determines the consistency and taste of the pizza.
Of course, the right ratio of ingredients is crucial, but it's also all about how you handle the dough.
What's the best kind of flour for pizza dough?
You can make a good pizza from All-purpose Flour or Pastry flour, which are both readily available at the grocery store. However, if really want to go for the Italian original, you should use a special, more expensive Caputo Tipo 00 Flour. This flour has gluten protein, which makes the dough particularly elastic.
1. Knead the dough for an extended period
There are countless online recipes for the perfect pizza dough.
After all the ingredients have been mixed together, what you really need to do is knead the dough for a long time.
Pizza connoisseurs suggest kneading for 10 to 20 minutes to make sure all the ingredients are well combined.
That's also why you need to be patient if the dough seems too dry or sticky at the beginning. The problem will often resolve itself after a few minutes of kneading, and you'll get a nice, smooth dough.
2. Give the pizza dough enough time to grow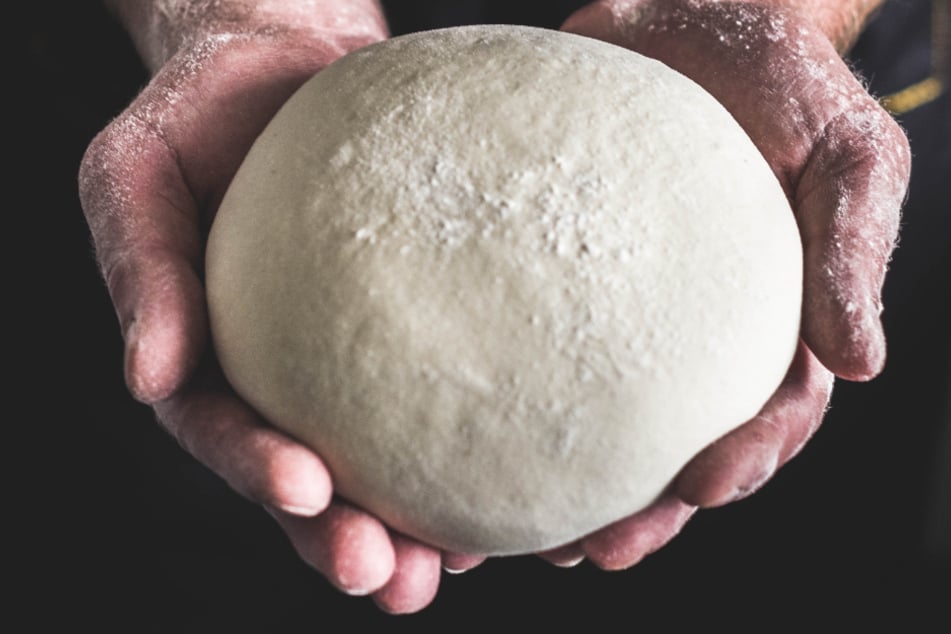 If you go the classic route and use yeast to make your pizza dough, it will take some time to double in volume. This resting phase is necessary regardless if you use dry yeast or fresh yeast.
But if you have the choice, you should always go for fresh yeast. It's what gives the pizza dough its special, slightly acidic flavor.
But dry yeast has its own advantage: you can keep it in stock, and it's very easy to use.
Feed the yeast something sweet
By the way, it is always worth adding a spoonful of sugar to the yeast. This supports the yeast bacteria in the fermentation process and helps the dough rise better.
Fresh yeast, in particular, needs special attention during this process. In addition to adding the spoonful of sugar, it is advisable to keep the yeast in a warm environment. That's why it is best to dissolve it in a small bowl of lukewarm water and add it immediately to the dough.
But be careful: the water should not be hotter than 110 degrees Fahrenheit, or the bacteria will die and the yeast will be useless.
Cover the yeast in a bowl and place it in a warm place for about an hour so it can rise in peace. You should avoid leaving it in a room with a draft because yeast doesn't like that. You can also put on the radiator, as long as it is not too hot. If you happen to have a room with floor heating, you can also let the yeast do it's work there.
Make the pizza dough a day in advance
For those who are short on time, you can prepare pizza dough easily with yeast the day before. To do this, just mix the ingredients together according to the recipe and let the dough rise for half an hour at room temperature. Then cover and refrigerate for at least 12 hours.
The next day before you get to pizza making, take the dough out of the refrigerator at least an hour beforehand so it can reach room temperature before it gets baked.
In a hurry? How to make easy homemade pizza dough without yeast
Anyone who doesn't have any yeast on hand or gets a sudden craving for pizza can also opt for a pizza dough recipe without yeast.
There are two well known yeast-free options: one involves making pizza dough with baking powder, and the other calls for Greek yogurt and oil.
Combining Greek yogurt and oil makes the dough very supple, so that it can be kneaded, shaped, and processed without any difficulty.
3. Roll out the dough and give it a shape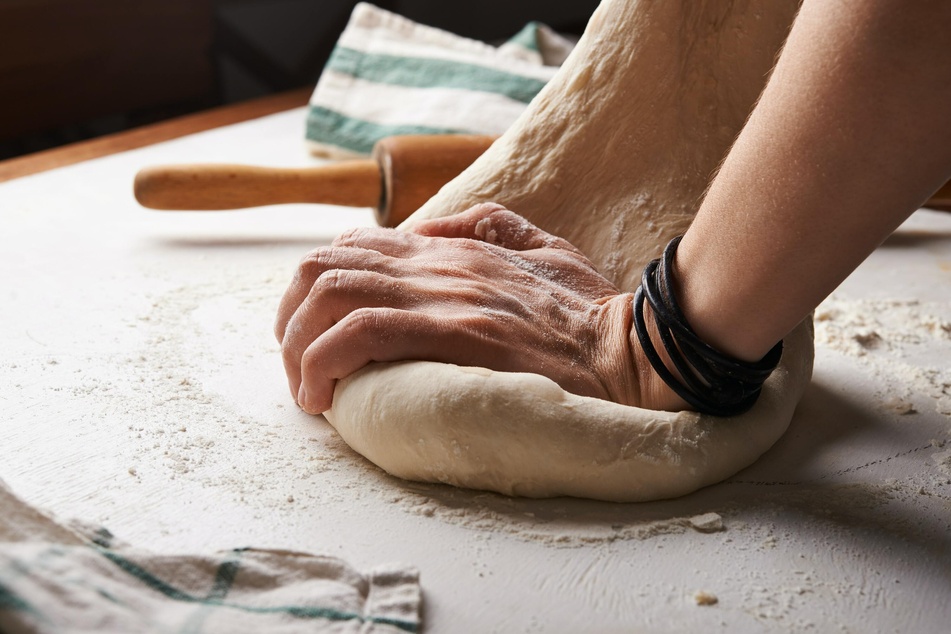 When the pizza dough has roughly doubled in size, it's time to roll it out and shape it.
Spread some flour on the work surface and roll the dough into a ball with your hands. Then flatten the pizza dough with your hands and stretch it to form the desired shape.
You can also use a rolling pin for this purpose. This ensures that the pizza base has an even thickness throughout.
Another option is to use the force of gravity. To do this, grasp the edges of the dough with both hands and lift it up. Gravity will stretch the dough for you. Just turn the dough around a few times by repeatedly moving your hands around the edge. This will eventually make the pizza dough circular just like in an Italian restaurant.
If your dough keeps shrinking back in on itself, it probably needs to be kneaded a little longer. Once you do that, the problem usually solves itself.
4. Bake the pizza at the right temperature
Pizza needs a lot of heat. That means anyone baking on a cookie sheet should preheat their oven to at least 395 degrees Fahrenheit before topping the pizza.
Traditionally, a pizza is baked in a classic stone or wood oven at 750 degrees Fahrenheit. Anyone who bakes their own pizza regularly should consider investing in a special pizza oven or pizza stone for homemade pie. These make the pizza extra crispy and are definitely worth the extra expense if used regularly.
5. Don't overburden your perfect pizza dough with too many toppings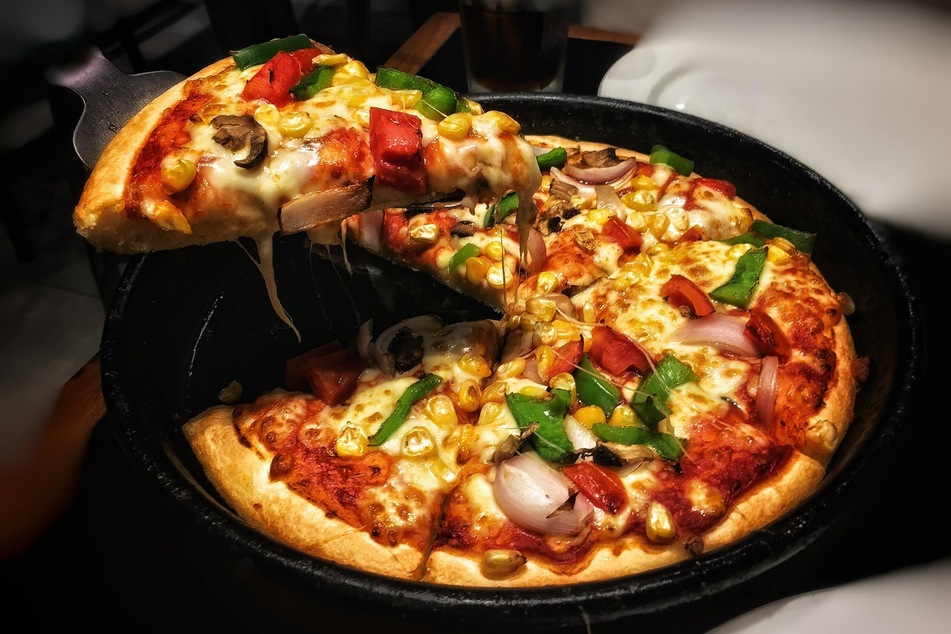 As a rule, fewer ingredients are better when it comes to pizza toppings.
Not only does this enhance the taste of each ingredient; it also prevents the dough from getting soggy.
You really don't need more than five different toppings.
If you like to experiment with ingredients on your pizza or use toppings that release a lot of liquid during baking, you may want to take the following tips to heart:
Make sure the pizza crust is thicker if you use moist toppings.
Briefly sautéing the vegetables beforehand can help to remove some liquid and prevent the pizza from getting soggy.
You can also pre-bake the pizza dough for a few minutes before you top it.
These guides might also interest you too:
Conclusion
Although the pizza crust may not be the most important element of a pizza when it comes to taste, it is a vital foundation for the rest of the ingredients.
The most important thing to remember is to be patient and take your time making it. If the whole family gets involved, dinner can even become a small party.
Coincidentally, homemade pizza is perfect for kids' birthday celebrations, visits with friends, or relaxing evenings on the couch at home.
Good luck making the perfect pie and enjoy!
Cover photo: Unsplash/Nadya Spetnitskaya