World's most modified couple gets "cherubs of hell" title for tattoo and body mod collection
Buenos Aires, Argentina - The world record holders for being the most modified married couple thanks to their extensive body mod and tattoo collection has garnered a new nickname: the "cherubs of hell."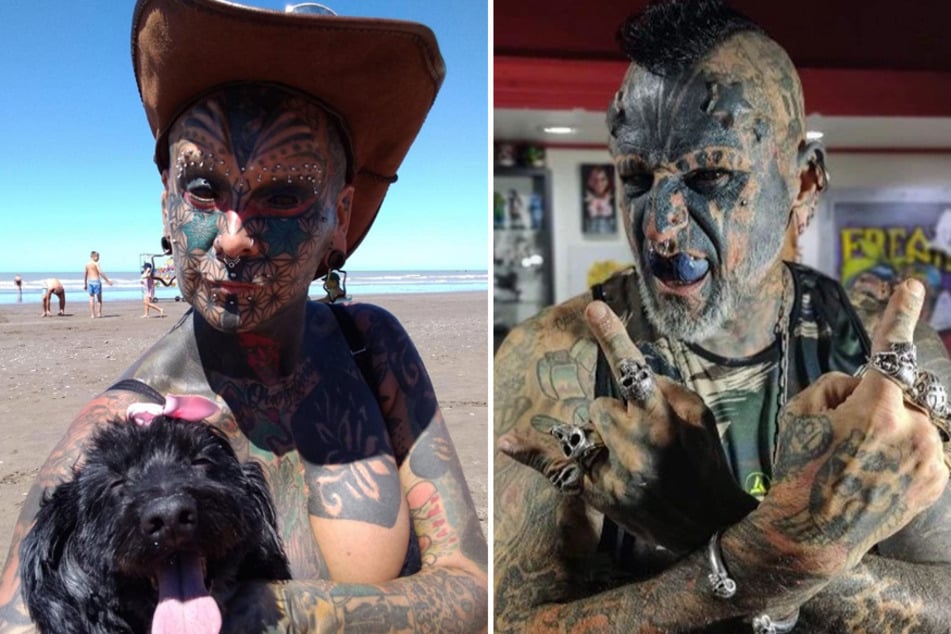 Victor and Gabriela Peralta have been married for 24 years, and are the current Guinness World Record holders for being the married couple with the most body mods.
With nearly 100 modifications to their names, the couple has 50 piercings all together. Both of their bodies are also covered with tattoos.
Due to their rapidly growing collection of body mods, the Peraltas told Guinness World Records they've been dubbed the "cherubs of hell."
Their list of mods include eight microdermals, 14 body implants, five dental implants, four ear expanders, two ear bolts, and a forked tongue.
In the interview, Victor, whose body art collection includes tattoos on his nether regions, confessed that he recently took his body modification journey to new heights by getting the number six sliced into his scalp.
Speaking about her favorite mods, Gabriela said, "My favorite body modifications are the implants in my hands, the scarification I have on my arm, the implants on my forehead, [and] the eye tattoos."
Victor noted that his split tongue, which has also been tatted, is one of his favorite mods along with his inked eyeballs.
"I will do everything to be a lot prettier," he said. "As a child I was really ugly, but today I am beautiful."
Cover photo: Collage: Screenshot/Instagram/victor_h_peralta